Jonathan Bales is the author of the Fantasy Football for Smart People book series. He writes for the New York Times, DallasCowboys.com, NBC, and Dallas Morning News.
---

At its core, fantasy football is all about making predictions. If you can accurately predict the future, you can parlay that knowledge into a championship. It's not the consensus opinions that will make or break you this season, however, but rather the contrarian viewpoints—the beliefs that fly in the face of popular knowledge. Everyone has Adrian Peterson projected among the league leaders; you can't acquire a competitive advantage there. But not everyone thinks Marshawn Lynch won't rank as a top 15 running back.

Below, I've listed 17 predictions that will shape the way I draft in 2013. The majority of them fly in the face of conventional wisdom, meaning the outcomes will be more crucial to me than whether or not ADP—All Day Peterson—will live up to his ADP. Let's get going. . .



Quarterbacks





1. In leagues that reward four points for passing touchdowns, Colin Kaepernick will outscore Matt Ryan by 15 points.



I'm very bullish on Kaepernick this year because people are overrating the loss of Michael Crabtree. Yes, it hurts, but Kaepernick still has a very high ceiling and incredible week-to-week consistency as a mobile quarterback. He can still gash you for 100 yards on the ground, so he's a safer start than people believe. I have Ryan ranked right around his ADP, so this prediction is more about the 49ers quarterback.



2. Tony Romo will outscore Tom Brady in all formats.



I don't think the loss of Aaron Hernandez will hurt the Patriots all that much; 6-1 tight ends don't typically live up to expectations. Losing Rob Gronkowski—one of the most efficient red zone receivers ever—for a significant amount of time, however, could be devastating to Brady's fantasy value.



3. Ryan Tannehill will throw for 4,000 yards.



Quietly, Tannehill was just barely less efficient than Andrew Luck in 2012. With an obvious commitment to providing their quarterback with weapons, the Dolphins are going to air it out this year. And let's not forget that Tannehill is still learning the position as a converted wide receiver, so he should make big strides from his rookie year.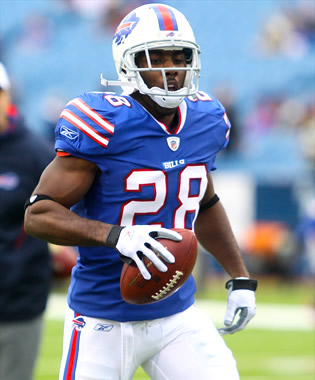 C.J. Spiller over Adrian Peterson? Now that's bold.

Running Backs





4. Jamaal Charles will finish the season first in points in PPR leagues.



Adrian Peterson is the favorite to lead the league in rushing, but Charles has an enormous ceiling in Andy Reid's offense. I have him projected at 65 catches, and it could be more. Charles is the most efficient running back in NFL history by nearly a half-yard per carry.



5. Trent Richardson will rank No. 2.



Substitute Richardson for Charles and Norv Turner for Andy Reid.



6. C.J. Spiller will outperform Adrian Peterson.



If Spiller sees even a moderate RB1 workload, he has No. 1 overall potential. Even projecting Spiller at 275 carries, he comes out fifth in my PPR rankings. Peterson's median projection is probably higher, but Spiller's upside is potentially the greatest for any runner in the league.



7. Le'Veon Bell will outscore Marshawn Lynch.



I'm low on Lynch for a number of reasons, but let's focus on Bell right now; he's a 4.60 running back—which is tolerable given his weight of 230 pounds—who is going to be thrust into the lineup as the immediate No. 1 back in a run-heavy offense. He should approach 300 touches, and running backs actually come into the league playing at near-peak efficiency.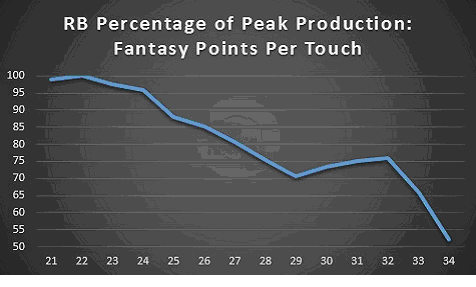 As a whole, running backs peak at age 22, and it's a slow decline from there. Bell > Lynch.



8. Lynch won't rank in the top 15 among all running backs.



Lynch is 27 years old—an age at which backs have typically produced just around three-quarters of their prior peak efficiency. He's coming off of a career year on a team that can't possibly run the ball more than they did last season. He also has an unclear DUI situation and a contract that will make it very easy to cut him in 2014. That explains the Seahawks' use of two draft picks on running backs Christine Michael and Spencer Ware. With Robert Turbin looking to eat up third-down work, there's not enough meat on the bone for Lynch to live up to his ADP, which is currently higher than his ceiling.



9. Stevan Ridley won't be a top 20 running back in PPR formats.



Ridley is the perfect example of why you need to make sure you're ranking players based on your scoring system. In standard leagues, he's money; he's a safe player who I have projected at 280 carries for 1,250 yards (4.46 YPC) and 10 touchdowns. That's awesome.

But he doesn't catch passes. So even with those gaudy numbers, Ridley comes out at 24th among running backs in my projections. He'd have to finish at his ceiling to crack the top 20 in PPR.



Wide Receivers





10. Brandon Marshall will be right in line with Calvin Johnson in PPR leagues.



I'm projecting Marshall at 117 receptions, which isn't really out of the question given that he should see 180 targets. The big-bodied wide receiver could easily score 10 touchdowns—or a whole lot more—and I have him just a single point behind Johnson.



11. Marshall and Megatron will outscore all other wide receivers by 20 points.



Dez Bryant is my third-ranked receiver in PPR formats. I have him scoring 12 touchdowns, but he just won't see enough targets to approach Marshall in receptions. Johnson and Danny Amendola are probably the only receivers who might catch more passes than Marshall.



12. Marques Colston will finish ahead of Larry Fitzgerald and Roddy White.



Colston is one of the most undervalued assets in fantasy football right now because people think he doesn't have a high ceiling. That's not really true, but even if it were, who cares? You're not spending a 12th-round pick on the guy—he'll probably be your No. 2 wide receiver—so you should be looking for value over pure upside. I'll take his 85 catches and 10 touchdowns in the fifth round all day.



13. Cecil Shorts will outscore Victor Cruz, even in PPR.



Cruz is one of the few smaller receivers who plays big in the red zone, but Shorts is basically his clone at a much lower price. With Justin Blackmon suspended and no other viable receiving options, Shorts is going to see a whole lot of targets. I have Shorts projected just ahead of Cruz, but even if he falls a bit short, he's more valuable given his cheaper price tag.



14. Eric Decker will score double-digit touchdowns.



Decker is an incredibly efficient red zone receiver offering tons of value. He's being drafted as if Wes Welker will undoubtedly steal the majority of his targets, but we just don't know that for sure right now. Regardless, Welker isn't a threat near the goal line. Due to those scores, Decker should be a No. 3 wide receiver even if he sees 100 targets, and his ceiling is higher if Welker isn't used as expected.



Tight Ends





15. Greg Olsen will finish the year in the top five.



Olsen was already a top tight end option in 2012 with a line of 69/843/5. Unlike running backs, tight ends don't typically see massive surges or drops in production; it's not as binary of a position, which is why you rarely see a rookie tight end doing anything worthwhile.



16. Olsen and Jermichael Finley will both outscore Tony Gonzalez.



I think Steven Jackson might eat up some of Gonzalez's fantasy value, and the old man has to break down soon. As I detailed a couple weeks ago, tight ends as old as Gonzalez rarely produce. He's been an exception, but he can't stay that way forever.



17. Rob Housler will beat out Owen Daniels and finish in the top 10.



Housler hasn't done much of anything just yet, but the Cardinals are talking him up as if he'll be a big-time contributor. He's 6-5 with 4.55 speed, so the signs point to a breakout if he's given more opportunities. He's a player to monitor in the preseason.

Buying the books on Amazon or as a PDF is your first step toward fantasy dominance.