In dynasty leagues, it is critical to keep in touch with the value changes that players experience. Whether those moves in value are real or perceived, a savvy owner remains well aware of the changing tide in order to capitalize on the opportunities that develop. Tracking shifts in player value carefully and making roster adjustments accordingly are key components to your team's long-term success. Consistent contenders in dynasty leagues don't separate from the pack merely by chance or simply by getting "lucky" on a few rookie draft picks. These are the owners that put in the work and find ways to improve their team all year round.

Below, I provide in-depth analysis on two players that have recently experienced a real or perceived value change in dynasty formats. Soak it in, give it some real consideration, and if it rings true for you, use this information to help improve your team.

Mark Ingram - When the Saints traded up in the first round of last yearís draft to select Ingram, many in the world of fantasy football got very excited. A potential bell-cow running back in the New Orleans offense could post crazy-awesome numbers. Even serving only as the lead back in the Saints' running-back-by-committee system, a talented runner could put up some serious numbers. Most dynasty owners saw the potential for fantasy gold when they gazed upon the freshly drafted running back out of Alabama. But after only one season in the league, is Ingram now considered foolís gold?

Iíll admit it, I was quite high on Ingram at this time last year. I was well aware that Sean Payton had employed a committee system in recent years in New Orleans, but I felt that Ingram had the talent to transcend that typical scenario and would produce strong numbers right out of the gate. He had the look of a perennial 1000-yard rusher with double-digit touchdowns. I knew his receiving production might be limited, but that didnít concern me too much because of the numbers I thought he would amass on the ground. Well, as we all know, Ingram failed to live up to the lofty expectations some of us had for him.

Ingram wrapped up his disappointing rookie season with only 474 rushing yards and five touchdowns. While some may be quick to write him off as a bust after his poor start, there are some legitimate reasons as to why he struggled. The lockout-shortened offseason didnít allow him as much time as he likely needed to get the proper feel for the complex Saints offense. A full offseason would have greatly helped. Also, Ingram battled injuries much of his rookie season, missing a total of six games. If he can manage to stay healthier in coming seasons, he should be more effective than what weíve seen thus far.

There are some good reasons to like Ingram as a dynasty prospect going forward:
The Saints invested a first-round pick in Ingram and still seem dedicated to making him their primary runner between the tackles.

The New Orleans offense puts a lot of points on the board and Ingram could see a lot of carries near the goal line.

Ingram is only 22 years old and, if his health cooperates, has a lot of football left in him.

In nine of the ten games he played in last season, he logged double-digit touches (rushes + receptions). Even if he continues to lose some touches to other running backs, Ingram can still get his hands on the rock quite a bit and be an effective fantasy option in the high-powered Saints offense.
Yet despite some of the reasons to be an Ingram supporter, there are a few significant reasons to be leery of him:
The knee. I donít pretend to be a doctor, but the several minor procedures he has had should at least raise an eyebrow for any that may be relying on him this season (or in the future). Iím concerned.

Ingram averaged only 3.9 yards per carry in the Saints offense while Sproles was able to post 6.9, Thomas was at 5.1, and even Ivory was at 4.7. Ingram and Sproles were used in very different manners, so they probably arenít a good comparison, but the fact that Thomas and Ivory averaged significantly more yards per carry is worrisome.

Sproles and Thomas are both under contract with the Saints through 2014. With the running back by committee seemingly in full-effect (barring injury), both of these players should have a significant role in the next few years.
If you currently own Ingram, you should be looking to hold onto him. He still has decent upside, particularly in non-PPR leagues, and if you tried to ship him away, youíd probably be taking a considerable loss. Youíre better served being patient with him to see if he blossoms this season, possibly benefiting from a full offseason with the team and improved health.
If you are still an Ingram believer and are looking to trade for him, I recommend having a frank discussion with his current owner and only making a move to acquire the second-year RB if his owner has reasonable demands. Ingram could still be a productive fantasy RB, but his red flags lower his value. If the asking price is anything near that of an RB1, move along. Opinions on Ingram probably vary wildly these days, but I think a mid-range RB2 price tag is about as high as you should consider paying.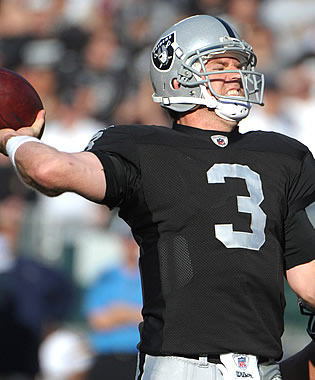 Palmer should be a "hold" for most dynasty owners.
Carson Palmer - After the injury to Jason Campbell last season, the Raiders made a big move to acquire Palmer and reconnect him with then-head coach Hue Jackson. While most feel Oakland overpaid for the services of the veteran quarterback, the team was in the playoff mix at the time and knew they needed to quickly address the position in order to stay in the hunt. Unfortunately, it took Palmer a couple of weeks to get acclimated to his new surroundings and the Raiders weren't able to fight their way into the playoffs.
Finally out of Cincinnati, Palmer now finds himself playing for another team that is working through a prolonged rough patch. On the plus side, Oakland seems to be amassing some talented, young players on offense. However, it remains to be seen how all of that talent will come together for Palmer and the Raiders. In his earlier days with the Bengals, with the right tools around him, Palmer was able to post some impressive numbers. Is there any chance he can recapture some of the magic he had during his first few seasons in Cincinnati?
There are some key factors to examine closely in order to answer this question and determine Palmer's value for your dynasty team:
Age: At 32 years old, Palmer is not a young player. However, some quarterbacks have played at a high level deep into their thirties. Tom Brady is 34 and Peyton Manning is 36. Kurt Warner and Brett Favre are also great examples. It is possible that Palmer could have three or more big years left in him?

Lack of a stud wide receiver: Unfortunately for Palmer, the Raiders lack an established superstar wideout. The team has a very young receiving corps with great upside, but despite having the potential to be electrifying, the trio of Heyward-Bey, Moore, and Ford really need to develop.

Darren McFadden: If he can stay healthy, McFadden should help take pressure off of Palmer and open up passing lanes. This young man is an undeniably special talent and is critical to the overall success of the offense.

2011 fantasy points per game: Using FFToday scoring, Carson Palmer was the 12th highest-scoring QB in points per game in 2011. If you look at only the final five weeks of the season, he comes in at 11th. Having a full offseason to work with his new team, he could build upon a surprisingly productive 2011.

Coaching: Hue Jackson is out as head coach and Dennis Allen is in (with Greg Knapp as offensive coordinator). With the ninth-ranked offense in total yards per game in 2011, Jackson had the Oakland offensive unit performing well. Making the shift to Knapp as offensive coordinator—his second stint as such in Oakland—is likely a slight downgrade, from a fantasy perspective.
You don't want Palmer serving as the clear-cut QB1 for your dynasty team if you can avoid it, but don't make the mistake of writing him off as a mere low-end QB2. Despite his high interception count, the way Palmer produced in 2011 showed that he is still capable of posting numbers in the right situation. He isn't a top-five fantasy QB as he was in his early years, but Palmer can still be a valuable contributor to your team. Not only would he be a productive backup for your squad, but he could be effective in a quarterback-by-committee approach or possibly even as your lead QB in the short term, while you wait for a youngster like Andrew Luck or Robert Griffin III to develop.
If you can use him in one of those ways, then Palmer is a nice value player to have on your roster. Many dynasty owners have pigeonholed him as a QB2, and some may even see him as crossing into QB3 territory, so you could probably acquire him at a very reasonable price. However, if you already own Palmer and are looking to move him, it might be difficult getting much in return. The Bengals found a team willing to pay a pretty penny for him, but it's not likely you'll be able to as well. Palmer should be a "hold" for most of his current owners.