Highlighting a few key risers and fallers, the Dynasty Dashboard assists in keeping you on top of player valuation changes as they are developing. Further, a deep sleeper or largely overlooked player worthy of consideration for a spot on your roster will also be identified each week. Keep an eye on the dashboard and drive your team toward dynasty league success.



Accelerating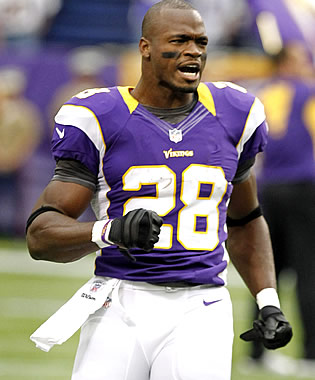 Adrian Peterson's recovery from knee surgery is nothing short of remarkable.

Adrian Peterson - During a Week 16 win over the Washington Redskins last season, Adrian Peterson sustained a major knee injury; tearing his ACL and MCL and also damaging his meniscus. It was a significant injury that in past eras could have been a career-ender. Even in the current era, this type of injury should have at least made 2012 largely a lost season for ďAll Day.Ē Yet, amazingly, this has not been the case. Peterson has benefited from modern medicine as well as superior genetics. The curtains have not closed on his career and 2012 hasnít even proven to be an intermission. Peterson has rewritten the typical script after such a devastating injury, and while his story is clearly well past the opening act, it is far from its conclusion.

Heading into preseason activities this year, it was unclear if Peterson would be able to ready his body for opening day. Reports were generally positive and Peterson himself appeared resolute in his commitment to play Week 1, but still, it just didnít seem humanly possible. However, as we all know, Peterson did in fact play on opening Sunday and he shocked the world by rushing for 84 yards and 2 TDs on 17 carries. He was back, maybe not at 100%, but close enough; mind-blowingly close. At that point, Peterson had proven that he was worthy of being firmly planted in the second tier of dynasty RBs, behind only a small group at the top. And for a few weeks after his first game, he continued to play at a high-level, but perhaps a small notch below what he had previously established as the top of his game.

In the last four weeks, Peterson has upped his play and is averaging 157.3 rushing yards and 1.3 TDs per game, with an average of 7.7 yards per carry. He has been on an absolute tear recently. Petersonís total rushing yardage over the last four games is his second highest in any four-game stretch during his already special career. Number one on this list was back in his rookie season and includes the game in which he set the NFL all-time single-game rushing yardage record (296 yards). Peterson has been putting up numbers as good as ever in the last month or so and is now atop the NFL leader board in rushing yards this season, with 1,128 in only ten games. In my view, he has clearly climbed back into the first tier at RB. It was a small climb for him to make, but yet very significant. I donít know if Peterson is super-human or what, but the way heís bounced back from his knee injury is nothing short of remarkable.

Jonathan Dwyer - In his last three games played, Jonathan Dwyer has averaged 95.0 rushing yards per outing. During that span, he gained an impressive 5.4 yards per carry. His involvement in the passing game has been minimal, but Dwyer is proving that he can be a productive NFL runner when given the opportunity. For as long as Mendenhall is on the sideline for Pittsburgh, Dwyer should continue to contribute heavily, although, admittedly, this might not be much longer (with Mendenhall expected back this week). While Dwyerís top gear leaves is far from special, he is surprisingly light on his feet for a big-bodied back. He is a capable RB that can be effective between the tackles, but make no mistake about it, he is not Jerome Bettis reincarnate.

Looking down the road, Pittsburgh could explore many different avenues for their backfield. Mendenhall is an unrestricted free agent in 2013 and each of Redman and Dwyer are restricted free agents the same year. It is not written in stone at this point that Mendenhall is the teamís long-term answer, and if it turns out he is not, there is a real chance that Dwyer could carve out a significant role next season and beyond. However, there is simply no telling what may happen since there are so many things in motion. What we do know at the moment is that Dwyer is playing well after a slow start and some nagging injuries this season. In my view, his play has opened the door for him to at least get a handful of touches per week even when Mendenhall returns to action. After Dwyerís dynasty stock plummeted early in the season, it has bounced back in recent weeks.



Downshifting



DeAngelo Williams - For several years now, DeAngelo Williams has proven to be a dynamic playmaker for the Panthers. Even last season, serving in a clear RBBC situation, Williams was able to post 836 yards with 7 TDs on the ground, while averaging an exceptional 5.4 yards per carry. However, things are not going as planned for the veteran RB this season. He is averaging well under 4.0 yards per carry this year, something he has never done before, and is not having the overall impact that he typically does. Looking back through his game logs, I discovered that Williams has not had a 100-yard rushing game since Week 5 of 2011, and previous to that it was Week 11 of 2009. His days as a big-time fantasy producer have seemingly come and gone. The window is open only a brief time for the huge majority of RBs and this looks to be the case for Williams as well.

In the last four weeks, Williams has rushed for only 80 yards and 1 TD on 25 carries. His workload and production have each left much to be desired. Williamsí role is clearly shrinking for the Panthers while his cohort in the backfield, Jonathan Stewart, is seeing a moderate uptick in workload. While the situation in Carolina still appears to be a committee, Stewart is now the definite lead back. Williams may not be phased out altogether this season, but with his workload and production decreasing and with his age getting ever closer to 30, his value is falling fast. Iíd recommend selling him in most dynasty formats, but my hunch is that there is little interest for Williams. Teams that currently have him on their roster will probably have to ride it out and hope things improve noticeably for the once studly RB.

Justin Blackmon - Leading up to the 2012 draft, there was a lot of optimism surrounding Justin Blackmon. He had a great collegiate career and appeared to be well suited for the transition to the NFL. Despite lacking elite speed for his position; his athleticism, playmaking ability and overall polished game made him the top WR in the draft class. In dynasty circles, Blackmon was often considered the #2 prospect behind Trent Richardson. There was the hope that a landing spot such as St. Louis could allow Blackmon to quickly develop into an impact player. Unfortunately, that didnít happen and Blackmon ended up in a far-less-favorable Jacksonville offense. His stock dipped modestly, but with talent trumping situation, it didnít slip all too much.

Fast forward to current date and it is now clear that Blackmon has slipped considerably down dynasty rankings boards. In nine games played, he has registered 26 receptions for 250 yards and 1 TD. This has him on pace for less than 450 yards during his rookie campaign. The Jaguars are starved for WR production and Blackmon simply hasnít delivered. In the meantime, the sole bright spot in the receiving corps has been second-year wideout Cecil Shorts out of Mount Union College. In recent weeks, Shorts has emerged as the teamís primary playmaker in the receiving game. All of this must be discouraging news for Blackmon owners. However, as is often said, ďpatience is a virtue.Ē The 22-year-old WR may simply need more time to adjust to the NFL game than was previously expected. His situation isnít ideal in Jacksonville, but it could improve in the next couple of years, and even if it doesnít, Blackmon will still have plenty of opportunity to emerge as a fantasy factor.



Stash in the Glove Box



Danario Alexander - The San Diego passing game has not produced like we've come to expect it to with Phillip Rivers behind center. There has been a lot of talk about Rivers' throwing mechanics, the state of the Chargers offensive line and the quality of the receiving corps (with Vincent Jackson now in Tampa Bay). I'm not certain which area is most deserving of the blame, but there is probably enough to go around. In 2010, the Chargers ranked 2nd in the league with 282.4 passing yard per game. In 2011, the team was 6th in the league with 276.6 yards per game. So far this year, San Diego is at 16th with 229.0 yards per game. The air attack has definitely been less effective this season.

The aforementioned loss of Vincent Jackson left a gaping hole in the Chargers receiving group. Robert Meachem was brought in to help fill the void and serve as the team's primary downfield threat. Unfortunately, the former Saints wideout, and first round pick, has played well below the expectations that many had set for him. But when Meachem was limited due to a recent hamstring injury, Danario Alexander had his number called and ended up being quite productive in his opportunity.

In his last two games played, Alexander had reeled in 8 passes for 195 yards and 1 TD on 10 targets. He is looking like the deep threat that the team has desperately been looking for this season, but fantasy owners shouldn't get too carried away. Don't get me wrong, while I believe there is plenty of reason to be excited about Alexander's upside, his track record of injuries should serve to temper a good amount of the enthusiasm. The talent and opportunity might be there for the 24-year-old WR, but until he can string together several solid games without flaring up his knee issues, he is little more than a stash player with a very high ceiling. That said, Alexander is absolutely worth taking a shot on at this point.