Highlighting a few key risers and fallers, the Dynasty Dashboard assists in keeping you on top of player valuation changes as they are developing. Further, a deep sleeper or largely overlooked player worthy of consideration for a spot on your roster will also be identified each week. Keep an eye on the dashboard and drive your team toward dynasty league success.



Accelerating



Brandon Myers - The Oakland Raiders have a dynamic RB in Darren McFadden. However, with the implementation of the zone-blocking scheme this season, McFadden and the ground game have largely been underwhelming. When you couple this with the fact that Oaklandís defense is yielding a high number of points most weeks, it should come as no major surprise that the team is passing a ton. Through the first eleven weeks, the Raiders are 2nd in the league with 417 pass attempts and they rank 29th with only 224 rushing attempts. While I believe that the Raiders would probably like to be more balanced on offense, situation and circumstance has necessitated a large dosage of passing.

With the heavy reliance upon the air attack, there has been a lot of opportunity for various receivers on the Raiders to step up and make an impact. And with injuries sidelining some of their primary options at various points this season, lesser known commodities have had their moments to shine. Surprisingly, one of the most consistent performers in the receiving group has been the TE, Brandon Myers. The former Iowa Hawkeye has logged 50 catches for 554 yards and 3 TDs on 67 targets. Myers has performed very well this season. He currently ranks 7th in fantasy points per game at TE (using FFToday standard scoring). Seemingly out of the blue, Myers is on pace for 11 games with 5 or greater receptions. If he reaches this mark, it will be the most in a single season by a Raider since Charlie Garner posted 12 games with 5+ receptions back in 2002.

Myerís ceiling is probably limited, yet he has clearly made a march up the dynasty rankings board at his position, particularly in PPR formats. He has proven to be a great value option for teams that nabbed him early this season. Considering how well he has performed recently, it is a head-scratcher as to how he has largely evaded the radar of many team owners. Myers isnít a player Iíd want to rely on long-term, but this season his production easily makes him a weekly option for starting.

Cecil Shorts - In last weekís Dynasty Dashboard, I briefly mentioned that Cecil Shorts was emerging as a playmaker for the Jaguars. With Justin Blackmon failing to live up to expectations this year, prior to blowing up for 236 yards and 1 TD this past week against the formidable Texans defense, it was Shorts that was consistently making plays for the team in the air attack. While Shortsí numbers season-to-date may not look overly impressive on their surface, a little bit of digging helps reveal that there is more than meets the eye. From Weeks 7 through 11, Shorts has posted 437 receiving yards and 3 TDs. These stats help put him at 8th in fantasy points per game at WR among those that played in 3 or more games during that stretch (using FFtoday standard scoring).

The 24-year-old WR out of the University of Mount Union has been red hot in the last month and dynasty owners should be taking notice. Shorts doesnít have the same level of pedigree as his WR counterpart in Jacksonville, but he is undeniably a significant producer for the team. Elite size and speed arenít tools he has to work with, yet he is a very fluid WR with good instincts. And while his upside may not be off the charts, his fantasy value has been steadily climbing. Not even the poor QB play in Jacksonville has held him down in recent weeks. Shorts makes a solid WR3 or WR4 for a typical dynasty team, despite Blackmon being the more desirable long-term asset on the Jags by a substantial margin. Also worth noting, with Jacksonville recently placing Laurent Robinson on IR, Shorts and the other receivers on the team should see a small boost in opportunity for the remainder of the season.



Downshifting



Matthew Stafford - Coming off of his huge 2011 season, many considered Matthew Stafford to be a top 3 dynasty QB. Heís a former number 1 overall draft pick with a big arm. Plus, Stafford has a truly elite WR to work with, in Calvin Johnson, and operates in an offense that allows him to sling the ball at a high frequency. Aside from running/scrambling ability, Stafford has seemingly everything else checked off of the list for things you want to see in your fantasy QB1. Yet, despite all of this, his stock has edged downward in the last two months. Stafford might not be the difference maker at QB that most fantasy owners had thought him to be entering this season.

After eleven games played, Stafford is on pace to throw for 4,988 yards with 20 TDs and 15 INTs (assuming 16 games played). The yardage number is very nice, but the low TD pace is astonishing, particularly when you consider the fact that he threw for 41 last year and has a TD-scoring beast like Calvin Johnson at his disposal. Overall, Staffordís play hasnít been quite to the level it was at last season and his stats reflect such. And although his somewhat disappointing numbers have obviously contributed to his recent downshift, they are not the sole reason that his dynasty stock has cooled modestly.

Two rookie QBs and another well-respected QB have performed superbly this season and have leapfrogged Stafford on my rankings list. Iíd easily take RGIII, Andrew Luck and Matt Ryan over Stafford today. And for teams that are playoff caliber, Iíd even place Brady ahead of him. Of course, for the squads that are trying to stay young or flat out rebuild, Stafford is clearly more desirable than the quarterback in New England. My general point is that Stafford is no longer in the top 3-5 at his position and now seems more firmly situated in the 6-10 range. His upside is still huge, but he has undeniably lost some of the luster he had only a few months ago.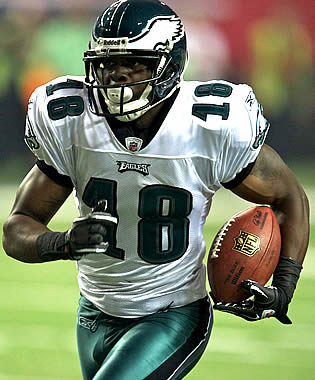 Jeremy Maclin's status as a WR3 is on thin ice.

Jeremy Maclin - Leading into this season, I had Jeremy Maclin pegged as a player with a substantial likelihood of blossoming into a low-end WR1 in fantasy football. There are many reasons to like the Philadelphia wideout. At only 24 years old, he is still relatively young. Further, he plays in a productive offensive system and has proven to have the skills necessary to post big stats during the times when he has been fully healthy. The main thing that has held him back, in my view, has been on the health front. And since some of that stuff has been fluky, I believed that 2012 would be the year that Maclin would take the next step forward. Unfortunately, if heís taken a step this year, it has been in the wrong direction.

Through Week 11, Maclin has put up 36 catches for 449 yards and 4 TDs, ranking him as the 40th highest-scoring WR that has played 5 games or more this season (using FFToday standard scoring). For fantasy teams that have been starting him for the bulk of the season, this type of production simply hasnít gotten the job done. Surprisingly, while DeSean Jackson has performed better than his counterpart at WR in Philly, neither player has been great this year, statistically speaking. The teamís passing attack as a whole has fallen off a slightly this season, and with the Michael Vick-injury-induced change to Nick Foles at QB, the team is still struggling to dial things in through the air.

In the end, I still believe that Maclin has the potential to be a perennial 1,000-yard receiver. However, he has yet to reach that mark a single time during his young career, and it doesnít look like it will happen this season either. Although his stock is cooling, there is still an outside chance that Foles will figure things out and give the passing game the kick start that it sorely needs, which would ultimately help Maclinís numbers. Admittedly, Iím not that optimistic at this point. At the moment, Maclin is positioned somewhere around the WR3 level in typical 12-team dynasty leagues, but I still think he could quickly transition into an upwardly mobile player.



Stash in the Glove Box



Nick Toon - We have reached the point in the season where more and more dynasty owners are ready the throw in the towel on 2012 and start looking primarily at the future. Digging up deep sleepers with high upside potential can be critical in order for some of these struggling teams to begin to turn things around. Obviously, there are other more important avenues for improving a team, but deep waiver wire excavation can be fun and occasionally unearth a hidden gem. The odds of this occurring are pretty low, admittedly, yet it's still a worthwhile endeavor. In this vein, I recommend taking a hard look at an unheralded Saints WR, Nick Toon.

Selected in the 4th round of the 2012 draft, Toon landed in an interesting situation with the Saints. The rookie WR has good size and was a solid route runner in college. He clearly isn't a speed burner that will stretch the field for his team, but he does have a skill set that could serve him well as a possession receiver. Patience will be key, as he could eventually flourish in New Orleans if things break favorably for him. The Saints have a prolific passing game and even with Jimmy Graham and Marques Colston serving as the team's top two threats through air, there still is plenty of opportunity for another receiver to have an impact. While a foot injury has made Toon's rookie season a complete wash, he may get a real chance to carve out a role as soon as next season. I believe that Toon makes a great stash candidate for rebuilding teams, particularly in larger leagues or those with deep benches.