Highlighting a few key risers and fallers, the Dynasty Dashboard assists in keeping you on top of player valuation changes as they are developing. Further, a deep sleeper or largely overlooked player worthy of consideration for a spot on your roster will also be identified each week. Keep an eye on the dashboard and drive your team toward dynasty league success.



Accelerating



Russell Wilson - From a real world, NFL perspective, Russell Wilson is having a tremendous rookie season. In 12 games played, he has led the Seahawks to a 7-5 record while throwing for 2,344 yards, 19 TDs and 8 INTs. He has an impressive 95.2 passer rating for a rookie. This tops fellow rookies Andrew Luck and Ryan Tannehill by a substantial margin. Further, in the last 20 years, only two rookie QBs have posted a higher passer rating than Wilson's 95.2 (with a minimum of 10 starts at the position); Ben Roethlisberger in 2004 (98.1) and Robert Griffin III this year (104.4). Make no mistake about it, despite his play being eclipsed by RGIII and Luck in many regards, Wilson is having a very special rookie season.

Yet despite all of his NFL success, Wilson's fantasy impact has been far less significant for the bulk of the season. He has not been a player that fantasy teams could rely on for much more than a bye week filler. Lately, however, Wilson has turned things up a notch. In the last five weeks, he ranks 7th in fantasy points per game at QB (using standard FFToday scoring). These are the type of numbers that give him much more relevance in the world of fantasy football. His efficiency as a passer and ability to run have positively impacted his fantasy production, despite his relatively modest passing attempts.

While I have doubts as to whether or not he can continue the recent pace of fantasy point production, since it largely hinges on him playing at an ultra-efficient level, I am impressed by the progress he's made recently. If the offense is opened up more for him going forward, his value could climb considerably, yet Wilson's fantasy upside probably doesn't rival that of RGIII or Luck. Overall, his dynasty stock is moderately rising and Wilson now appears to be a mid-level QB2 with decent upward mobility.

Josh Gordon - Coming into this season, I was cautiously optimistic that Greg Little would emerge as the clear top threat in Cleveland's aerial assault. My primary concerns were Weeden at QB along with the case of the dropsies that Little suffered from in 2011. Yet, in general, I thought he had the type of skill set that could allow him to develop into a difference maker in the league. However, so far, this has not come to fruition and Little's relatively pedestrian season has been significantly overshadowed by the play of rookie WR, Josh Gordon.

When you step back and look at Gordon's numbers this season from afar, they look solid, but lack the desired wow factor. Although, when you dial in on his play over the past two months, they begin to appear considerably more impressive. If Gordon played a 16-game season at the rate he's produced in his last 8 games played, he'd end up with 54 receptions for 1,106 yards and 10 TDs. That type of a rookie season would have dynasty teams circling him liked crazed hyenas trying to snatch him away from the opposition in the offseason.

Overall, I believe that Gordon has shown observers enough to get excited about. He is evolving into more than a one-trick pony that is merely the recipient of a couple of deep bombs per contest. The young WR is bringing more to the table, as evidenced by the fact he has seen 7 targets from Weeden in each of the last three games. It is becoming clearer each week that Gordon is currently Cleveland's best playmaker at WR. Obviously, his upside will be tied to the play of Weeden, and that could be a limiting factor, but Gordon's stock is rising nonetheless.



Downshifting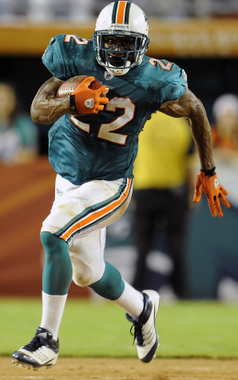 Reggie Bush's stock is on the decline.

Reggie Bush - Around a year ago at this time, it looked like Reggie Bush was finally realizing his full potential and becoming more than just a runner that could make plays on the outside or via the passing game. He finished the 2011 season in a remarkable fashion, logging over 500 rushing yards in Week 13 through 16. For the fantasy owners that leaned on him in their playoffs, Bush rewarded them bountifully. His future was looking bright in Miami, as he no longer appeared to be a gimmick back and he was well past his drama with the Kardashian clan.

Entering this season, I found myself still a tad skeptical that Bush could pick up where he left off at the end of 2011; red hot. However, after watching his huge game Week 2 vs. Oakland, my skepticism quickly melted away and I was firmly on board with Bush as an impact player. Unfortunately, I was hasty with my evaluation, and since Week 2, Bush has been a mediocre-at-best RB for dynasty teams to be starting on a weekly basis. He has only the single 100-yard game this season, and even more troubling is his declining involvement in the passing game with Tannehill now behind center for the Dolphins.

While Bush still has an outside chance of posting 1,000 rushing yards this season, his stock is now on the decline in dynasty leagues. 2012 hasn't been a bust of a season, but it hasn't been to the level it needed to be in order for Bush to lockdown his role with the Dolphins going forward. The veteran RB is an unrestricted free agent next season, and with Daniel Thomas and Lamar Miller waiting in the wings, Miami could easily move on from Bush and save a considerable amount of money by handing the reigns to the ground game to their young duo. Admittedly, I have no real insight on this situation and am just speculating on matters, but it wouldn't surprise me to see the team part ways with Bush after this season.

Eli Manning - Last year was a huge one for Eli Manning. Of course, the Superbowl win contributed to the specialness of the season, but from a fantasy perspective, his stats made the season superb as well. Manning posted a career-high 4,933 passing yards in 2011. On top of that, he registered the second highest amount of passing TDs of his career, with 29. Last year was actually the third in a row where he went for 4,000+ yards and 27+ TDs through the air. Eli Manning has blossomed into a consistent fantasy producer and one that dynasty teams can comfortably rely on as a mid-level QB1. He's been good enough to keep his team owners competitive at the QB position for a typical week; no small task.

With all of the weapons that the Giants have on offense, coupled with the trust Manning has earned from his head coach and offensive coordinator, he seems to be well positioned to continue to post big numbers into the foreseeable future. Yet, here he is, finding his way onto my "downshifters" list. A small portion of his slide is due to his uncharacteristically poor production during his last five starts, but there is more to it than his stats alone. There is a crop of young QBs that are more desirable long-term assets, in my opinion, and this group has cruised past him in the fast lane. On top of that, there are still guys like Brees and Brady that make more sense for contenders than Manning does. Further, the re-emergence of Peyton Manning is something to consider as well. I believe that the Manning brothers are situated in the same tier currently, both being valued by me as low-end QB1 types in standard leagues.



Stash in the Glove Box



A.J. Jenkins - With Jim Harbaugh on board as the head coach in San Francisco, the 49ers embarked on a new era last season. Right out of the gate, the team seemed to play with a little more attitude and confidence. The defense obviously was special, but the offense became efficient, centered around the run game with Alex Smith being asked to play smart and limit turnovers. It has been a recipe for success. And while the passing game hasn't been the focal point on the offensive side of the ball, it has been respectable with Smith behind center that last season and a half. However, even though the team added some capable deep threats at WR this past offseason, the downfield dimension was something that the offense still sorely lacked.

With the move to Colin Kaepernick at QB, the passing game has become more of a wildcard. Obviously, the second-year player out of the University of Nevada, Reno is not as polished as Smith, but he has a stronger arm and appears less hesitant to pull the trigger on deep passes. With this aspect of the offense improved, the air attack has considerably more upside potential. In general, this is good news for San Francisco receivers, but particularly those that have the ability to stretch the field such as rookie WR, A.J. Jenkins. The young wideout exhibited good straight-line speed and the ability to separate while playing for the University of Illinois.

As the 49ers first round pick this year, it may be disappointing for Jenkins' dynasty owners that he has struggled to see the field this season. But people shouldn't be too quick to write him off as a bust. Jenkins is inexperienced and found himself in a crowded San Francisco receiving corps this season. The odds are high that he'll see much more action next year and beyond. Randy Moss is an unrestricted free agent in 2013 and Mario Manningham is the year following. While many analysts had Jenkins graded as a 2nd or 3rd round NFL talent, the Niners took him late in round one and he's going to get a chance to prove his worth. In my view, he is a very good receiver to stash or consider as a possible offseason target.