Highlighting a few key risers and fallers, the Dynasty Dashboard assists in keeping you on top of player valuation changes as they are developing. Further, a deep sleeper or largely overlooked player worthy of consideration for a spot on your roster will also be identified each week. Keep an eye on the dashboard and drive your team toward dynasty league success.

Accelerating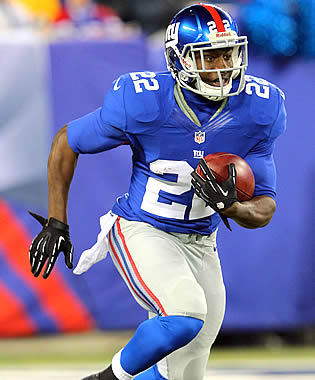 David Wilson: A stock definitely on the rise.
David Wilson - Back in August and September, many expected David Wilson to see a significant role during his rookie season, likely serving as a change of pace back to Ahmad Bradshaw. Sadly, a fumble opening week and the emergence of Andre Brown relegated Wilson to sparse touches outside of kickoff returns. The late first-round pick had very little impact for the Giants through the first thirteen weeks and his owners were likely very antsy to see him get the chance to play more, if Coughlin would simply put a little more trust in him.

Fortunately for Wilson, sometimes trust is born out of necessity. During a Week 12 drubbing of the Packers, Andre Brown broke his fibula and was soon thereafter placed on IR. The injury hurt the Giants' RB depth, but it forced Wilson into a more substantial role. Yet, in Week 13, the rookie saw only 4 carries while Bradshaw was fed the rock repeatedly. Coughlin stuck with his veteran and Bradshaw didn't disappoint. Going into last week, it looked as though Bradshaw would serve in a similar role against the Saints, but an early injury sidelined him for a stint and Wilson got a chance to shine. He had the hot hand last week and logged 13 carries for 100 yards and 2 TDs on the ground while also racking up an impressive 227 return yards as well. Wilson's breakout game was only the 6th time since 1990 that a Giants rookie had rushed for 100 or more yards in a single game (Bradshaw was the last to do it).

There is simply no denying that Wilson is explosive with the ball in his hands. Unfortunately, he is not nearly the well-rounded RB that Bradshaw is at this time. Wilson will need to refine his game and improve in pass protection in order to see a huge increase in playing time going forward. But these are areas that he can make strides in as he plays more and spends increased time studying film. Wilson has the potential to be a special player in the New York offense and his stock is definitely on the rise after last week.
Danario Alexander - In the last five weeks Danario Alexander has emerged as San Diego's clear top receiving threat for fantasy purposes. During that span, he has posted 494 receiving yards and 5 TDs. This is more than Malcom Floyd and Antonio Gates combined. Further, it is good enough to rank him as the 3rd highest-scoring WR in the league from Weeks 10-14 (using FFToday standard scoring). Phillip Rivers has not been shy about getting the ball to his new favorite receiver, and the fantasy teams that swiped Alexander off of the waiver wire weeks ago have been greatly benefitting from such. Each year it seems like a couple of random players emerge as fantasy factors and serve in unlikely, yet critical roles during their team's playoff run. Currently, it looks like Alexander is the next player in that lineage.

Looking beyond this season, there is a ton to like about Alexander. His size and skill set is beastly and he has clearly earned the trust of his QB. On top of that, he has proven he can string together a nice chunk of good or great games without the knee issues flaring up. I think most have long acknowledged Alexander's talent; the issue has been his health (and possibly still is). Risk averse dynasty owners will be steering clear of Alexander, and understandably so, but for those willing to swing for the fences, he might be a good WR to make a run at in the offseason (assuming you don't already own him). Obviously, the price of acquisition will be critical, but Alexander is proving to have low-end WR1 upside, so he is worth more than a nickel or two on that basis alone.

Downshifting

Denarius Moore - It was less than two months ago when I pegged Moore as an "accelerator." He was on a nice hot streak and it looked as though he was primed for big things after recovering from a lingering hamstring injury and getting up to speed in the new Oakland offense. It was my view that Moore was making the transition to a low-end WR2 in standard dynasty leagues. The talent level and opportunity were, and still are, very alluring. Unfortunately, things have taken a turn for the worse for Moore in the last several weeks and I now find myself less excited about his long-term value. I still like the upside, but the likelihood of Moore reaching his full potential has decreased moderately, in my view.

In his last four games played, Moore has posted a combined 103 receiving yards and 1 TD. His targets haven't dipped all that much in that stretch, but his stats certainly have. Too many dropped passes and too many cases of miscommunication with his QB have plagued the young receiver in the last month. During Week 13, Moore actually found himself on the bench during the second half, due to poor play. He did not lose his starting job this past week, but he had another relatively quiet game while Heyward-Bey and Streater were far more impactful. Honestly, Moore has turned into a bit of a head-scratcher for me. Oakland is trailing late in almost every game and passing a ton, so there is ample opportunity for Moore and others to emerge. And when I look at the Oakland receiving corps, Moore is still the guy that stands out as the best playmaker in the group. Yet, despite all of this, Moore has been a non-factor recently. He has moved a peg or two down my rankings list.

Titus Young - If you like drama and wasted talent on your dynasty team, then Titus Young should be smack dab in the middle of your radar. For the rest of us, Young has lost almost all relevance. When the second-year receiver purposely lined up in the wrong spot several times during Detroit's game against Houston a few weeks back, he pretty much proved that the Lions could not rely on him any longer. He was inactive the following Sunday and, based on comments from Lion's center Dominic Raiola, many of his teammates are fed up with his actions. Young is talented and plays in an ideal system to put up nice stats. Yet, he is so temperamental that he is simply untrustworthy, and thus, he is sliding down rankings boards at a furious pace. On top of his ridiculous antics, a recent knee injury has flushed Young's value a little bit further and landed him on the IR.

With Young scheduled for knee surgery, Lions coach Jim Schwartz publicly made a remark that questioned whether or not his receiver would actually show up for it. When the head coach of your football team is making cracks like that at your expense, it seems fairly obvious that there is a complete lack of trust. Young is under contract through 2014 in Detroit, but it wouldn't surprise me if we've seen the last of him in the Motor City. I would expect the team to address WR depth in the draft and/or via free agency. Perhaps a fresh start for Young in a new city could be good, but I won't be holding my breath. He needs to mature by leaps and bounds before he can become a consistent contributor for an NFL team (and also fantasy teams).

Stash in the Glove Box

Marvin Jones - Led by Andy Dalton at QB, the Cincinnati air attack has been a moderately pleasant surprise this season. With 14 weeks in the books, the Bengals are currently ranked 14th in passing yards and 5th in passing TDs. While some may question Dalton's arm strength, he has proven to be a capable starting QB at the very least, and I'm in the camp that thinks he is a significant notch above merely capable. Obviously, having a truly special WR like A.J. Green greatly helps Dalton's cause, but the Bengals have done a solid job in bringing in some other young talent in the receiving corps. And to his credit, Dalton has done well in utilizing the skill sets of the players he's been surrounded with.

At times this season, I've been drawn in by Andrew Hawkins and Mohamed Sanu. And frankly, I still think both have unique and valuable skill sets that will allow them to be solid contributors going forward. That said, Marvin Jones probably has more upside than either Hawkins or Sanu. In my view, Jones is a wildcard with a lower floor and higher ceiling; the type of player that makes a good buy-low stash candidate. With the recent Sanu injury, we are already seeing Jones on the field considerably more and making some big plays. The way he finishes the season out could be very telling about his future in Cincinnati, but regardless of the strength of his finish, Jones remains a player worthy of keeping a close eye on for the next season or so. The Bengals need another consistent contributor out of their receiving group and Jones should get a legitimate shot.