Highlighting a few key risers and fallers, the Dynasty Dashboard assists in keeping you on top of player valuation changes as they are developing. Further, a deep sleeper or largely overlooked player worthy of consideration for a spot on your roster will also be identified each week. Keep an eye on the dashboard and drive your team toward dynasty league success.



Accelerating



Robert Griffin III - The Redskins traded away three first round picks in order to secure Griffin in this yearís draft. His arm, athleticism, poise, intelligence and leadership made him a truly intriguing draft prospect and obviously one that Washington was planning on building their offense around for years to come. Given the circumstances surrounding his entry into the league, and the simple fact he went second overall in the draft, it is easy to see why the former Baylor Bear got so much hype so early on. However, it was somewhat surprising that the hype didnít moderate at all during offseason workouts and the preseason, and, if anything, it ballooned even further. Expectations for Griffin are darn near off the charts and will be difficult to live up to.

Yet despite all of the pressure, all of the expectations and all of the hype, Griffin came out on Sunday and lit it up right out of the gate. He started the game going 8 for 8 in pass attempts, with 149 yards and 1 TD. While most of his early throws were of the short variety, with multiple receivers spread out wide, Griffin was ultra-efficient and looked nearly unstoppable. Inevitably, he cooled off a little during the course of the game, but not by all that much. Griffin was extremely impressive Week 1, leading his team in an upset victory over the Saints. The RGIII hype train is now running at warp speed, but I think the young QB is starting to prove that the hype is warranted and that he is the real deal. At this point in time, I can count on one hand how many QBs Iíd rather have on my dynasty roster over Griffin.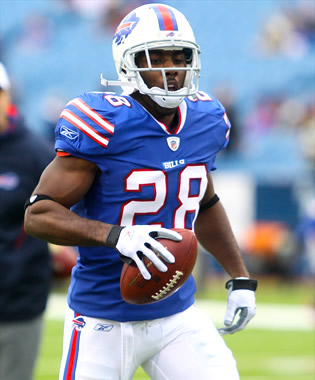 The door is open for Spiller to establish hinslef as the focal point of the Bills offense.

C.J. Spiller - After an underwhelming rookie season in 2010, C.J. Spiller started off the 2011 much the same. Getting only a small handful of touches per outing, he wasnít doing enough to make a fantasy impact. However, a Fred Jackson injury in Week 11 opened the door for Spiller and he took full advantage. During the last six weeks of 2011 Spiller averaged 14.3 carries per game for 74.3 yards and 0.5 TDs. Thatís an impressive 5.2 yards per carry. On top of the rushing stats, he averaged 4.0 receptions for 31.2 yards and 0.3 TDs. During that stretch of games, Spiller proved that, if utilized properly, he can be a very productive NFL RB.

Entering this season, it was looking like Spiller might have a somewhat limited role once again, with Fred Jackson getting the majority of the touches out of the backfield. However, Jacksonís knee injury on Sunday opened the door for Spiller for a second time, and the speedster exploded with 194 combined rushing/receiving yards and 1 TD against the Jets. The 31-year-old Jackson may only be sidelined for a few weeks, but this is a great opportunity for Spiller to establish himself as one of the focal points of the Bills offensive attack going forward. Admittedly, I have doubts that Spiller will ever be a 20+ carry per game type of player, but heís proven doesnít need tons of rushing attempts to be effective. If Buffalo can continue to get him 12-15 carries per game along with a several targets through the air, heíll have a significant fantasy impact and keep his dynasty owners happy.

Reggie Wayne - With Peyton Manning injured last season, the QB play for the Colts was atrocious. Curtis Painter, Kerry Collins and Dan Orlovsky just didnít get the job done, but it was a monumental task for any of them to try to fill Manningís shoes. The team ended up only passing for only 2,995 yards in 2011, sixth lowest in the league. With this as the backdrop, it isnít at all surprising that Reggie Wayneís numbers experienced a dip last year. Frankly, 960 yards with 4 TDs was respectable production when you take into account the general state of the Indianapolis offense. On the positive front, even as a rookie, Andrew Luck should be a vast improvement at QB for the Colts, and this alone is reason for some optimism regarding Wayne.

Admittedly, due to age, the long-term upside for Reggie Wayne is not there, but for the next season or so he could be a nice producer. His performance against the Bears on Sunday (18 targets resulting in 9 receptions for 135 yards) revealed a couple of important things. First, and most importantly, Wayne is not yet entirely washed up. Secondarily, it showed me that Luck will not hesitate to lean heavily on his veteran WR. Wayne was targeted on an impressive 38% of Indyís pass plays Week 1. If the Colts find themselves trailing late in games frequently again this year, Luck will be passing a lot and Wayne should be one of the primary beneficiaries. I wouldnít expect to see him rebound to the levels he was at a few years ago with Manning, but 1,050 yards and 5 TDs seems reachable. Heís a good short-term WR3 option for a playoff-caliber team.



Downshifting



Michael Turner - Over the last several years, the Falcons offense has leaned a good amount on the ground game and specifically the services of Michael Turner. This approach helped keep pressure off of the teamís young QB, Matt Ryan, and it allowed Turner to post some big rushing statistics. Turner was very effective in the bell cow role at RB, there is no denying it. However, things are changing in Atlanta. Ryan is now a proven commodity at QB and the team has a new Offensive Coordinator that appears set on opening the offense up and becoming more pass-centric. This approach makes perfect sense given the fact that the Falcons have two elite talents at WR in Julio Jones and Roddy White. The evolving Atlanta offense wouldnít necessarily be such a bad thing for Turnerís fantasy value if he was a solid contributor in the receiving game, but because this isnít an area of strength for him, it is significantly impactful.

Compounding matters further for Turner is his age. At 30 years old, he is past his prime. Donít get me wrong, one lackluster game to start the season isnít enough to completely write off the veteran RB, yet when you look at the totality of Turnerís situation, it is hard to be optimistic about his outlook going forward. The fact he only had 11 carries in a game where his team led during the entire second half is another telltale sign. In days past, Turner likely would have toted the ball noticeably more to grind out some time in the second half of a game like the one last week. In my view, it is looking more and more like Turner will have a less meaningful role in Atlantaís offense.



Spotted in the High Beams



Aldrick Robinson - The second-year receiver out of SMU spent the bulk of his rookie campaign on the Redskins practice squad. At the beginning of this season, Robinson appeared to again be buried on the depth chart. While Washington doesn't have anything close to an elite group of WRs, they do have some decent options at the position; with Pierre Garcon, Josh Morgan, Santana Moss and Leonard Hankerson. Only a week ago, I would have told you that Robinson wasn't even worthy of consideration of a roster spot on your tam. However, things change and when given the opportunity, the young WR flashed some playmaking ability against the Saints.

After Pierre Garcon left the game with a foot injury, Robinson played a prominent role for the 'Skins. He was targeted by Griffin 6 times during Week 1 and snagged 4 of those passes en route to posting 52 receiving yards and 1 TD. Much to everyone's surprise, when Garcon departed the game, Robinson was heavily involved in picking up the slack. This was a nice performance from an unlikely suspect. Although it is unclear what his role will be going forward, particularly in a system run by two Shanahans, what Robinson was able to do on Sunday was enough to warrant having him on your dynasty radar. Depending on league size and roster requirements, he looks like he is worthy of taking a flyer on.