Highlighting a few key risers and fallers, the Dynasty Dashboard assists in keeping you on top of player valuation changes as they are developing. Further, a deep sleeper or largely overlooked player worthy of consideration for a spot on your roster will also be identified each week. Keep an eye on the dashboard and drive your team toward dynasty league success.



Accelerating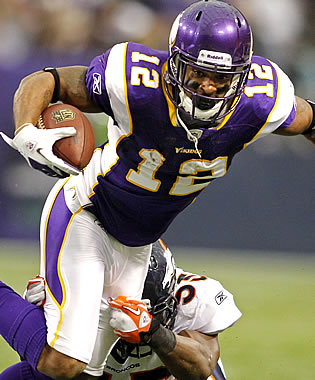 Harvin is getting what he wants... opportunities.

Percy Harvin - If I asked you to name all of the WRs that posted over 1,300 yards from scrimmage last season off of the top of your head, you might not think of Percy Harvin. He had a sneaky-good 2011 when you look at the combination of his receiving and rushing numbers. Those figures combined added up to 1,312 yards and 8 TDs. Harvin ranked 6th in total yards from scrimmage at the WR position; ahead of guys like Roddy White, Mike Wallace and Brandon Marshall. And this doesn't even factor in his punt return yardage. Harvin is a special player that the Vikings try to get the ball to in a variety of manners. Many savvy dynasty owners have long recognized his dynamic skill set and have him firmly planted in their starting lineup each week.

Only two games into this season, Harvin has posted 18 receptions for 188 yards along with 7 rushes for 33 yards. While he has been kept out of the endzone thus far, his impact is being felt, as he is averaging over 100 yards from scrimmage at this early stage of the season. Harvin is a big-time playmaker and he is getting his hands on the ball a ton. And despite this being his 4th year in the league, Harvin is only 24 years old and should have a ton of quality football left in the tank. Guys like Calvin Johnson, Julio Jones and A.J. Green likely sit atop the WR rankings board for most, but Harvin belongs somewhere in the next tier, particularly in PPR formats. Harvin is a legitimate WR1 option for dynasty teams.

Matt Ryan - In previous weeks, I've made the case for Julio Jones as an "accelerator" and Michael Turner as a "downshifter." If you've read the last two editions of Dynasty Dashboard, it should come as no surprise that I also see Matt Ryan as a player making a vertical climb at his position. I may sound like a broken record on this, but I believe that the Atlanta passing game is on the rise and their running attack is on the decline. There are plenty of reasons for this, including:


A good QB entering the prime of his career.

Two elite talents at WR and a TE that has proven to be still capable.

A new offensive coordinator that appears more reliant on passing than his predecessor.

An aging workhorse RB that is past his prime and seemingly not a great fit for the new offensive system.


This all adds up to a nice boost for Atlanta's aerial assault as well as Matt Ryan's dynasty value. I think that Ryan is now hovering somewhere around the mid-level QB1 range in standard 12-team leagues. What's not to like? Things have aligned nearly perfectly for him to move up QB rankings everywhere. His first two games this season lend a touch of credence to this claim, despite clearly being a small sample size. Using FFToday scoring, Ryan currently ranks #3 in points scored at QB. In my opinion, he looks like a player that is transitioning into a must-start status each week.



Downshifting



Mark Ingram - During the 2011 preseason, I was undeniably in the camp that believed Ingram could secure the role of workhorse RB in New Orleans from the word go. I didn't think he'd get the 3rd down duties, but aside from that, I expected him to put up some impressive numbers. As it turns out, due to several reasons, his rookie season was largely unimpressive. Entering this year, I surprisingly found myself toward the other end of the spectrum and doubting whether Ingram would ever have the sort of fantasy impact that I had originally expected from him. When I look at what he's done as a Saint as well as his overall situation, I find it hard to get very excited about him.

With 144 career rushes under his belt, Ingram has only been able to bust one run of 25 or greater yards. He hasn't shown an ability to make big plays at the NFL level. On top of that, of his 14 carries from within his opponent's 9-yard line, he has only reached pay dirt twice. This is not an efficient conversion rate when you look at other RBs in the league. For comparison's sake, in 2011 and season-to-date 2012, Pierre Thomas has scored on an impressive 4 out of his 9 attempts from within the 9-yard line. Perhaps Ingram's lack of success on this front can be attributed primarily to blocking or play calling, but he certainly has to take some of the responsibility. Regardless of where blame is cast, since Ingram isn't heavily utilized in the passing game and hasn't ripped many long runs thus far in his young career, fantasy owners need him to punch in a good percentage of his short-yardage TD attempts. Until he proves capable of this, his upside is greatly limited.

Roy Helu - Selected in the 4h round of the 2011 draft, Roy Helu generally wasn't expected to see a ton of touches as a rookie. However, a Tim Hightower injury forced him into a larger role by mid-season, and Helu proved effective with an increased workload. In a 7-game stretch from Week 9 through Week 15, he averaged 17.1 rushing attempts for 72.0 yards and 0.3 TDs. In addition, he averaged 5.0 receptions for 34.1 yards. These are solid numbers and Helu definitely looked the part of a starting NFL RB. Unfortunately for Helu, a toe and ankle injury opened the door for Evan Royser during the last two weeks of the season and Royster was also impressive when given his opportunity.

Entering this preseason, Washington's backfield was a mess and no one seemed to have a good handle on how things would shakeout in the three-player battle between Hightower, Helu and Royster. Muddying the water even further was the emergence of Alfred Morris. With Hightower not yet at full health, and with Helu and Royster each battling nagging injuries, Morris received a lot of important work. The unheralded rookie out of Florida Atlantic looked good serving as lead back. The three-headed RB monster in Washington evolved into a hideous four-headed beast as the preseason progressed. Yet before anyone could blink, Mike Shanahan swung his mighty sword and removed one of the heads when he unexpectedly cut Hightower from the team.

Back to merely a three-player battle at the position, it was still unclear who the team's starting RB would be on opening Sunday. Surprisingly, Morris got the nod Week 1, and he performed admirably in a win over the Saints. He followed that up with another solid performance last week and appears to have secured the lead gig for the time being, largely relegating Helu to 3rd down duty and Royster to no-man's land. While this could all change next week with Shanahan at the helm, as of right now, it is looking like Helu's dynasty value is trending markedly downward. Owners that currently have Helu rostered shouldn't panic and sell low. If Morris gets banged up or struggles with ball security, Helu could once again find himself with a prominent role in the ground game.



Stash in the Glove Box



Lamar Miller - Leading up to this year's NFL draft, many experts had Miller as a highly-rated RB. However, on draft day, he slipped all the way into the fourth round, where the Dolphins scooped him up. A couple of Miller's biggest strengths are his straight-line speed and athleticism. He was very successful in his one full season as a starter for the Miami Hurricanes, averaging 5.6 yards per carry en route to posting 1,272 rushing yards and 9 TDs.

Unfortunately for Miller, he landed in a crowded Dolphins backfield and is now competing for playing time with Reggie Bush and last year's 2nd round pick, Daniel Thomas. However, his situation may not be as bleak as it appears at first glance. Despite on-going contract talks, Bush is still slated to be a free agent next season, and Thomas was added to the team under the previous coaching regime. Miller may get a real chance to carve out a significant role sooner than some realize. Yet, even if he does not, those that invested in him in their league's rookie draft not too long ago are likely already believers in his talent and are willing to stash him on their bench for a good while. He has excellent upside. Miller's solid performance vs. Oakland last week is encouraging, but not something to get carried away with. The way the Raiders defense was playing, it seemed like nearly any NFL RB could have gouged them for huge chunks of yards.