Highlighting a few key risers and fallers, the Dynasty Dashboard assists in keeping you on top of player valuation changes as they are developing. Further, a deep sleeper or largely overlooked player worthy of consideration for a spot on your roster will also be identified each week. Keep an eye on the dashboard and drive your team toward dynasty league success.



Accelerating



Andrew Hawkins - Coming into this season, the Bengals had a lot of question marks in the receiving game. Other than A.J. Green and Jermaine Gresham, it was anyone's guess as to how things would shake out. Armon Binns, Andrew Hawkins, Brandon Tate, Mohamed Sanu and Marvin Jones weren't exactly proven commodities in the NFL when the season began. One or two of these guys needed to step up his game in order for Andy Dalton to really build upon his strong rookie campaign. Currently, it looks like Binns and Hawkins are each making a push to emerge. However, Hawkins is the player that has really caught my eye and made me think that he brings something special to the table. While his diminutive stature may be a deterrent for some, his speed and playmaking ability are easily trumping factors.

Hawkins' path to the NFL was not typical, going undrafted in 2008 and spending time in the CFL before earning a roster spot and now an important role on the Bengals. In 2011, Hawkins made some plays for Cincinnati when given the opportunity, but the season was largely uneventful for him. Things have been different for Hawkins this year and he is already making a much bigger splash. Playing primarily out of the slot in three games this season, he has 12 receptions for 208 yards and 2 TDs through the air, along with 2 carries for 16 yards on the ground. Then Bengals are finding ways to get Hawkins involved on offense and it's proving to be a mutually beneficial situation. Using FFToday standard scoring, he is averaging 11.5 points per game, ranking him 11th at the position. While at 26 years of age he is not as young as some may expect, his fantasy stock is clearly in on the rise.

Lance Moore - As dynasty owners, many of us can't help but be drawn in by players with youth and upside potential. These are exciting players to have on our rosters because they can yield great long-term results and make us look like fantasy football geniuses if they pan out as we hope. Of course, they don't always work out as planned and we probably "miss" more than we "hit" on these types. Still, players with the aforementioned attributes are extremely alluring. On the flipside of the coin, you have guys like Lance Moore. He's no spring chicken and he's pretty well proven that he'll never be an all-pro in the NFL. Moore isn't a special talent or a game changer, yet I believe he is starting to slowly edge up dynasty rankings lately, or at least he should be.

There are two primary reasons to be high on Moore this season and possibly next. First off, the Saints have a good offense and a bad defense (even worse than expected). They seem destined to be in a lot of shootouts, providing guys like Moore with plenty of opportunity to put up stats. Secondly, while Jimmy Graham and Marques Colston are the top options in the air attack, the receiving pie is plenty big enough for another receiver to take a significant slice. With Robert Meachem now in San Diego and Devery Henderson simply a deep threat that offers little other than a big play every so often, Moore should see plenty of targets this season (assuming he remains largely healthy).

Through three games, Moore has averaged 4 receptions for 73.3 yards and 0.7 TDs on 7.3 targets. These aren't stellar numbers, but they are pretty strong considering they were posted by a player that most owners view as a WR3 at the current time. And Moore nearly had another TD against Kansas City last week, but he failed to get his second foot in bounds before the pylon on a third quarter pass attempt that was ultimately ruled incomplete (after a challenge and overturn). Moore provides fantasy teams with high-quality depth at WR and probably comes with a price tag that won't induce sticker shock. He's not a young or exciting player, but I think he is an ideal target for playoff-caliber teams that need help at the position, particularly as injuries start to pile up and bye weeks begin to hit hard.



Downshifting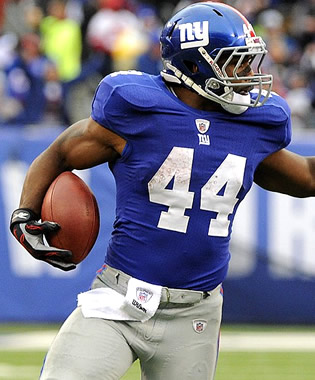 Injuries and competition have Ahmad Bradshaw's stock trending downward.

Ahmad Bradshaw - When Brandon Jacobs left the Giants in the offseason, many assumed that this significantly improved Ahmad Bradshaw's situation. The RBBC in New York was seemingly over. Well, any excitement that Bradshaw might be the bell cow for the Giants died down pretty quickly when the team selected David Wilson at the end of the first round in this year's draft. Entering this season, the general consensus was that Bradshaw would serve as the clear lead back in some form of a RBBC, with Wilson sprinkled in consistently. However, a critical opening-week fumble quickly planted the rookie in Coughlin's doghouse and Bradshaw once again appeared set to carry a heavy workload, at least in the near term. But things quickly change in the NFL and a neck injury to the veteran RB allowed Andre Brown an opportunity to show what he can do. To the surprise of many, it wasn't Wilson's number that was called.

Brown is a good-sized RB that runs tough. So far, while filling in for an injured Bradshaw, he has gained 184 yards and 3 TDs on the ground on 33 attempts. There is simply no denying that he has been very effective for the team. It is unclear exactly how much work he will get once Bradshaw returns to action, but Brown is definitely making a case for a substantial role. Bradshaw's long-term value has been in doubt since the day the Giants drafted David Wilson, but now his short-term value is a bit of a question mark as well. Recent reports indicate that Bradshaw will retain his starting gig, but it seems likely that Brown's recent emergence will cut into his touches this season. I believe that Bradshaw is still capable of posting some nice performances here and there, yet his stock is trending noticeably downward. The Bradshaw owners that are looking to sell right now are almost certainly finding the market to be quite tepid.

Robert Meachem - As a first round draft pick, expectations were high for Robert Meachem in New Orleans. Unfortunately, things didn't work out as well as planned. Meachem wasn't a total bust for the team, but the big moments he had were too few and far between. He played for an elite passing offense, yet could never emerge as one of the top receiving threats on the team. A change of scenery via his signing with San Diego this past offseason had the potential to resurrect his career. The Chargers lost Vincent Jackson and were in desperate need of a deep threat to help fill the void. Meachem seemed like a great fit. The situation lined up nearly perfectly for him to step in and put up some good stats.

Despite the favorable landing spot for Meachem, he has not yet delivered. The numbers thus far have left much to be desired, with Meachem only posting 6 catches for 92 yards and 0 TDs through three games. Frankly, I can't say that I'm too surprised. The fact that he never separated from the likes of Lance Moore and Devery Henderson while in New Orleans was a red flag for me. While it's still too early to completely write Meachem off as largely irrelevant in dynasty leagues, his value is on the cusp of a free fall, desperately needing a couple of big games in order to avert a fatal plummet and begin any sort of leveling-off or upward trajectory. I'm not optimistic. Once Gates gets things going and Vincent Brown returns from IR, there will be even less opportunity for Meacham to produce significant numbers.



Stash in the Glove Box



Ramses Barden - With Hakeem Nicks and Domenik Hixon both sidelined, the Giants turned to Ramses Barden last week, and he definitely made the most out the opportunity. The 6'6" tall WR was targeted by Eli Manning 10 times against the Panthers, reeling in an impressive 9 catches for 138 yards. It was a very good performance from a guy that had done very little in the league during his first three years. Not too long ago Barden appeared to be buried on the depth chart, with many expecting the rookie Rueben Randle to see snaps ahead of him. However, things are always moving in the NFL and Barden is now clearly ahead of Randle in terms of pecking order at WR in New York.

In many dynasty leagues, Barden may have been rostered before his recent breakout game, but in those where he wasn't, he almost certainly is now. Team owners with a high waiver wire priority this week probably were stoked to use such in order to snag Barden. Given his size, age (26) and the favorable New York offense, there are good reasons to be excited about him going forward. His big game has generated a healthy amount of hype. And while this hype has some level of legitimacy, I would caution people to moderate their expectations for Barden. He is a great guy to stash on your roster, but with Cruz, Nicks and even Bennett playing a big role in the receiving game, Barden's opportunity to produce will potentially be limited unless injuries get ahold of some of the aforementioned players again in the near-term.