Highlighting a few key risers and fallers, the Dynasty Dashboard assists in keeping you on top of player valuation changes as they are developing. Further, a deep sleeper or largely overlooked player worthy of consideration for a spot on your roster will also be identified each week. Keep an eye on the dashboard and drive your team toward dynasty league success.



Accelerating



Alfred Morris - Throughout the years, Mike Shanahan has had so many flavor of the week RBs that I am hesitant to list any of his team's late-round selections at this position as an "accelerator." We all know the track record of RBs that he has used as in a lead role for a few weeks here or a couple weeks there, teasing us with hopes of finding diamonds in the rough. Yet, if you stop to really think about it, Shanahan has really transformed a lot of mediocre talents into viable fantasy options at RB over the years. Numerous players have emerged from relative obscurity to rush for 1,000 yards in his system. Right now, it's looking like we'll be able to add another player to that list; Alfred Morris.

In four games, Morris is averaging 20.5 carries for 94.0 yards and 1 TD on the ground. These are impressive numbers and have him ranked at 5th in total points scored at RB, using FFToday's standard scoring. However, the more impressive thing about these numbers comes to light when you put them into historical context. Since 1960 in the NFL, only 9 rookie RB's have rushed for more yards than Morris in the opening four weeks of the season. The list of 9 surpassing Morris contains some of the all-time greats at the position, including Eric Dickerson, LaDainian Tomlinson, Adrian Peterson and Earl Campbell. I don't mean to suggest that Morris is anywhere near the same caliber of player as these guys, yet the numbers he has posted thus far clearly puts him in good company.

Long term, it isn't clear what to expect from Morris. Will he continue to perform so well? Will he be able to stay out of Shanahan's doghouse? These are tough questions to answer, but what we do know right now is that Morris has been given a great shot in Washington and he is absolutely making the most of it. He runs hard and appears to be a good fit for the zone blocking system. Morris may not jump off the screen as a special talent, but that doesn't mean he can't be productive for a handful of years. I like his odds of holding onto the starting RB gig in Washington for a good while. Things can change quickly at RB under Shanahan, but for the time being, Morris is undeniably the guy in Washington.

Chris Johnson - After three extremely disappointing weeks to start the 2012 campaign, Johnson had the type of game on Sunday that we all knew he was capable of; posting 141 yards on the ground along with 16 receiving yards. While it is disappointing that he was kept out of the endzone, he still had a very nice outing and one that his owners should be encouraged by. However, because he opened the season with three consecutive putrid performances and was facing off against a tough Houston defense Week 4, my guess is that more than a handful of Johnson owners had him on their bench when he finally posted some respectable numbers this past weekend. Moving forward, those same owners that were burned by leaving Johnson on their bench will probably plant him right back into their starting lineup for the foreseeable future. Without a doubt, CJ2k has been a maddening player to own thus far in 2012.

Actually, the trend of being a frustrated Chris Johnson owner probably dates back to the early weeks of last season. Johnson was electrifying in his 2,000-yard 2009 campaign and very good during 2010 as well, but 2011 wasn't up to the standards he had previously established. His dynasty stock clearly dipped a bit last year, but his poor start this season likely caused his name to slip noticeably further down rankings boards. And even though one good game does not dramatically change a player's outlook, Johnson's performance on Sunday did at least help prevent his fantasy value from freefalling to an even more pedestrian level at RB. Only time will tell if he can continue to run so effectively, as there are legitimate reasons to be skeptical, yet despite any of the lingering questions, Johnson owners have to continue to roll the dice on their dynamic playmaker. His upside is off the charts and his age (27) does not yet put him in the danger zone at his position. Ultimately, Johnson probably isn't a true "accelerator" right now, but instead a player that is fortunate to be coasting in neutral after it looked like the emergency brake was about to be employed on his dynasty stock. If things shakeout favorably for him in the coming weeks he could regain some of the ground he previously lost. Of course, things could go the other way as well.



Downshifting



Shonn Greene - There are currently 23 RBs that have registered 50 or more carries on the season. Of those 23, only 1 is averaging less than 3.0 yards per carry. Chris Johnson's big game on Sunday removes his name from consideration, so the player holding this dubious distinction is none other than New York's Shonn Greene. The Jets RB is averaging a measly 2.8 yards per tote through four games. He simply hasn't gotten the job done for his team and is now starting to lose touches to Bilal Powell. Yet despite Greene's underwhelming play so far this year, it is worth noting that the entire Jets offense has been bad, averaging only 284.0 yards of total offense per game (28th in the league). There is plenty of blame to go around for the lack of success on offense for the Jets.

Admittedly, coming into this season, I liked Greene's odds of compiling some nice stats. He doesn't have an elite skill set, but the opportunity was ripe for some good rushing yardage and a handful of TDs. Unfortunately, things haven't worked out so well for Greene thus far in 2012. Part of this can be attributed to less-than-favorable matchups in Weeks 2-4, where the Jets encountered the likes of Pittsburgh, Miami and San Francisco. While the schedule doesn't soften too significantly in the next month or so, Greene should find it a little easier going.

If Greene is unable to step up his game in the next few weeks, along with his yards per carry, then we should expect Bilal Powell's workload to increase even further. A team dedicated to running the ball has to get better production out of its lead back. Greene hasn't lost his grasp on his job just yet, but he is definitely on shaky ground. Beyond this season, Greene's contract status is another matter to be concerned with. As an unrestricted free agent in 2013, he may find it difficult to land a lead gig where he is so heavily utilized. Whether it occurs this year or next, it is looking more and more like Greene's days as a primary ball carrier are numbered.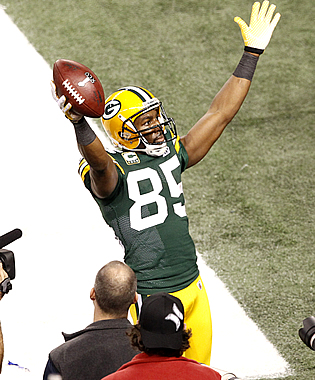 Gone are the day of Greg Jennings being Green Bay's primary big play threat.

Greg Jennings - Gone are the days of Greg Jennings being Green Bay's primary big play threat at WR. Jordy Nelson has proven he can have a real impact on this front as well. His breakout season last year along with his production in the playoffs during the team's Superbowl run in 2010 should have silenced most of his critics. Entering this season, Jennings and Nelson appeared to be a strong WR 1A and 1B duo for the team. After the two of them, you have to factor in the likes of Randall Cobb, James Jones and even Donald Driver. All three players bring something to the table, but Cobb is of particular concern as he is clearly on the upswing of his career, having not yet reached his fullest potential. There is simply a lot of talent in the WR corps and Aaron Rodgers isn't afraid to spread the ball around and exploit specific favorable matchups during a given week. This is all good for the team, but not necessarily for Jennings' production.

On top of the quality depth at WR in Green Bay posing an issue for Jennings, his age (29) and nagging injuries are also areas of concern when assessing his dynasty stock. Further, his contract status needs to be monitored, as it is possible he may not be in the Packers plans beyond this season. A fully-healthy Jennings in Green Bay (or another WR-friendly system) has a lot to offer dynasty teams. However, seasons where he posts 1,200 yards and 10+ TDs are probably no longer in the cards for the veteran receiver. While only a couple of months ago I had him as a mid-range WR1, I believe Jennings has slipped down to high-level WR2 range. His downshift hasn't been substantial to this point, yet is still noteworthy and could become more pronounced if his hamstring injury continues to be problematic and other WRs in Green Bay step up to fill his void.



Stash in the Glove Box



Brian Quick & Chris Givens - The St. Louis Rams offense ranks 28th in the league in passing yards, at 196.5 yards per game. With former first overall pick, Sam Bradford behind center, expectations for the air attack were higher. Yet, while Bradford clearly must shoulder some of the blame for the lack of success in the passing game, he hasn't gotten adequate help from the offensive line or receiving group. Regarding the latter, Danny Amendola is the only receiver on the team that has proven to be a trustworthy target for Bradford. Sadly, no other Ram has even logged 10 or more receptions so far this season. And let's be honest, Amendola is a very solid possession WR, but he is not a special talent. The team is desperate for help in the receiving game.

With the first pick of the second round of this year's draft, St. Louis selected Brian Quick out of Appalachian State. Some analysts saw the pick as a bit of a reach, but the Rams had a clear need that they were attempting to address. Two rounds later, with the first pick of the fourth round, the team grabbed another WR, Chris Givens from Wake Forrest. The Rams probably hoped one of these youngsters would have an immediate impact, but one quarter of the way through this duo's rookie season, neither have done much to impress. Quick has one reception for 19 yards on 4 targets and Givens has 3 receptions for 61 yards on 10 targets.

The two rookies are very different receivers. Quick has the elite size and athleticism that many look for at the WR position. Givens' game is centered largely around speed and fluidity. While both players have struggled out of the gate during their first season, they are each likely to be given a real opportunity to emerge, whether this year or next. It's not a lock that one or both will succeed in the NFL, but if they work diligently to improve their craft, there are few roadblocks ahead of them in St. Louis. In general, Quick is probably more highly regarded in dynasty circles and might have a higher ceiling, yet I tend to prefer Givens by a narrow margin. Frankly, there are good reasons to like both players.