Highlighting a few key risers and fallers, the Dynasty Dashboard assists in keeping you on top of player valuation changes as they are developing. Further, a deep sleeper or largely overlooked player worthy of consideration for a spot on your roster will also be identified each week. Keep an eye on the dashboard and drive your team toward dynasty league success.



Accelerating



Vincent Jackson - In Week Six's 38-10 thumping of the Chiefs, Josh Freeman and the Buccaneers posted 328 yards and 3 TDs through the air. Freeman did a decent job spreading the ball around, but the two primary beneficiaries of his throws were Mike Williams and Vincent Jackson. Williams pulled in 4 balls for 113 yards and 1 TD and Jackson posted 4 grabs for 66 yards and 2 TDs. Overall, Williams and Jackson are getting much more love from their QB than the other receivers on the team. This WR duo has combined to log an average of 7.0 receptions for 140.4 yards and 1.4 TDs per game (in five games played). Among all WR duos in the league, Williams and Jackson rank 10th in receiving yards per game this season and 2nd in receiving TDs per game. While I don't mean to imply that they're a dominant duo, they clearly have been very productive thus far in 2012.

Focusing on Jackson, his dynasty value has slowly been on the rise in the last few weeks. When he signed as a free agent in Tampa Bay this past offseason, his stock dropped moderately. Landing on a team with Freeman as his QB and a with head coach that presumably wanted to lean substantially on the ground game, Jackson's situation was seemingly downgraded vs. what he had in San Diego. However, the "downgrade" has not had much of an impact at all on the former Charger. He's still putting up the type of numbers that his owners have grown accustomed to over the last several years. Using FFToday standard scoring, he currently ranks 9th in points per game at the WR position. Jackson has clawed his way back up dynasty ranking boards and I believe he has settled somewhere in the mid-high WR2 range (in standard 12-team dynasty leagues).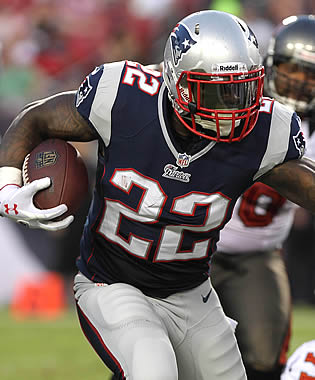 The Pats are counting on their running game in 2012.

Stevan Ridley - There has been a lot of talk about the Patriots offense lately, with the bulk of the chatter centered around the nature of their no-huddle approach and their use of two-TE sets vs. multiple WRs. An interesting thing that is largely being glossed over right now is a modest, yet significant, shift in the run-pass balance for the team. Through the first five weeks of this season New England ran the ball nearly 51% of the time, but with Week Six's 58 pass attempts against Seattle, the season average now stands at 47.2%. In 2011, the Patriots only ran 41.7% of the time, with that figure at 47.2% in 2010 and 44.0% in 2009. So far in 2012, New England has been a bit more dedicated to the run than their 3-year average. There is some life in their ground game and specifically the legs of Stevan Ridley. Most fantasy owners have probably already taken notice.

Ridley has now grinded his way to five 15+ carry performances in six weeks, including three consecutive in his last three games. The last Patriot to log three consecutive weeks in a given season with 15 or more rushing attempts was Laurence Maroney back in 2007. New England has long been a pass-first team and has struggled to find a consistent threat running the ball. At this point, it is looking like they may have found a solution with Ridley. Aside from some ball-security issues, Ridley has performed very well this season. He's 5th in the league with 524 rushing yards and has punched in 4 TDs. The second-year player out of LSU is now an integral part of the Patriots offense. Teams are so focused on Brady and the air-attack that the ground game has been something available for Ridley and the Pats to exploit.

No one knows exactly what the future holds for the New England offense with Belichick and McDaniel pulling the strings, but it looks like Ridley has carved out a nice role for the foreseeable future. His dynasty stock has clearly shot up in the last two months. For team owners that are considering targeting Ridley in a trade, they will have to bring a legit offer to the table in order to even get a hint of interest. It's been a long time since the Patriots have produced a true stud RB for fantasy owners, and while the jury is still out on whether or not Ridley can reach that level, he has at least proven capable of producing more than merely mediocre fantasy numbers, particularly in non-PPR leagues.



Downshifting



Greg Little - In the preseason, I wrote about Greg Little being a player whose physicality and upside appealed to me as a dynasty owner, but that he was also a player that had more question marks surrounding him entering his second year than he did his first year. A couple of the bigger concerns that I highlighted were the arrival of Josh Gordon in Cleveland and Little's unsure hands. Well, as it turns out, these question marks are starting to being addressed for Little, and not in a positive manner. While Gordon has not yet developed into Weeden's go-to receiver, he has established himself as the team's primary downfield threat. The rookie WR out of Baylor has posted three TDs in his last two games, two of which were 50 yards or greater. And then there is the matter of dropped passes for Little. This issue continues to plague him and may eventually land him on the sidelines if he is unable to rectify it.

In six games played this season, Little has posted only 14 receptions for 169 yards and 1 TD. The Browns clearly are desperate for WR production and Little has had a tremendous opportunity to emerge as a difference maker for the team, but he has dropped the ball, both figuratively and literally. Dynasty owners shouldn't cast him into the scrap heap just yet, as there is still time for him to right the ship, but the outlook for Little isn't pretty at the moment. If you already own him, you should view Little as a hold since the trade market is probably ice cold for the young WR. Park him at the end of your bench and cross your fingers in the hope that things start going better for him as we get deeper into the season.

Michael Vick - Do you remember how magical the 2010 season was for Michael Vick? After taking over for an injured Kevin Kolb in Week 1, he went on to post some huge numbers in only 12 games played. He had 3,018 yards passing with 21 TDs and only 6 INTs along with 676 rushing yards and 9 TDs on the ground. Vick had a phenomenal season that earned him a $100 million contract with the Eagles and undoubtedly helped many fantasy owners win their league's title. Unfortunately, 2011 was definitely a letdown coming on the heels of his special 2010 campaign. It's not that his play fell off precipitously, it just wasn't as sharp as it was the year before. There were huge expectations for Vick and the Vince Young-proclaimed "Dream Team" Eagles, and they simply didn't live up to them.

So far in 2012, it's been a mixed bag for Michael Vick. The good news: Vick has not yet missed a game and has thrown for 300+ yards in three out of his six matchups. The bad news: Vick has already thrown 8 INTs and has registered 5 lost fumbles. Further, there have been reports that Vick could be a goner in Philly after this season if he is unable to lead the team to the playoffs. Ultimately, Vick is a 32-year-old QB that takes a lot of big hits and relies more on his athleticism to get by than his football IQ. Although he still has huge upside and skills that can electrify, I think there is more than enough reason for concern. Vick's dynasty value is waning, but his owners should be looking to stick with him for the time being. However, it is advisable for all Vick owners to have a legitimate backup or at least a young up-and-comer waiting in the wings.




Stash in the Glove Box



Nick Foles - Being that I just identified Michael Vick as a "downshifter" and mentioned the recent buzz that the veteran QB could potentially be cut loose after this season if the Eagles continue to struggle and don't reach the playoffs, it should come as little-to-no surprise that I am earmarking Nick Foles as a great stash candidate. If your league has reasonably deep rosters, then I recommend looking at acquiring the rookie QB. Foles is probably on the radar of many dynasty owners, but his blip should be more pronounced for Vick owners and any teams that lack quality QB depth. There is a lot to like about Foles, particularly when you take into consideration his bargain-bin pricing.

Foles is a big QB that has better-than-average arm strength. He was an effective starter for the Arizona Wildcats for the bulk of three seasons. Entering the NFL, he wasn't considered one of the elite prospects at his position, as evidenced by his 3rd round draft position, yet he reportedly can make all of the throws needed at the pro level. Mobility and inconsistent mechanics are a couple of his weaknesses, although, presumably the latter can be improved upon with the assistance Andy Reid's staff in Philadelphia. Since Foles is already sitting at #2 on the depth chart for the Eagles, there is a decent chance he'll see some action this season, potentially filling in for a banged up Vick. It's a big if at this point, but if Foles gets a chance to play regularly for Philly, whether this season or next, he could really put up some nice numbers. The team has a favorable offensive system in place and an abundance of weapons for a QB to utilize.