Highlighting a few key risers and fallers, the Dynasty Dashboard assists in keeping you on top of player valuation changes as they are developing. Further, a deep sleeper or largely overlooked player worthy of consideration for a spot on your roster will also be identified each week. Keep an eye on the dashboard and drive your team toward dynasty league success.



Accelerating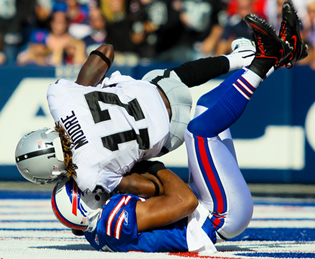 Check the numbers, Moore is pushing to be a WR2.

Denarius Moore - During his rookie year, the lockout-shortened offseason and a change of QBs mid-campaign were definite hurdles for Denarius Moore to overcome. He had little time to learn the offensive system and build adequate rapport with Jason Campbell or Carson Palmer, yet it didnít take long for Moore to emerge as a player with tremendous upside. While his rookie season had some ups and downs, including three games missed due to injury, he finished with 618 yards and 5 TDs through the air and 61 yards and 1 TD on the ground. The numbers were solid for the 5th round pick out of Tennessee, but more than the numbers, his game tape was something to be excited about. Moore frequently made plays that jumped off the screen in 2011.

Entering this season, the Raiders brought in a new head coach and offensive coordinator. So, Moore had a new system to learn once again. Sadly, a hamstring issue in the summer cut his training camp and preseason action short and also caused him to miss the opening week of the regular season. Moore missed some critical time getting up to speed with the new playbook and feeling things out with Palmer in the new scheme. A healthy camp and preseason would have greatly benefited the young WR, but it simply didnít happen. Instead, Moore worked his way back into the playing rotation in Week 2 and largely had to learn on the move once his hamstring was cooperating.

In only five games played this season, Moore has posted 323 receiving yards and 3 TDs. Using standard FFToday scoring, his numbers good enough to put him at 23rd in fantasy points per game at WR. Itís been a decent start to the season for Moore, but heís started to step it up a bit in the last few weeks. Despite a relatively quiet game this past Sunday against the Jags, one where he had almost no impact in the first half, Moore is still producing impressive numbers in recent weeks. In his last three games played, he is averaging 4.3 receptions for 70.3 yards and 0.7 TDs on 8.0 targets. It appears to me that Moore is now in proper game shape and has a good grasp of the new offense. Further, Moore and Palmer are beginning to dial in in their timing with one another. If Moore can remain largely healthy this season, he seems very likely to continue posting big numbers. I believe his is making a push to sneak into low-end WR2 territory in 12-team dynasty leagues.

Demaryius Thomas - Despite having Tim Tebow chucking him the rock in 2011, Demaryius Thomas had a great latter part of the regular season and playoffs. Thomasí performance during that stretch helped prove that he had the potential to be a studly producer for fantasy teams. Further, the move to Peyton Manning at QB only served to bolster the case for Thomas going forward. The future Hall of Fame QB didnít have to be at the top of his game in order to vastly improve the QB play for the Broncos. Not even halfway through his first season with Manning and Thomas (as well as Decker) is already proving to be more productive. Thomas is not the most polished WR at this point in his career, but his physical skill set is excellent and working with Manning could help take his game to the next level. Think of it this way, Thomas has a bunch of top-notch ingredients in his cupboard and he simply needed a master chef like Manning to come along to execute a world-class recipe, properly utilizing those ingredients.

Through six games played on the year, I can definitely smell something special cooking for Thomas. He is averaging 5.3 receptions for 91.7 yards and 0.5 TDs per game. Using FFToday standard scoring, this is good enough to put him at 8th in points per game at WR. When you take look at the numbers that Thomas has posted in his last 10 or 12 games played and you also factor in his youth (24 years old) along with his overall skill set, it is hard to come away thinking he is anything less than a low-end WR1 in typical dynasty formats. I have trouble coming up with even 10 players at the position that Iíd rank above Thomas right now. While I believe Calvin Johnson, A.J. Green and Julio Jones are a step above him, Thomas is now somewhere in the mix in the next tier of WRs. He is the type of player that dynasty owners should look at as one of the primary building blocks for their team.



Downshifting



Sam Bradford - In 2010, the Rams drafted Sam Bradford out of the University of Oklahoma with the number 1 overall pick in the draft. Being selected first has obviously come with very high expectations from his organization and Rams fans (as well as dynasty owners). Unfortunately for the third-year QB, since he has been with St. Louis, the team has cycled through a few different offensive coordinators. Further, they have played musical chairs at offensive line and wide receiver. These are key positions that a QB relies on and Bradford has had no stability in either area. As things stand currently, his line is a subpar group and his receiving corps is as well. Sticking with the cooking theme for a moment longer, this isnít a recipe for success for a young QB. Frankly, this scenario is all too reminiscent of how things started out for Alex Smith in San Francisco after he was selected number 1 overall by the team in 2005.

While I think that Bradford is probably talented enough to be an impact player for fantasy teams, his situation is a significant roadblock right now. In general, I do believe that in dynasty leagues talent trumps situation when evaluating players, as situations are always changing, but both variables factor heavily into the equation. Looking at the remainder of this season and all of next, I have significant concern that Bradford will be able to turn the corner and deliver the type of results that many were counting on. I wouldnít feel too comfortable with Bradford serving even as my primary backup QB. The upside is still there, but it is dependent upon St. Louis upgrading their offensive personnel, and doing so could take time.

Jermichael Finley - A couple of years ago, Finley was in the discussion for being at the top of the heap among fantasy TEs. A strong finish in 2009 and a great start to 2010 had the buzz at nearly a deafening decibel level. Unfortunately, an injury in Week 5 of 2010 ended Finleyís season and put temporary brakes on the hype train. Heading into 2011, the locomotive got back up to speed in no time and people once again had Finley ranked among the elite at his position. Yet despite the phenomenal season by Aaron Rodgers and the Green Bay aerial assault, Finley failed to live up to the lofty expectations. He had a solid campaign with 767 receiving yards and 8 TDs, but he struggled with drops and ultimately only finished fifth in total points at the TE position (using standard FFToday scoring). Guys like Gronkowski, Graham and even Hernandez really distanced themselves from Finley last season.

Entering this year, many still high hopes that Finley could right the ship and live up to his huge potential. The talent is clearly there and the situation in Green Bay is among the best in the league for WRs and TEs. On top of that, an injured Jennings opened the door for others on the team to have a bigger impact in the receiving game. But yet again, Finley just hasnít delivered. A banged up shoulder has likely impacted his play, but that is life in the NFL. With only 26 catches for 241 yards and 1 TD through 7 games, Finley owners have to be very disappointed. Frankly, they might now be looking at other options at the position. While I wouldnít advise shipping Finley away at his presumably deflated price, his production has definitely shifted him down the TE rankings board. The good news is that he is only 25 years old and if he can get healthy and fine tune some of the mental aspects of his game, he still has great upside. Itís just frustrating that said upside hasnít been realized by Finley yet.



Spotted in the High Beams



Vick Ballard - Unheralded rookie RB, Vick Ballard, ran the ball 20 times for 84 yards against Cleveland last week. He also had 1 reception for 19 yards. Statistically, he had a nice outing, with over 100 yards from scrimmage. Filling in for the injured Donald Brown, Ballard was the first Colts rookie to log 20 or more carries in a single game since Kenton Keith did it back in 2007 (remember him?). Previous to last week, Ballard had not even hit double-digit carries in a single game for the Colts, so he clearly got a big boost in workload with Brown out. And while he obviously didn't set the world on fire, Ballard was reasonably productive with his first big opportunity.

Ballard owners should be encouraged by his play last week, but they shouldn't give that one performance undue weight. Things lined up nearly perfectly for the first-year back out of Mississippi State to have a nice game. The injury to Donald Brown left a void for Ballard to help fill and the timing was great for Ballard because Cleveland's run defense has struggled this season. Further, because the Colts led during the bulk of the matchup, they were able to lean much more heavily on the ground game than they typically have this season. It was sort of perfect storm for Ballard to get a nice chunk of carries and make the most out of them. Once Brown returns, I would be surprised if Ballard sees much more work than merely a change-of-pace RB. However, until Brown is back in the lineup, Ballard should continue to benefit from increased touches. Looking further into the future for the Colts rushing attack, there doesn't seem to be any clear answers for the team. Ballard could win the lead RB gig at some point, but he doesn't appear to be a special talent, so it's by no means a lock.