Depending on your level of involvement in fantasy football, the term "sleeper" could mean a lot of different things. For a casual fantasy manager a sleeper may simply be a solid player who is not drafted in the first five or six rounds. To a seasoned fantasy veteran a sleeper may be a player typically not drafted at all.

Everyone has their unique definition of the word, but sleepers are exciting to talk about as every fantasy owner craves the diamond in the rough. The following is a list of five players that I think could breakout in a big way if given the chance for a bigger role. I wouldn't necessarily recommend drafting them, other than in large leagues with a deep bench. While it certainly is possible that we may not hear anything from a few of these guys, all it could take is one break to change your team's fortune.

TE Dion Sims, CHI

For a guy that is entering his fifth year in the league, Sims has flown under the radar to fantasy owners as primarily a blocking tight end for the Dolphins. This off-season, Sims signed a three-year $18 million ($10 million guaranteed) contract with the Bears and is looking for his first breakout season. The amount of money the Bears paid Sims tells me something that I have believed for some time now, Sims is destined to be much more than just a blocking tight end, he has real potential as an offensive weapon. He has the size (6'4'', 270lbs) and athleticism (35 inch vertical) to make a difference in the passing game if given a chance. With less than 40 targets last year Sims still managed to snag 4 touchdowns and finished the year with 18 catches and all four TDs in weeks 11-16.

His primary competition at the position is Zach Miller, who is one of the more injury prone players in the league and is about to turn 33. There were rumors the Bears considered cutting the veteran this off-season. More competition comes from Adam Shaheen, who is not only a rookie but very raw, coming from a Division II school, Ashland. While both Miller and Shaheen may be better natural pass-catchers, both are poor blockers and are at stages in their career not normally positive for fantasy production. Sims, on the other hand, is just coming into his prime, and is now on a team that may finally utilize all his natural talent.

The Bears have one of the least intimidating receiving corps in the league, especially with the loss of Cameron Meredith (knee). To this end, I see a lot of opportunities for the tight ends in Chicago's offense, especially in the red-zone where the Bears desperately need some size to make up for the lack of wide receiver size (Sims caught a 1-yard touchdown in the 2nd preseason game).

With Mike Glennon and Mitchell Trubisky, two under-experienced starting quarterbacks leading the way, chances are they will lean on their safety blankets at tight end more than a polished veteran might. As a durable, big-target with plus athleticism, Sims checks all the boxes with skill, health, playing time and team-need all in his favor. While I would not necessarily advocate drafting Sims right now, watch his targets and usage the first week or two of the season because if the Bears are indeed using him as a receiving threat, he may flirt with 8-10 touchdowns.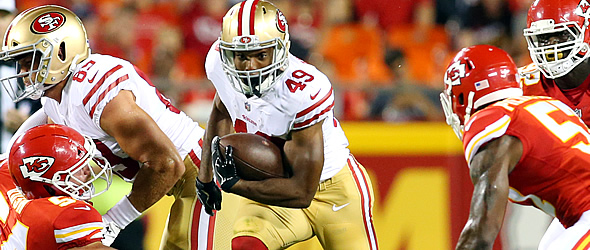 The release of Bibbs and Hightower gives Matt Breida a better opportunity to fulfill his sleeper status.


RB Matt Breida, SF

As of this writing, Breida is still going undrafted in almost all leagues despite being the most productive back the 49ers have run out there this preseason and despite the team losing faith in 4th round pick, Joe Williams. While Brieda was not drafted in this year's draft due to a performance drop between his 2nd and 3rd years in college, he has the natural talent and the productivity to eventually be a fantasy stud in the right situation. At his Georgia Southern pro-day (he wasn't invited to the combine), Breida ran a blistering 4.37 40-yard dash, while jumping a 42'' vertical and an 11'2'' broad jump. For reference, these would have ranked him first among RBs at the combine.

Before his head coach left and a new system was installed in 2016, Breida dominated the nation in 2015, averaging 7.9 yards per carry while rushing for 1,609 yards and 17 touchdowns. At 5'9'' 195, Breida does not have the traditional size of a workhorse NFL back but he plays much bigger and tougher than his size and has incredible burst and vision, accelerating through holes very quickly. Throw in solid pass-catching ability and the propensity to change direction without losing speed and you have a complete skill set in a small package.

Of course, many NFL players have a lot of skill, so there has to be something about the situation that can turn a deep sleeper into a star. The backfield in San Francisco is very unsettled, with veteran Carlos Hyde the probable starter but cines with injury history and a questionable fit in Kyle Shanahan's offensive scheme. While it appears Hyde will be given the early chance to lead the team in rushes, he was not handpicked by the current coaching regime. Williams has received a good dose of hype since he was drafted in the 4th round, but has started off slowly this pre-season, getting outplayed by Breida. While Williams certainly has some solid characteristics, speed being the most obvious, he also has some red-flags like a fumbling issue, a lack of pass-catching ability, and a questionable work ethic.

To my eyes, Williams does not look any better than Breida and with his versatility I believe Breida may even be the better all-around back. As a member of a RBBC or even as the primary third-down back, Breida won't have a lot of standalone value in all but the deepest of leagues. If Hyde gets hurt or struggles with the new system however, Breida could find himself in a major role within the first few weeks of the season on a team that will most likely run the ball quite a bit. If I'm in a 12 team or larger league I'm drafting Breida with one of my last two picks as a high upside player in a situation that could lend itself to a big workload if things break the right way. If you are a Hyde owner, I'd even take Breida as a handcuff over Williams at this point.



QB Kyle Sloter, DEN



Get ready to go REAL deep here ladies and gentlemen, as Sloter is not a name you will see on many lists. First off, you have good quarterbacks and bad quarterbacks, but if you are a starting NFL QB you cannot be considered a sleeper. I wanted to include a sleeper at the position because QB's, in almost every league, score the most fantasy points so it is obviously an important position. I also included Sloter because he is a true boom or bust sleeper pick. By the time this article gets released Sloter could not even have a team, or he could be starting for the Denver Broncos. With that super wide range of outcomes, Sloter is obviously not someone you are drafting at this point but I wanted to bring him to everyone's attention so you can keep an eye on him and at least know who he is when/if his opportunity comes around. Remember, a little over a year ago almost nobody was drafting Dak Prescott but he ended up having an excellent season, so stranger things have happened than a little known rookie coming out of nowhere to make a big impact.

Sloter projects as near-prototypical NFL QB, with great size (6'4'' 220), a strong arm (2nd fastest throw among 2017 rookies), and above average athleticism (a converted wide receiver who ran a 4.65-40). Sloter, played at Northern Colorado, with a very limited supporting cast, but put up big numbers, even against Division I schools. He actually looked the best of the Denver's three quarterbacks in the pre-season, going 16-20 for 193 yards with 2 touchdowns and 0 interceptions. Trevor Siemian is a pedestrian game manager at best and Paxton Lynch is underperforming and suffering from a shoulder injury that could last several weeks.

Sloter perhaps represents the Broncos best hope of winning right now, which is what they are built to do. If given the chance to take the starting job he will have above average weapons with Demaryius Thomas and Emmanuel Sanders and a play-caller who likes to call the game based on his players strengths. Add that to Sloter's athleticism and running ability and you have the makings of a solid fantasy quarterback. Look, anyone can sit here and name Brian Hoyer a fantasy sleeper, but how much fun is that? Don't go drafting Sloter before the season starts but keep close tabs in him and the Broncos situation at QB because if given the chance I believe Sloter is someone that could win you some weeks down the stretch of the fantasy season.

WR Chris Conley, KC

It blows my mind that Conley is going undrafted in most leagues while the likes of Nelson Agholor and Devin Funchess are, but at least it gives me the chance to label him a deep sleeper and sing his praises as a high upside fantasy player.

I loved Conley coming out of school as a prototypical athlete (4.35-40, 18 rep bench, 45'' vertical and 139'' broad jump) with plus size (6'3'', 212) and smooth route-running ability. As many rookies do, Conley struggled with just 17 catches his first year, but followed that up with 44 receptions last season, averaging 12 yards per catch in conservative passing game.

With the departure of Jeremy Maclin this off-season Conley is in the driver's seat to earn a starting role and while Tyreek Hill has gained the most buzz within the fantasy community, Conley is in a great position to contribute in his own right. Hill and tight end Travis Kelce are sure to attract most of the defenses attention this year, Conley should draw weaker coverage and be able to use his athleticism to dominate less talented densive backs.

The Chiefs passing attack isn't exactly explosive, but there is reason for hope as Alex Smith has been looking for the big play more frequently this off-season and highly touted (and strong-armed) rookie Patrick Mahomes is waiting in the wings. With an uptick in playing time and targets surely on its way, Conley could press for 70-plus receptions and could certainly have some huge weeks from time to time. If you have the roster space, I would draft Conley with one of your last few picks, as he could explode as early as Week 1 against a Patriots team who may force the Chiefs to air it out more than normal. If you wait for Conley to break out, it may be too late, as fantasy managers will start to realize the sweet situation Conley is in. While Conley is not getting much attention thanks to his more popular teammates, he has a ton of upside and we may look back on this year and realize he was the best value of any Chiefs player available.

RB Elijah McGuire, NYJ

Unlike the other rookie running back on this list, McGuire is not a phenomenal athlete with elite speed and burst, but instead a versatile player who is an excellent pass-catcher and a try-hard runner with good ball security and solid fundamentals. Although he played in a lesser conference, McGuire put up dominating numbers in college as a dual threat who averaged a healthy 8.3 yards per carry as a freshman and showed he could carry a heavy workload, catch passes, and even return punts. Possessing solid size and vision, McGuire seems to have just enough of an overall game to be a three-down back if the right situation came along.

On the Jets, McGuire is an interesting fit because he will start the season no better than third on the depth chart behind veterans Matt Forte and Bilal Powell, who have both been productive at various points in their careers but neither, at this point, is a sure thing. Forte is now entering his age 32 season and has dealt with injuries (and the loss of skills) the past two seasons. Powell has been a solid complimentary back for the better part of his career but is unproven as a starter and is no spring chicken himself, turning 29 in October.

With the Jets reportedly shopping Forte and in obvious tank mode, the team will have little reason to play older vets for the entire season and I expect them to see what they have in younger players like McGuire sooner or later. While the Jets offense should be fairly awful, McGuire's advantage is that he can both run and catch passes, meaning whatever the game script, McGuire can play a role as a garbage time check-down receiver or an early game grinder.

While I do not expect McGuire to have much of an early season role, an injury to Forte or Powell, or simply a shift to younger players is bound to happen at some point during the season. McGuire is not a draftable player at this point but someone to keep on your watch list while the situation plays itself out. Even on a team that seems to look historically bad on paper, someone is going to have to accumulate stats (and fantasy points) and McGuire seems to be in a decent position to do just that. Keep a close eye on him this season.