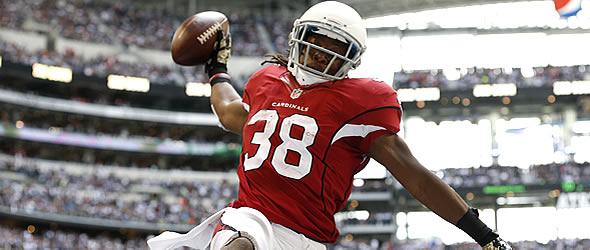 Andre Ellington's His low-end RB2 status may prove to be a value play if he can avoid injuries in 2015.
QB Carson Palmer
(2014 QB Rank – No. 31, 21.3 FPts/G)
Another ACL injury ended Carson Palmer's 2014 season early, leaving him as the No. 31 quarterback for the season. However, the truth is Palmer is being underrated, as he is currently going undrafted in most drafts, in the early-to-mid 20s among quarterbacks. With Palmer being a relatively immobile quarterback to begin with, the now fully repaired ACL shouldn't be too much of a problem. It's also worth noting that Palmer has been through this injury in the past and it did not have a dramatic impact on his on-field ability. He's now 35 years old so he's definitely nearing the end of his career, but fantasy owners, particularly in redraft leagues, would be wise not to forget about the veteran passer late in their drafts.
Palmer has thrown for over 4,000 yards in each of his past two full seasons and was well on pace to hit that number again in 2014 before the injury. His biggest downfall has typically been throwing too many interceptions, along with being a non-factor in the running game. Palmer threw 22 interceptions in his first season as a Cardinal back in 2013 and he has thrown 15 or more in five of the nine seasons in which he has played at least 10 games. On the bright side, Palmer had actually drastically cut down on his mistakes through the first six games of 2014. His three interceptions were definitely acceptable and his 11 touchdowns would have put him on pace for 29 on the year -- a number that would have put him in the top 10 at the position. With the Cardinals offense not drastically changing, look for Palmer to put up solid numbers again this season, especially if he can find the chemistry again with his young wideout John Brown. He's not the most exciting quarterback on the board, but given his ADP, there's a great chance he'll give you a positive return this season.
RB Andre Ellington
(2014 RB Rank – No. 20, 11.3 FPts/G)
The Cardinals offense was absolutely decimated by injuries in 2014, and running back Andre Ellington might have been the biggest loss. After playing through a foot injury through most of the season, Ellington eventually was sat down and missed the final four games of the regular season with a hernia injury. Ellington had a ton of hype heading into 2014 after a monster rookie season saw him average 5.5 yards per carry, but the combination of a lack of passing game, injuries and overall decline in explosive ability saw his yards per carry tank all the way down to just 3.3 in 2014. Fantasy owners ended up very disappointed, as Ellington scored just three rushing touchdowns on the year, making him a mid-to-low-end RB2 in most weeks.
Where Ellington did excel was in the passing game. The second-year back made his presence known by catching 46 passes for 395 yards, a mark which would have put him on pace for more than 60 receptions and over 500 yards on the year. He also added two touchdowns as a receiver. Ellington is certainly the No.1 running back heading into 2014, but there's no question that the Cardinals are concerned about his long-term prospects as the team's primary ball carrier. At 5'9" and roughly 200 lbs., Ellington is undersized and is already beginning to show signs of a deteriorating body at age 26. The Arizona offensive line has long been weak, and the team has not had a consistently productive running game in recent memory, so Ellington being selected in the early 20s in drafts makes sense. Not only that, there is now strong competition at the position, as the Cardinals selected running back David Johnson in the third round of April's draft. Still, Ellington is the lead dog in what should be an improved offense in 2015, so now that he's back to being fully healthy, he's not a bad upside pick given his ADP.
RB David Johnson
(2014 RB Rank – N/A)
The health concerns for Ellington and a lack of depth behind him led the Cardinals to select Northern Iowa's David Johnson in the third round of this year's NFL Draft. Johnson is a 6'1", 220-plus pound bruising tailback who could very well take significant carries right out of the gate for the Cardinals. Ellington is still expected to be the lead ball carrier in Arizona, but a "smash and dash" combination would make sense in the Bruce Arians' offense, and it wouldn't be anything new for a team to utilize a running back by committee approach in today's NFL. What's even better about Johnson is he is built to be a goal-line running back and could end up being one of the better touchdown vultures in the league. Those in dynasty leagues should strongly consider investing a mid-round pick on Johnson, who could end up being the Cardinals' long-term solution at running back if Ellington cannot stay healthy, but even those in season-long leagues could see value out of Johnson given his relatively low ADP. His larger frame isn't typical of a pass-catching back, but Johnson is surprisingly athletic and has been scouted as a great receiver out of the backfield, so his likelihood to play on third downs could be increased, especially if his pass protection develops well early in the season.
WR Michael Floyd
(2014 WR Rank – No. 32, 7.5 FPts/G)
A first-round pick back in 2012, Michael Floyd has long been a player who has been expected to break out at some point. But the expectations were never higher than heading into 2014. Floyd was coming off of his first 1,000-yard season and looked like he was ready to take over as the Cardinals' next great receiver. Floyd picked up where he left off the season before with two 100-yard games in his first three contests. Unfortunately, he did not get back to the century mark until Week 17. While Floyd was still the Cardinals' leading receiver, 2014 was a certain step back for him, as he saw his receptions drop 18 and his yards drop by 200 from the previous season. Of course, it didn't help that the Cardinals had some of the worst quarterback play in the league once Palmer went down, but it's still going to be hard for fantasy owners to forget the disappointing performances, particularly in the second half of the season. Floyd broke 60 yards just once from Weeks 9 through 16 and caught just two total touchdown passes during that stretch.
The skills are still there, but with Larry Fitzgerald still considered the top receiver on the depth chart and second-year wideout John Brown creeping into the discussion, Floyd will have to impress if he wants to get back into the good graces of the Cardinals coaching staff and especially fantasy owners. Perhaps worst yet for Floyd's fantasy value, however, is he failed to show much chemistry with Palmer. Three of his biggest games of the season came with backup quarterbacks who seemed to target him more often while Palmer seemed more in sync with Brown and Fitzgerald. Thankfully, Floyd will not cost nearly as much to acquire this season and could be a good source of mid-round fantasy production at the wide receiver position.
WR Larry Fitzgerald
(2014 WR Rank – No. 55, 6.5 FPts/G)
The most well-known receiver on the roster, Larry Fitzgerald will be 32 years old on opening day and his age is certainly beginning to show on the field. After posting five straight seasons of over 1,000 receiving yards, Fitzgerald has failed to reach that metric in each of his past three seasons, including the worst fantasy season of his career this past season, when he gained just 784 yards and caught just two touchdowns. Fitzgerald had always been a solid touchdown producer, even in 2013 when he scored 10 times, but a two-touchdown season was just awful for fantasy owners. Fitzgerald finished as the No. 55 wide receiver and most notably finished third among Arizona wide receivers for the first time in his career.
Like Floyd, Fitzgerald certainly struggled to produce in what was a bad offense, but the outlook does seem a bit more promising for Fitzgerald now that Palmer is back. From Weeks 5 through 9, when Palmer was under center, Fitzgerald made 31 receptions for 461 yards and both of his two touchdowns. That also included his biggest game of the season in Week 7, when he made seven receptions for 160 yards and a touchdown. It would be hard to imagine a scenario where Fitzgerald returned to the Pro Bowl-level numbers we became accustomed to earlier in his career, but there's plenty of reason to believe he'll rebound from what was an awful fantasy season.
WR John Brown
(2014 WR Rank – No. 49, 6.2 FPts/G)
After being selected in the third round of the 2014 NFL Draft, there really weren't high expectations for wide receiver John Brown. Brown showed up early in the season, however, as he caught a touchdown in his very first game from quarterback Carson Palmer. Brown continued his hot streak, as he made two more touchdown receptions in Week 3. It appeared as if Brown was beginning to carve out a niche in the Arizona offense, but after catching three touchdowns in those first three games, Brown would go on to make just two touchdown catches in his remaining 13 contests. Like Fitzgerald and Floyd, it's worth considering that the Arizona quarterback situation was one of, if not the worst, in the entire league. The second half of Brown's season really disappointed. From Week 9 on, Brown did not surpass 80 yards in any game and he caught just one touchdown.
Although he hasn't done it before, many believe Brown has the talent to lead the Cardinals in receiving yardage as early as this season. He's the youngest receiver and he seems to be well-liked by both the coaching staff and other players, so there's plenty of reason to be excited. Better yet, Brown seemed to have some great chemistry with Palmer during the games he played. In six contests with Palmer as quarterback, Brown made 20 receptions for 315 yards and three touchdowns, which was nearly half of his season-long production. He's currently being drafted as a WR4 or even a WR5 in most leagues, so there is very little downside to selecting the young Cardinals wideout.
TE Troy Niklas
(2014 TE Rank – No. 92, 1.3 FPts/G)
Although there is technically a tight end position in Arizona, you really wouldn't know it based on their fantasy production at the position over the years. John Carlson led the team's tight ends with 33 catches for 350 yards this past season, but that was only good enough to make him the No. 33 tight end in the league. Both Carlson and the team's No. 2 tight end, Rob Housler, left during the offseason, leaving the position completely up for grabs. The players most likely to get playing time seem to be free-agent signee Jermaine Gresham and Troy Niklas, a second-year tight end who made just three receptions during his entire rookie campaign. The Notre Dame alum was a second-round pick in 2014, so there's reason to believe the team has confidence in him heading into this year, but fantasy owners shouldn't buy into it until we see something on the field. The Bruce Arians offense seems to favor tight ends blocking versus catching, so don't expect much out of Gresham or Niklas in this Arizona offense.