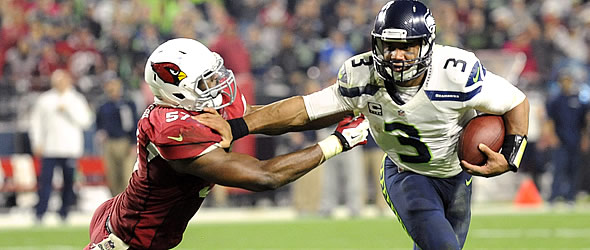 Even with a regression in rushing numbers, Russell Wilson has a high-floor and top-five ceiling in 2015.
QB Russell Wilson
(2014 QB Rank – No. 6, 23.4 FPts/G)
Improving in each of his first three seasons in the league, Russell Wilson finally broke out as an elite fantasy option at the quarterback position this past season as he finished sixth with an impressive 23.4 fantasy points per game. Wilson did this despite the Seahawks rushing the ball as much and as successfully as any team in the league. Of course, a lot of the team's rushing came from Wilson himself who became just the eighth quarterback to rush for 800 or more yards in a single season as he finished the year with 849 yards on the ground. His six rushing touchdowns led all quarterbacks in that department as well.
A 20-touchdown, seven-interception season with 3,475 yards is acceptable but not spectacular in today's NFL. This was likely one reason why the team opted to make a huge offseason move by acquiring tight end Jimmy Graham from the New Orleans Saints. Graham, who has been among the elite at his position for quite a few seasons, brings new life to this Seattle passing game, particularly in the redzone where he's made 51 touchdown receptions during his five year career. This is still the Marshawn Lynch show close the goaline, but Graham's jump ball skills add a new dimension to the offense which means we could see Wilson's touchdown numbers inflate this season.
The biggest question regarding Wilson seems to be his ability to be productive as a pure pocket passer. Fortunately, that hasn't been much of a concern as of yet as he's stayed healthy thus far in his career while surprisingly avoiding big hits despite his propensity to run. Still, he is one hit away from a "minor" knee, back, rib or other injury that could allow him to continue playing but might substantially limit his rushing numbers. We've seen this before from many run-heavy quarterbacks, so it's always a risk to select a player whose fantasy production is so dependent on him being fully healthy. Nevertheless, Wilson's dual-threat ability gives him a high floor that few other quarterbacks can achieve. He'll likely be a top four quarterback in most fantasy drafts and should produce numbers around that ADP so long as he stays healthy.
RB Marshawn Lynch
(2014 RB Rank – No. 3, 16.8 FPts/G)
It's hard to believe that Marshawn Lynch has been as productive as he has for so long while never really being considered as a potential No.1 overall fantasy pick. That remains the case in 2015 as Lynch is again being selected as a mid-first-round pick in most drafts following his fourth straight season with over 1,200 rushing yards and double-digit rushing touchdowns. Lynch has never been the top-scoring fantasy running back, but he has been in the elite conversation since his move to Seattle back in 2010. His consistent high-end production makes him one of the most valuable players in all of fantasy football and doesn't possess the same type risk that many of the other top fantasy backs do. Lynch has touched the ball over 300 times in every full season he has spent in Seattle and there's little reason to believe that he won't surpass that number again this season.
Lynch heads into his ninth NFL season and despite his age and high workload, he remains very productive on a per-carry basis. He finished with 4.7 yards per carry in 2014 and even cracked the 5.0 mark back in 2012. Not only that, but his usage in the passing game increased in 2014 as he made 37 receptions for a career-high 367 yards and four touchdowns, also a career high. His 17 total touchdowns were the best of his career and despite the addition of Jimmy Graham to the passing game, Lynch remains one of the most likely players in the league to touch the ball near the goal line. One concern for Lynch is that the team will be without former two-time Pro Bowl center Max Unger, who left for New Orleans in the trade for Graham. Unger was one of the better run blockers at the position and Seattle really didn't do much to address the position during the offseason. Given the offensive line concerns, however, Lynch remains one of the top fantasy players heading into the season and his high floor makes him one of, if not the safest running backs in all of fantasy football.
RB Christine Michael
(2014 RB Rank – No. 101, 1.9 FPts/G)
A highly-touted player coming out of college, running back Christine Michael has been practically nonexistent in the Seattle offense through his first two seasons in the league. Michael has touched the ball a total of 53 times despite averaging an impressive 4.9 yards per carry. Stuck behind one of the league's best at the position and Robert Turbin who possesses a wider skill set particularly in the passing game, Michael is a classic handcuff option who could end up being a huge difference maker down the stretch, but only if Lynch (and possibly Turbin) get hurt. His biggest value is in dynasty leagues where he is expected to be the running back of the future in a highly productive, run-first offense.
RB Robert Turbin
(2014 RB Rank – No. 56, 3.9 FPts/G)
The primary backup to Lynch since entering the league in 2012, Robert Turbin has been productive but not spectacular when given the opportunity. He's averaged 4.0 yards per carry throughout his career, but has primarily been used as a third-down or change-of-pace back to complement Lynch, particularly in obvious passing situations. Turbin doesn't touch the ball enough to be fantasy relevant on his own unless Lynch goes down, but given the back injuries that have been causing Lynch problems over the past couple of seasons, there is a possibility Turbin will be given the chance to play more in 2015 in an effort to keep Lynch healthy down the stretch. Should Lynch go down with an injury, chances are that Turbin would be on the field more than Michael, so he remains the primary handcuff to Lynch even though Michael has better long-term prospects.
WR Doug Baldwin
(2014 WR Rank – No. 47, 6.3 FPts/G)
With Percy Harvin and Golden Tate now off the roster, Doug Baldwin sits atop the Seattle depth chart as the team's top receiving option. That should worry Seahawk fans as the team really hasn't done much to address this obvious position of need. Baldwin has been serviceable, but doesn't do much to light up the fantasy scoreboard. Through four seasons, Baldwin has 196 receptions for 2,757 yards and 15 touchdowns. His best season came in 2014 as he started all 16 games for the first time in his career which translated to career highs in receptions (66) and yards (825). Unfortunately all those receptions and yards only produced three touchdowns, which meant Baldwin remained on the outside looking in as even a Flex play in standard leagues as he finished as the No. 47 wide receiver on the year. With Graham now on the roster, don't look for Baldwin's redzone opportunities to increase in 2015. He'll likely lead all Seattle wide receivers in receptions again this season, but that won't make him a particularly tantalizing fantasy option if he can't get into the end zone. Baldwin's low ADP means you won't have to spend much to get him, but there are other options being selected around that area who provide a much higher ceiling.
WR Jermaine Kearse
(2014 WR Rank – No. 79, 4.1 FPts/G)
After finishing 72nd among wide receivers in 2014, it's hard to get excited about third-year receiver Jermaine Kearse who started all but two games alongside Baldwin this past season. Kearse finished the year with just 38 receptions for 537 yards – both career highs – but just one touchdown. Despite him being penciled in as the team's No. 2 option at wide receiver, Kearse might be fourth player drafted in the group. Through three full seasons, including playoffs, Kearse has only had more than three receptions in a game on three occasions and he has never broken 100 receiving yards in a regular season game. The upside isn't there with Kearse and given the lack of opportunities to go around in the Seattle passing game, it would be wise for fantasy owners to hold off on selecting Kearse in drafts.
WR Chris Matthews
(2014 WR Rank – N/A)
Few players can say they had a breakout game in the Super Bowl, but that's exactly what happened to rookie wide receiver Chris Matthews. Matthews did not record a single reception through the entire regular season or in the playoffs prior to Super Bowl XLIX. On that night, however, he made four receptions for 109 yards and a touchdown. Head coach Pete Carroll is certainly not new to exploiting his opposition's weaknesses and certainly he saw an opportunity for the 6'5" Matthews to do damage against the New England secondary, but there's no guarantee that Matthews will be an important part of the offense going forward. It will be interesting to see if Matthews can keep up the momentum in the preseason, but those who draft prior to the preseason games, shouldn't invest more than a late-round flier on this young wideout.
WR Paul Richardson
(2014 WR Rank – No. 102, 2.9 FPts/G)
Seemingly noticing their lack of production at the wide receiver position, Seattle looked to address the position by selecting Paul Richardson in the second round of the 2014 NFL draft. He showed promised early but didn't do much until the end of the regular season when he scored his first touchdown and had two five-catch games. Unfortunately, Richardson tore his ACL in the playoffs and is unlikely to be ready to start the 2015 season. Because of that, Richardson won't be drafted in most leagues, making him an interesting player to potentially target on waivers during the regular season, particularly if the other Seattle receivers continue to be less than impressive.
TE Jimmy Graham
(2014 TE Rank – No. 3, 9.9 FPts/G)
Perhaps the biggest off-season acquisition in the league, Jimmy Graham left the friendly confines of New Orleans to join Russell Wilson in Seattle. Arguably the most-talented tight end in the league, Graham has produced monster numbers in each of the past four seasons, including a ridiculous 46 touchdowns during that stretch. While it would be easy to expect that Graham's success from New Orleans continues in Seattle, there's no question he is going from one of the league's most pass-happy offenses to one of the least. Over the past three seasons, Drew Brees attempted an absurd 1,979 passes. By comparison, Wilson attempted just 1,252 during that same timeframe. Wilson's pass attempts have increased in each of his three seasons, but it's almost unfathomable that he would even approach Brees' numbers, let alone surpass them.
While pass attempts alone won't tell the story, it's worth considering that Graham's total targets could see a decrease of as much as 20-to-30 percent now that he is in Seattle. The quality of those targets could go up, but it will be extremely hard for him to replicate the numbers he put up in New Orleans unless Seattle completely changes the gameplan that has brought them to back-to-back Super Bowls. Still, given the weakness at the tight end position, Graham remains one of the elite options at the position and could be selected as high as the second round in drafts while still returning solid value.