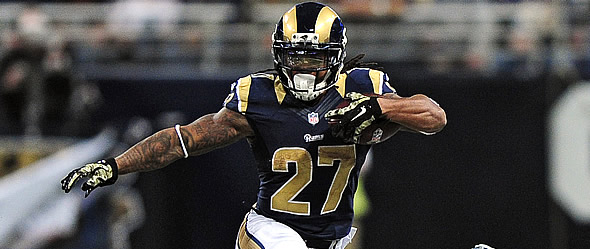 Gurley is getting the fantasy attention but Tre Mason makes a nice late-round flier for value seekers.
QB Nick Foles
(2014 QB Rank Ė No.29, 20.9 FPts/G)
Nick Foles was a big part of one of the most dramatic off-season moves in the league heading into 2015, and could be the make-or-break player for St. Louis. The Rams finished last in a highly competitive NFC West division, but itís not hard to believe they couldíve snuck into the playoffs if they just had some competent quarterback play. Obviously the coaching staff felt the same way as the made the move to acquire Foles from the Eagles in exchange for their oft-injured former franchise quarterback, Sam Bradford. Foles arrives in St. Louis as somewhat of a mystery as he looked brilliant in 2013 as a newcomer to the Chip Kelly offense, but fell of significantly in his second season. Foles had a masterful 2013 as he threw for an unbelievable 27 touchdowns with only two interceptions despite starting just 10 games. All signs pointed toward a breakout fantasy season for Foles in 2014, but thatís not how it turned out. Results were mixed, and Foles looked awful at times as he finished with a 13-to-10 touchdown-to-interception ratio before suffering a season-ending collarbone injury.
Now with the Rams, Foles leaves one of the most unique offenses the league has seen in years to join a more traditional, perhaps less fantasy-productive offense. The St. Louis passing game lacks consistent big-time playmakers which limits the likelihood of Foles putting up huge games, but there are enough weapons for Foles to be a solid streaming option in favorable matchups. Itís hard to imagine a scenario where Foles finishes this season as an elite fantasy quarterback. Instead, he should be among a group of decent but not great QB2 options who could be competent backups or decent enough bye week fill-ins for fantasy owners.
RB Todd Gurley
(2014 RB Rank Ė N/A)
Perhaps the player with the brightest future in the entire St. Louis offense, 2015 first round NFL Draft pick Todd Gurley does bring substantial risk for those in redraft leagues as many experts believe he will start the season on the PUP list due to a knee injury he sustained this past season at Georgia. Gurley has already been placed on the teamís NFI list, meaning that he will not see contact early in training camp, but the team can opt to remove him from that list at any time. Nevertheless, itís one of the most important off-season injury situations to pay attention to for fantasy owners as if he is placed on the PUP list to start the season, he would miss the teamís first six regular season games.
Currently being drafted as high as the fifth round in redraft leagues, many believe that Gurley will be ready for the teamís Week 1 tilt against the defending NFC West champion Seattle Seahawks. That fifth round ADP brings with it significant danger for fantasy owners as Gurley is not only a rookie who will have missed some training camp due to injury, but he will also have to fend off second-year back Tre Mason, who appeared to be one of the best rookie tailbacks in 2014. Those looking toward the future in dynasty leagues may view Gurley as high as a first round pick due to his ideal combination of speed, strength and versatility. Running back has long been a position of fantasy value in Jeff Fisher-coached teams so it would not be surprising to see Gurley as a top-five pick in redraft leagues over the next few years.
RB Tre Mason
(2014 RB Rank Ė No. 24, 10.1 FPts/G)
Heading into the 2014 season, few expected rookie Tre Mason would end up being the Rams leading rusher. Then second-year back Zac Stacy seemed to have a lock on the role after a decent rookie campaign in 2013 with Benny Cunningham set in as the teamís third down and change-of-pace back. After a rocky start to the season, however, Stacy began to see fewer and fewer opportunities, which led to Mason getting his first opportunity in Week 6. From that point on, it was the Tre Mason show, as he compiled over 900 total yards and five touchdowns in the final 12 games of the season. Those numbers donít sound overly impressive, but when you consider Mason faced run-heavy fronts every week, itís understandable why he lacked in the big game department. Still, Mason was a consistent RB2 for fantasy owners and posted acceptable numbers almost every week. More importantly, he was a young player who seemed to have a firm grasp on the role as the teamís starting tailback going forward.
Then came the NFL Draft this past April when the Rams opted to select Georgia running back Todd Gurley with the 10th overall pick. Mason, surprised by his teamís seemingly blatant attempt to replace him, went to Twitter to calmly vent his frustration. Thankfully, Mason will no longer have to worry about Zac Stacy as the Rams traded him to the Jets this offseason, but now in a battle to keep his job, Mason will have to fend off a player who is perceived to be the running back of the future in St Louis. With Gurley still recovering from a torn ACL, there is a good chance Mason will start the season as the lead back in St. Louis. However, the writing's on the wall and once Gurley is ready to play, he will be given a decent chunk of the teamís carries immediately. This, of course, limits Masonís long-term value for not only future seasons but also for the second half of 2015. He does represent solid value given his low ADP but Mason could end up being a forgotten back by the end of the year.
WR Brian Quick
(2014 WR Rank Ė No. 86, 7.9 FPts/G)
Itís hard to be overly excited about any receiver in the St. Louis offense, but if thereís one guy who has the biggest potential for a breakout season, it has to be Brian Quick. Quick, who finished the 2014 season with 375 yards and three touchdowns, surpassed what he had done in either of his first two seasons, despite playing in just seven games this past year. Not only that, but he posted those numbers with the likes of Shaun Hill and Austin Davis at quarterback.
As his name would indicate, Quick is a speedy deep threat who represents big play potential in an otherwise relatively boring St. Louis offense. With Nick Foles now behind center, those big plays could be more common in 2015 as Foles has shown tremendous ability to throw the deep ball over his past two seasons, particularly in 2013 when he led all quarterbacks in passes over 20 yards. Quick is still recovering from the shoulder injury that ended his 2014 campaign, but reports seem to indicate that he will be ready to start the season or at least be ready to play early in the year. If that happens, look for Quick to present fantasy owners with great value given his current late-round ADP. There are precious few receivers being selected late in drafts who are likely to be a big part of their teamís offense this season, so targeting Quick with a late-round pick would be wise in most scoring systems.
WR Kenny Britt
(2014 WR Rank Ė No. 51, 5.9 FPts/G)
Kenny Britt quietly finished the 2014 season as the Ramsí leading receiver, catching 48 passes for 748 yards and three touchdowns Ė his best numbers since his breakout 2010 campaign. It was Brittís first season in St. Louis after five in Tennessee, but expectations could not have been any lower as most had written him off as a ďwhat could have beenĒ type of player.
Rams head coach Jeff Fisher, who selected Britt in the first round of the 2009 NFL Draft, apparently still had faith in the receiver as he made the move to acquire him despite on-field and off-field issues. Britt possesses tremendous skill and is a fast, big-bodied receiver who is capable of making a huge play at any time, but has never really been able to put it all together on the field. The chances of him suddenly breaking out now in his seventh NFL season are slim, but Britt is likely to be penciled in as the Rams No. 2 wide receiver to start the season, which does give him some fantasy value. Nick Foles might be the best quarterback that Britt has ever played with, so given his low ADP, it wouldnít be a bad idea to take a chance on him in your draft.
WR Stedman Bailey
(2014 WR Rank Ė No. 89, 4.2 FPts/G)
The least exciting but possibly safest receiver among the St. Louis receiving corps might just be Stedman Bailey, who is now entering his third season in the NFL. Bailey was practically nonexistent through the first 10 games of 2014, but was finally given significant playing time in Week 12 when he caught a season-high seven passes for 89 yards and his only touchdown of the season. Bailey made 22 receptions for 349 yards in the Rams final six games, showing that he is a reliable option even in an otherwise stagnant passing game. Bailey doesnít possess the elite size or quickness of either Britt or Quick, but what he lacks in physical stature, he makes up for in crisp route running and dependable hands. He wonít likely have many elite games, but Bailey could make for a decent Flex play in deeper leagues and thus should be considered for those looking for late-round value at wide receiver.
WR Tavon Austin
(2014 WR Rank Ė No. 84, 3.9 FPts/G)
It would be hard to find a player who has been more disappointing to a team than the No. 8 overall pick from the 2013 NFL Draft, Tavon Austin. Austin, a small but ridiculously speedy young receiver who drew comparisons to Randall Cobb and DeSean Jackson coming out of college, has been less than spectacular during his NFL run. After making just 40 receptions for 418 yards and four touchdowns during his rookie season, it would have been hard for Austin to not make significant improvements to those numbers in his sophomore year. Despite the odds and two extra games played, however, Austin wasnít able to do it as he saw his numbers as a receiver drop across the board, down to 31 receptions for 242 yards and zero touchdowns. While quarterback play has something to do with that, itís now becoming increasingly obvious that Austin does not have the elite skills needed to succeed in this league.
With Austinís receiving abilities in question, the team opted to find unique ways to get the ball into his hands in 2014 as they gave him 36 carries, up from the nine carries he had as a rookie. He was quite productive with his rushing attempts averaging 6.2 yards per carry including two touchdowns. Unfortunately, reports out of St. Louis indicate the team is looking at Austin as exclusively at wide receiver heading into the 2015 season. Heíll still likely get some carries on end-around plays, but his carry totals will almost certainly be closer to the nine he had in 2013 than the 36 he had in 2014. At the moment, Austin is undraftable even in deeper leagues. It doesnít seem probable he will be given a starting role other than a punt returner and despite the possibility of the occasional big play in that department; he doesnít represent much fantasy value. Perhaps he and Nick Foles will develop a chemistry that didnít arise with the teamís previous quarterbacks, but that will be something that fantasy owners can wait and grab off the waiver wire.
TE Jared Cook
(2014 TE Rank – No. 15, 5.1 FPts/G)
Another player who followed Jeff Fisher from Tennessee to St. Louis is tight end Jared Cook. The giant, speedy tight end that shows flashes of big play potential has quietly been a serviceable, but not a spectacular fantasy tight end over the past few seasons. Despite tremendous inconsistency on a week-to-week basis, Cook's season-long fantasy numbers have actually been fairly consistent since 2011 as he has finished between 45-to-52 receptions, 523-to-759 yards and three-to-five touchdowns in all four years. Those numbers don't jump off the page and only make him a low-end TE1 option in most leagues, but Cook has also been playing in run-heavy offenses with mediocre quarterback play at best. Now with Nick Foles behind center, Cook should have more of an opportunity to make plays down the field, which he has shown an ability to do in the past. Tight end is a weak position in fantasy football this season which means a player like Cook could end up starting and hold TE1 value although he's better served as your TE2 and should be drafted as such.