QB Carson Palmer


(2015 QB Rank – No. 5, 23.9 FPts/G)



Like a fine wine, Carson Palmer seems to only be getting better with age. The quarterback will be 36 years old when the 2016 season begins, but is coming off the best season of his career, having thrown for a career high in both touchdowns (35) and yards (4,671). Those MVP-like numbers allowed Palmer to finish as a top five scorer at his position (QB5) and that combined with his relatively low ADP (QB17) made him one of the best values in all of fantasy football in 2015.
One of the best things about Carson Palmer is his consistency. He threw for at least 265 yards in all but three regular season games in 2015. The other three games? Oh, he threw for a total of eight touchdowns and two interceptions. Throwing to perhaps the deepest group of wide receivers in the league and having an explosive running game beside him to keep defenses honest, Palmer looks to be in line to put up great numbers this season.

Perhaps the biggest concern about Palmer, aside from his age, is the long history of injuries that he has sustained throughout his career. Thankfully the majority of his injuries have been to his lower extremities and not his throwing arm, but those drafting Palmer should be sure to have a backup plan in case the worst case scenario happens. Palmer doesn't have quite the upside of most of the quarterbacks being taken above him, but he is an exceptionally safe player so long as he is on the field.

RB David Johnson


(2015 RB Rank – 8, 11.0 FPts/G)



One of fantasy football's biggest breakout stars, David Johnson can be largely credited with winning a lot money for fantasy owners in his rookie season of 2015. Johnson started the behind both Andre Ellington and Chris Johnson in the Arizona backfield, thus making him a late-round option if he was even drafted at all, but he now heads into the 2016 season as a potential first round fantasy selection despite a mixture of coachspeak and varying opinions by beat reporters on the expected workload split from all three backs.

The most likely scenario involves Johnson shouldering the load in what should again be one of the league's most high-powered offenses. He figures to have plenty of opportunities to put up big fantasy numbers once again. He quietly led the entire league in fantasy points per touch (among running backs who played 50% or more of their team's snaps) and should be in line for somewhere between 250 to 300 touches in 2016. That kind of workload in this offense gives him the realistic possibility of finishing as the highest-scoring running back in all of football.

RB Chris Johnson


(2015 RB Rank – No.34, 9.6 FPts/G)



Undrafted in most fantasy leagues a season ago, Chris Johnson became an important fantasy option once Andre Ellington went down with an injury early in the season. Johnson stepped into the starting role, helping the Cardinals establish a viable rushing attack to go along with one of the league's most electric passing games. Johnson compiled 814 rushing yards in 11 games before going down with an injury of his own, leading the way for David Johnson to truly breakout. At 31 years old once the season starts, "CJ2K" is not the burner he once was, but he was still quick enough to break off multiple 30-plus-yard rushes a season ago. He's a late round handcuff and he'll start the season as the backup to David Johnson, but is one injury away from once again being a major fantasy asset.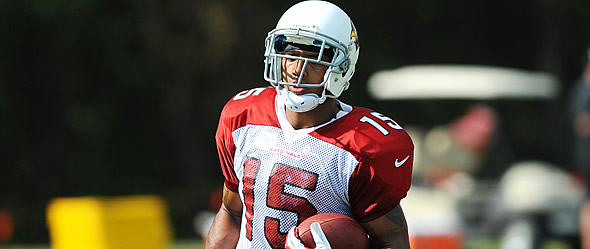 The Arizona WR to Own: Michael Floyd has averaged 16.6 yards per catch over the last three seasons.


WR Michael Floyd


(2015 WR Rank – No.34, 8.6 FPts/G)



Expectations were high for the fourth-year wide receiver in 2015, but injuries and a plethora of other options in Arizona didn't quite allow him to live up to what many fantasy owners hoped for. When he was on the field, Floyd showed us glimpses of greatness. He finished with five 100-plus yard games and scored six touchdowns.

Floyd is now entering his fifth NFL season and more importantly the final year of his contract. We've seen other players have huge years in contract seasons, so it wouldn't be all that surprising if Floyd put up another big season in 2016 so long as he's able to stay healthy. Floyd finished the season with at least 100 yards and/or a touchdown in seven of his final 10 games. He also scored twice in the playoffs. If he can continue that kind of momentum, there's no reason why Floyd won't finish as the Cardinals' most productive wide receiver.

WR Larry Fitzgerald


(2015 WR Rank – No. 9, 11.0 FPts/G)



Once considered a top three fantasy wide receiver earlier in his career, Larry Fitzgerald had fallen as low as being the third wide receiver drafted on his own team, in some leagues, heading into the 2015 season. Fitzgerald had not eclipsed 1,000 receiving yards since all the way back in 2011 and with Carson Palmer coming off of a horrible, season-ending knee injury, many questioned if the two veterans had stumbled into fantasy mediocrity.

Those questions were answered - particularly early in the season when the duo connected for a whopping 333 yards and five touchdowns over the first three games of 2015. While they didn't quite keep the pace, Fitzgerald was productive enough to finish as the No. 9 wide receiver in fantasy, including 1,215 yards and nine touchdowns. In addition, Fitzgerald's 109 receptions were a career high.

Now heading into his 13th NFL season, Fitzgerald has some concerns beyond just his age. Much of his production came when Michael Floyd was out with injury, so be careful assuming that Fitzgerald is going to duplicate what he did a season ago. He's not someone who fantasy owners should be targeting in dynasty leagues, but for one year, there's nothing wrong with believing that Fitzgerald can at least produce WR2 numbers if he stays healthy.

WR John Brown


(2015 WR Rank – No. 22, 9.6 FPts/G)



A late-round darling heading into the 2015 season, Cardinals wide receiver John Brown did enough to satisfy his fantasy owners and give them even more hope for the future, especially with Larry Fitzgerald nearing the end of his career. Brown caught 65 receptions for 1,003 yards and seven scores, none of which led the team but it was enough to make him a solid WR2 in 12 team leagues.

The biggest issue with Brown is consistency. While he had a hand full of big games, he also finished with fewer than 50 yards receiving in six games. The potential is certainly here for Brown to be a big time breakout fantasy producer, but he plays in an extremely crowded offense with a plethora of talented players who all need to touch the ball. That means that there is likely to be a number of games where Brown fails to finish as even a WR3, but at least a few where he finishes as a high-end WR1.

WR J.J. Nelson
(2015 WR Rank – No. 96, 6.0 FPts/G)

If you're looking for a late-round flier, you could do a lot worse than second-year wide receiver J.J. Nelson. Nelson, who played fewer than 14 percent of the Cardinals' offensive snaps as a rookie, showed flashes of big play ability when he was given the opportunity. His 23.7 yards per reception was extremely impressive, but his 11 total catches made him a non-factor in fantasy.
While Jaron Brown played nearly twice as many snaps as Nelson and could again play more in 2016, his ceiling appears to be far lower than that of Nelson as the two players with the exact same number of receptions.

Arizona coaches have raved about Nelson's potential and while he doesn't have much of a chance to prove it with the Cardinals' big three in front of him, it would only take one injury to any of those players for Nelson to suddenly get a huge boost of playing time in one of the NFL's most prolific offenses.