QB Jared Goff


(2015 QB Rank – N/A)



New look, new location, new quarterback. The Los Angeles Rams are looking to forget the disastrous 2015 season which led to them opting to move up to the No. 1 overall draft pick this season. The franchise knew it needed a facelift and they decided to select quarterback Jared Goff. Head coach Jeff Fisher has repeatedly stated that he won't rush Goff into the starting role and he has a history of letting younger talent sit while more experienced players are on the field. The reality is that Goff is the only quarterback on this roster who is at all interesting for fantasy purposes. We've seen what Nick Foles and Case Keenum have to offer and it's not much. There's a real chance that Keenum begins the season as the starter, but as the Rams offense inevitably struggles, the fans will begin to demand that Goff gets a chance. Realistically, Goff should only be on fantasy radars in extremely deep two quarterback leagues or dynasty formats. It could be a few more seasons before the Rams finally make a real attempt to address their awful pass catching options and there's no reason to bank on some sort of dramatic improvement happening this season.

RB Todd Gurley


(2015 RB Rank – No.5, 14.6 FPts/G)



Perhaps the biggest breakout fantasy star of the 2015 season, Todd Gurley may already be the top running back in all of fantasy football as he heads into his second season as a pro. Gurley missed the first two games of his rookie season and played minimally in his third game as he was recovering from a knee injury that he sustained in college. In Week 4, the Rams unleashed the beast. Gurley ripped off four straight games of 128 or more rushing yards and would finish the season as the third-highest scoring running back in the league on a per-game basis.

We've seen Gurley's all-world talent, but he's in an offense that is among the very worst in the league. Question marks all around him including at the quarterback position where the Rams will start the season with a rookie or a veteran QB who has proven he just isn't very good – either way, it's never good to have the defense so focused on the running game. Then again, it won't be much different from 2015.

Gurley is the only player in this offense who should be on your fantasy radar, but he's well worth a first round selection and it wouldn't be hard to justify him being a top five pick in any scoring format. The Rams ran the ball 14th-most in the league in 2015 and that should increase if the Rams can be competitive in more games.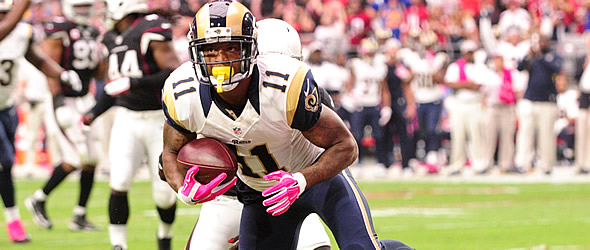 Dual Threat: Austin's 434 rushing yards and 4 rushing TDs made him a viable fantasy option in 2015.


WR Tavon Austin


(2015 WR Rank – No. 21, 9.0 FPts/G)



The Rams wide receiver group was among the worst, if not the very worst group in the league this past season. The unit combined for just 11 total touchdown receptions – fewest of any group in the league. One player did stand out and that was former top 10 NFL draft pick Tavon Austin.
Austin led the team with 52 receptions and five receiving touchdowns. While he finished third on the team in receiving yardage, the man who led the team in that department, tight end Jared Cook, is now in Green Bay. Kenny Britt (681 rec yds) also finished ahead of Austin in yardage, but his total usage was not anywhere near that of Austin, especially when you consider that the Rams found additional ways to get the ball into their explosive receiver's hands.

In addition to his 52 receptions, Austin also carried the ball 52 times – something that is almost unprecedented from a wide receiver in today's NFL. He was extremely efficient with those carries as well, sporting a ridiculous 8.3 yards per carry and adding four touchdowns. Those numbers might suggest that the Rams will look to get him more carries, but the reality is that Austin's body is simply not built to carry the ball much more often than what he did in 2015.

Still, even if he doesn't touch the ball much as much, this coaching staff has proven that they are enamored with Austin's talent and will find ways to get him the ball even if he is having an "off" game as a receiver. That makes him an intriguing option with a relatively high floor in comparison to players who are being selected near him in the middle rounds of redraft leagues.

WR Pharoh Cooper
(2015 WR Rank – N/A)

It was one of the weakest wide receiver groups in the league a season ago and the Rams didn't do much to address it this season, but one move they did make is to select Pharoh Cooper in the fourth round of the NFL Draft. Cooper has been described as a player best suited for the slot in the Los Angeles offense. While Mike Thomas is the larger of the two, he is not expected to get as much playing time early as Cooper and clearly the Rams staff believes in him more, selecting him two rounds before they took Thomas.

What will be interesting to see is whether both Cooper and Austin can be on the field at the same time with regularity. While Austin can certainly move out wide, he does a lot of his damage from the slot. If the Los Angeles coaching staff really does view Cooper as solely a slot receiver, that could limit what they do with Austin. Unless Cooper really impresses, chances are that they will opt to give both players an opportunity to play out of the slot, thus meaning less overall playing time for Cooper.

We've seen enough of these other Rams receivers to know that there isn't much fantasy value to be had. Don't bother taking either Cooper or Thomas in standard drafts, but they should be on your radar in rookie-only and deep dynasty drafts.