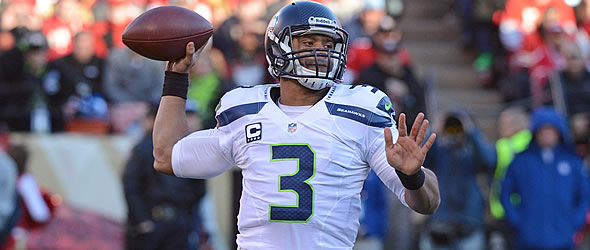 A shift to way from a run-first offense gives Russell Wilson upside as the No.1 overall quarterback.


QB Russell Wilson


(2015 QB Rank – No. 4, 24.9 FPts/G)



It was the tale of two halves for Seattle quarterback Russell Wilson last season. The young passer was supposed to see a significant upgrade in fantasy value, but few could have predicted what actually happened. Wilson's perceived top target, new tight end Jimmy Graham, was a huge disappointment prior to suffering a season-ending injury. But Wilson thrived through the adversity, absolutely lighting up the fantasy scoreboard in the second half to the tune of 25 touchdowns and just two interceptions.

Now coming off of his most impressive fantasy season, Wilson is finally being looked at as an elite fantasy option – and he should be. Wilson's confidence as a passer was off the charts toward the end of 2015 and with Jimmy Graham back, there's no reason why he shouldn't be able to continue to put up big time fantasy numbers. His rushing ability is elite but it appears the team or Wilson himself has decided that his long-term health needs to be taken more seriously. His 553 rushing yards in 2015 were still among the league's best at the position, but are a far cry from the 849 yards and six scores he produced on the ground in 2014.

Replicating his 2015 season might be difficult, but Wilson's rushing numbers give him a high floor, which is extremely valuable when coupled with his high ceiling. With Marshawn Lynch retired, Seattle will presumably look to Wilson to increase his passing workload in 2016, which gives him the opportunity to be a top-5 fantasy quarterback.

RB Thomas Rawls


(2015 RB Rank – 26, 10.1 FPts/G)



Filling the shoes of a legend is never easy, but that's what second-year running back Thomas Rawls will attempt to do after Seattle running back Marshawn Lynch decided to call it a career this past off-season. Rawls was a relatively unknown commodity last season and presumably third in line to get carries in the Seattle backfield, but after a number of injuries to the backs ahead of him, Rawls got his opportunity. His 830 yards and four touchdowns don't sound spectacular, but his production was solid and consistent enough to make him a very valuable waiver wire addition.

Now entering his second season, Rawls finds himself in a completely different situation as the projected workhorse in what has traditionally been a very run-heavy offense (3rd in rushing attempts last season). While he does have some competition for touches, it'd be hard to envision a scenario where Rawls doesn't play the majority of the snaps for the Seahawks, presuming he is healthy, to start the season. Seattle will likely lean on their passing game more this season now that the Lynch era has come to an end, but there will still be plenty of carries to go around. Now it's up to Rawls to prove that the explosion he showed in 2015 was not a fluke.

RB C.J. Prosise
(2015 RB Rank – N/A)

While Rawls is fully expected to be the lead dog in the Seattle backfield, one name that has been showing up on fantasy radars is C.J. Prosise. The Seahawks selected him at No. 90 overall in the most recent NFL Draft, opting to take a chance at a skill position player versus the relative safety of upgrading their offensive line. Obviously this bodes well for Prosise's chances to get some playing time, however, pre-season injuries (hip, hamstring) have stunted his growth.

Recruited as a wide receiver out of high school, Prosise made the switch to running back at Notre Dame where he quickly showed his versatility, rushing for over 1,000 yards and 11 touchdowns in his first season as a running back in 2015. Given his abilities as a pass catcher, however, Prosise projects as an ideal complement to Rawls and Michael's more gritty between-the-tackles style. He should have a good chance to see the field on third downs, which is something that Seattle has been looking for in recent seasons.

A rookie, Prosise certainly has some shortcomings as a pass protector and that could lead to less playing time than some hope for, but if he can make some improvements in that area early in the season, there's no reason to believe that he couldn't finish the season as Seattle's second-leading scorer at the running back position if he's able to shake the injury bug.

WR Doug Baldwin
(2015 WR Rank – No. 7, 11.9 FPts/G)

To say that Doug Baldwin finishing as the No. 7 fantasy wide receiver in 2015 was surprising would be a massive understatement. Baldwin went into the season as the top wide receiver in the Seattle offense, but he was expected to be at best the third option in the red zone on his own team behind Marshawn Lynch and tight end Jimmy Graham. Injuries to both forced the team to call an audible and that played a major factor in Baldwin exploding into not only being one of the most valuable fantasy players in the league, but producing numbers at a record-setting pace.
Through his first four seasons as a pro, Baldwin produced an uninspiring 15 touchdown receptions. He nearly reached that total in 2015 alone with his 14. Even more surprising is that he did almost all of his damage in the second half of the season, when he accumulated a whopping 724 yards and 12 touchdowns over his final 12 games.

While there's plenty to like about Baldwin's game, the reality is that he'll probably never replicate what he did in those final eight games of the 2015 regular season. He's a good player, but not one that scouts rave over in terms of pure skill. Still, the relative lack of competition in the Seattle offense makes him a fairly safe option. He's going to be drafted as a WR2 or even a WR3 in most leagues and he should be able to return value with relative ease, even if his chances of finishing in the top 10 at the position again are relatively slim.

WR Tyler Lockett
(2015 WR Rank – No. 42, 7.0 FPts/G)

Downplayed as nothing more than a return specialist by many scouts, Tyler Lockett burst onto the scene as a rookie last season and gave fantasy owners something to think about heading into drafts this season. The playmaking ability he showed as a rookie makes him one of the most exciting players in football, but he still has a lot to learn before he develops into a consistent producer at the NFL level.

A trendy pick as a breakout candidate, Lockett's ADP (WR34, Rd 7) will likely continue to creep up as we get closer to the start of the season, particularly in dynasty drafts. There's real reason to believe that he could finish as Seattle's top-scoring wide receiver, but there's also a possibility he falls flat on his face and experiences a sophomore slump like so many wide receivers who've come before him.

An eighth round ADP would give fantasy owners plenty of upside, but he becomes much more of a risk if he starts to get drafted closer to the sixth round. Lockett's value is higher in standard scoring formats where his lower reception totals aren't as big of a factor, but he's still worth taking a chance on as a WR3 in just about any format.

TE Jimmy Graham
(2015 WR Rank – No. 17, 6.6 FPts/G)

The writing might have been on the wall for those who paid attention to Seattle's offense in recent seasons, but few could have predicted just how bad tight end Jimmy Graham would be from a fantasy standpoint. Graham finished last season with just 605 yards in his 11 starts prior to suffering a season-ending knee injury. Worse yet, he scored just two touchdowns. All this after Graham had been the prized off-season acquisition and the player who was supposed to be the team's leading red zone threat.

The worst part about Graham's first season in Seattle was the complete lack of consistency he showed. He started the season with two touchdowns in his first three games, but failed to score again in his final eight starts. Not only that, but he failed to reach 80 yards receiving in all but two games. In fact, he finished with 41 or fewer yards receiving in six of his 11 starts. That's just not good enough for a player who was being selected as the No. 2 fantasy tight end.

Now that Graham appears to be nearly fully recovered, he will look to erase the 2015 season from his memory and return to the player who was one of the most dominant players in all of football. Fortunately for fantasy owners, the price is substantially lower now than it was heading in 2015, largely due to a serious patellar tendon injury. While his 10th round ADP might rise by the end of August, he'll still likely be one of the last tight ends drafted in most leagues.