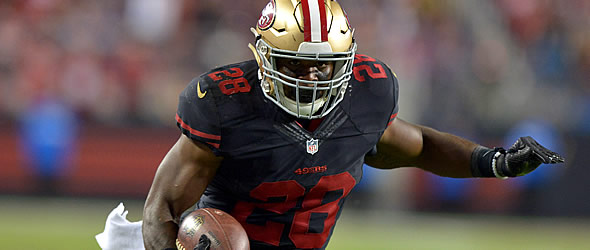 New coach, new offense, new opportunity for Hyde. Can he stay healthy enough to take advantage?


QB Blaine Gabbert


(2015 QB Rank - 29, 20.8 FPts/G)



It's tough to read new 49ers head coach Chip Kelly, but it appears as if Blaine Gabbert has secured himself the starting quarterback role in San Francisco, thus giving himself an interesting fantasy situation for the 2016 season. Gabbert, a former top-10 NFL Draft pick, was once the laughing stock of the league, but saw a career resurrection in San Francisco this past season. While his 20.8 fantasy points-per-game certainly didn't light the world on fire, what Gabbert did was provide some stability at the most important position on the football field - something which previous starter Colin Kaepernick certainly was not doing. While it's hard to get behind him as a starter even in deeper 14 or 16 team leagues, Gabbert does provide some upside for those looking for a deep QB2.

It was only a season ago that then-Eagles quarterback Sam Bradford was the darling of fantasy experts who enjoy the "wait on a quarterback" draft strategy. While the shine might be worn off on the Chip Kelly offensive scheme, there's still a real chance that Kelly could rekindle the flames of what was once a promising young NFL career. Bradford was disappointing, but still finished as the No. 22 fantasy quarterback in what ended up being Kelly's final season in Philadelphia. It's hard to imagine that the move to the Kelly system won't at least be an improvement. The 49ers receivers left quite a bit desired in 2015 and they didn't do much to address the problem during the off season. Still, Gabbert is at least worth consideration as a bye week replacement.

QB Colin Kaepernick


(2015 QB Rank - No. 33, 15.2 FPts/G)



It's hard to imagine a player rising and falling more quickly than San Francisco's $114 Million man, Colin Kaepernick. Kaepernick not only failed to live up to expectations under his new deal, but he even lost his starting job during the 2015 season. To make matters worse, he lost his job to another player who had previously flopped as a starter, Blaine Gabbert.
Kaepernick's role now will almost certainly be as the primary backup despite his skill set arguably being more appropriate for the new 49ers offense under head coach Chip Kelly. While there is always the chance for an injury to Gabbert, Kaepernick should not be considered a draftable fantasy option at this time.

One potential thing to keep an eye on is the 49ers dealing Kaepernick to another team that could be dealing with an injury or extremely subpar play at the position prior to the trade deadline. The team reportedly tried to move him during the off-season and was unable to come to an agreement with a suitor, but that doesn't mean that other teams won't become more desperate as the season rolls on.

RB Carlos Hyde
(2015 RB Rank - No. 55, 10.0 FPts/G)

Carlos Hyde has been the subject of much discussion among fantasy experts this off season after his season was cut short by injury in 2015. As a former second round NFL Draft pick, Hyde's physical abilities are not really in question, but his inability to stay on the field has certainly been a concern. When healthy, Hyde has been one of the best under-the-radar stud running backs in the league. If you consider the horrendous supporting cast, coaching and game flow that he's had to endure, Hyde has produced far better than he should have. Now in a new, high-octane offense, expect Hyde to get more total snaps and be used, particularly late in tight games, to close out the opposition.

While he's known as more of a bruiser, Hyde also has the elusiveness to slip tackles and get around the edge as needed. He has reportedly lost a substantial amount of weight this off-season in preparation for his new role in the San Francisco offense - a sign that he is not taking his job as the starter lightly. One aspect of Hyde's game that we'd like to see more of is his usage in the passing game. While he did up his catches-per-game number in 2015 from what he did in 2014, Hyde still hauled in just 11 total receptions in seven games. That'd put him at a pace to finish the season at a measly 25 catches. While that number shouldn't go down, Kelly is known for using multiple backs to keep everyone fresh, however, so don't be surprised if other backs spell Hyde on passing downs from time to time.

RB Shaun Draughn
(2015 RB Rank - No. 68, 5.7 FPts/G)

Hardly anyone knew of Shaun Draughn heading into the 2015 NFL season, but fantasy owners who took a chance in him in free agency ended up getting decent value when both Carlos Hyde and Reggie Bush went down with injuries. With the 49ers in an absolutely desperate situation, Draughn quickly became one of the most highly-utilized backs in the league. He was on the field for more snaps than most of the elite backs, largely because of the team's poor depth at the position, but also because his versatility allowed him to be effective on both running and passing downs.

While he is not skilled enough to take over Hyde's role as the team's primary back, Draughn is good enough to play a role similar to that of Ryan Mathews from the 2015 season in Chip Kelly's offense. This gives some value as a late-round sleeper who could contribute some unexpected value in PPR formats. He also offers solid handcuff potential given Hyde's extensive injury history.

WR Torrey Smith
(2015 WR Rank - No. 49, 6.0 FPts/G)

Torrey Smith has long been one of the prime examples of unfulfilled potential, but even the lackluster seasons he had in Baltimore couldn't compare to the abysmal production that fantasy owners got out of the 49ers' top receiver in 2015. Smith finished the season with career lows in yardage, receptions and tied a career low with just four touchdowns. Certainly not all of the blame can fall on Smith himself as he was just one part of what was the NFL's most anemic offense - one which scored just 238 points. Still, Smith does have to share some of the blame as he didn't create the kind of separation that he had in previous seasons.

While those who owned Smith in 2015 might be shy to give him a shot again, that could actually work into the favor of fantasy owners who are willing to believe in Smith's skills and the new high-paced Chip Kelly offensive system. Kelly's offense has had its struggles, but one thing is for sure - it's been able to get receivers open deep. And when it comes to deep pass catchers in the league, there aren't many better than Torrey Smith. Given his almost comically low ADP, Smith allows for a low-risk, high-upside option late in drafts.

WR Jerome Simpson
(2015 WR Rank - No. 155, 2.3 FPts/G)

Likely to begin the season in the 49ers' starting lineup, Jerome Simpson does offer limited value for those in very deep leagues, but his upside is extremely limited. We've seen Simpson show flashes of brilliance throughout his career, but he's never been able to do it on a consistent basis. Not only that, but he's one drug offense away from being suspended for an entire season. He really doesn't have much value for most formats unless there's an injury to Torrey Smith. Even then, his upside isn't great.

WR DeAndre Smelter
(2015 WR Rank - N/A, 0.0 FPts/G)

He hasn't been on a football field since 2014 at Georgia Tech, but that hasn't stopped second-year 49ers wide receiver DeAndre Smelter from gaining steam within the fantasy community. Smelter's 6'2", 230-pound frame might remind some of Dallas' Dez Bryant - and Georgia Tech does have the pedigree of putting out beasts like Calvin Johnson and Demaryius Thomas in recent years - but there's no reason to think that Smelter is anywhere near that level of a talent.
Still, the 49ers depth chart is almost completely bare of high-potential talent, so if you're looking for someone to target on this roster from a dynasty standpoint, Smelter is probably the guy you're looking for. He's really the only receiver on this roster who has real "breakout" potential.

TE Vance McDonald
(2015 TE Rank - No. 31, 3.9 FPts/G)

Most believed that it would be Garrett Celek who got a big uptick in fantasy production when Vernon Davis was traded away from San Francisco this past season, but much to the surprise of many fantasy owners, it was actually Vance McDonald who seemed to get substantially more usage in the passing game. Quarterback Blaine Gabbert has been vocal this off season regarding McDonald, noting that the offense needs to utilize his speed and athleticism to create matchup problems for defenses. Gabbert himself predicted a breakout year for McDonald which doesn't necessarily mean high-end fantasy value, but could translate if he's given the opportunity to play the role that Zach Ertz (75-853-2) played in Philadelphia this past season. McDonald is the tight end to own on this team, but understand that the likelihood that he replicates the kind of numbers that Ertz did, in his first year in the Kelly system, is unlikely.

TE Garrett Celek
(2015 TE Rank - No. 39, 3.7 FPts/G)

With the 49ers shipping away Vernon Davis mid-season in 2015, the 49ers tight end position quickly became a sight for sore eyes. Veteran Garrett Celek gained some fantasy steam when the Davis trade was made, but he was unable to capitalize on the opportunity. Celek did, however, sign a four-year contract with the team this off season, signifying that the team does have some long-term plans for him. Whether that translates to fantasy success remains to be seen, but he is the younger brother of Philadelphia tight end Brent Celek who had some success in the Chip Kelly offense in recent years.