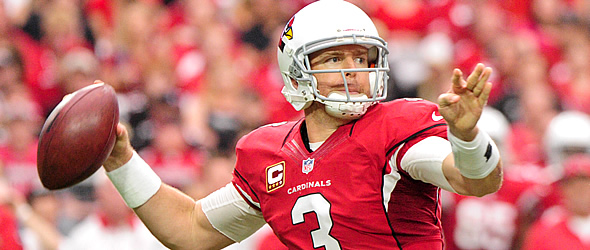 Carson Palmer is a high-floor option when healthy, but age and injury concerns add risk to his value.


QB Carson Palmer


(2016 QB Rank – No. 14, 21.3 FPts/G)



Carson Palmer was a legitimate NFL MVP candidate during the 2015 season, but the wheels started to come off in 2016. It's hard to tell whether it was age, injuries, play-calling or a lack of performance from his receivers, but Palmer took a huge step back this past season. Realistically, Palmer's unbelievable 8.7 yards per pass attempt from 2015 was unsustainable. But to see that number drop down to 7.1 yards per attempt – his worst number in six seasons – was a bit shocking. Of course, the departure of Michael Floyd and the recurring illnesses of John Brown were not helpful. One major concern is the Cardinals have seemingly transitioned into an offense centered around the skillset of running back David Johnson, who absolutely exploded this past season with gigantic production despite struggles from the majority of the other players in the offense.

Given the age, size and injury history of the receivers on the roster, Palmer simply doesn't have the weapons he has had at his disposal in the past. The truth is that we're unlikely to ever see Palmer put together another season similar to the whopping 35-touchdown, 4,600-plus yard season he did in 2015. However, that doesn't mean that he's guaranteed to be the same guy we saw struggle with efficiency this past season. Palmer is firmly entrenched as a QB2 at the moment, but he's never been particularly safe with the ball, which certainly limits his upside. He's a high-floor option when he's healthy, but he's dealt with injuries in the past so there is some risk there as well.

RB David Johnson
(2016 RB Rank – No. 1, 20.7 FPts/G)

David Johnson touched the ball a league-most 373 times last season, which he turned into an impressive 2,118 total yards and 20 touchdowns. His 80 catches in the passing game were best among running backs in the NFL - five more than Le'Veon Bell and 20 more than third-place finisher James White. Needless to say, Johnson is a player who can truly do it all for your fantasy team and it makes sense why he's practically locked in at No. 1 or No. 2 overall in most leagues. What's interesting is that while Johnson had a monster season, the Cardinals as a team still finished 18th in rushing yards. Johnson accounted for a whopping 71.5 percent of the team's ground game and no other player in the offense had even 200 rushing yards on the year. Those numbers are extraordinarily high and indicate that Johnson might be the biggest bell-cow of any running back in the entire league. However, it also means that he's bound to have some wear and tear by the end of the season.

The Cardinals offensive line remains a liability in pass protection but they're actually a solid run-blocking offensive line with the likes of guards Evan Boehm and Mike Iupati. That, combined with his high usage, make Johnson one of the safest first round running backs – if there is such a thing – that we've seen in recent years. The added concerns of legal issues over the past few seasons for the other top backs, Le'Veon Bell and Ezekiel Elliott, should give Johnson an even stronger case to be selected as the No. 1 player drafted in fantasy drafts.

RB Chris Johnson
(2016 RB Rank – No.81, 3.9 FPts/G)

The Cardinals have brought back veteran CJ2K on a one-year deal to add depth to their running back group. Johnson was limited to four games last season after leading the team in rushing in 2015. At age 31, he won't have much value unless David Johnson goes down with an injury and in that scenario he would likely be involved in a timeshare with Andre Ellington, Kerwynn Williams and rookie T.J. Logan. He'll likely be a late-round pick or go undrafted in your league.

RB T.J. Logan
(2016 RB Rank – No. N/A, N/A FPts/G)

While other players on the roster have more NFL experience, it's rookie running back T.J. Logan who is drawing interest from fantasy circles as a potential backup for David Johnson. The rookie rushed for 2,165 yards and 19 touchdowns over his four seasons at North Carolina in college. Those numbers aren't particularly impressive on the surface, but it's also true that he never took a full share of carries. He was also a solid pass catcher and showed impressive explosion when he had the ball in the open field.

Logan's skill set seems to indicate that he's the best option on the roster to be a change-of-pace back for Johnson, should the team opt to implement that strategy in 2017. They did not do so in 2016, so there's no clear path to significant playing time for Logan, or any other back on this roster, at the moment. Still, we've seen enough from the other backs on this roster to know that none of them really possess the ability to be game breaking fantasy options in the scenario that they'd be given the opportunity. Logan isn't built to be an every down back for an entire season, but he's not tiny either. At 5'9" and around 200 lbs, he should able to fill in for Johnson should that be needed for a short period of time. If Johnson were to be knocked out for the season, however, it would be surprising if Logan, or veteran Chris Johnson, would be immediately transitioned into a full time role as a workhorse back. Logan and Johnson are mostly handcuffs for DJ owners, but both could return some value if the Cardinals do end up giving Johnson some additional rest to sustain his health.

WR Larry Fitzgerald
(2016 WR Rank – No. 17, 8.7 FPts/G)

Another year older, another year wiser for Cardinals wide receiver Larry Fitzgerald who has now gone over 100 receptions and 1,000 yards in back-to-back seasons while making 15 total touchdown receptions over the past two years. He'll be 34 years-old this year, but Fitzgerald has given us very little reason to believe that he won't again be Carson Palmer's favorite target in an offense that has shown that it can move the ball.

The 6'3", 220 lb wide receiver doesn't exactly fit the mold of what would be considered a slot receiver for most teams, but that's the role he's been doing the most damage out of in recent seasons. His selflessness has allowed him to take his tremendous route-running skills and extend his career by becoming exactly what the team needed him to be. In fact, Fitzgerald was tied for second-most receptions out of the slot in the NFL this past season with 63 catches. He did that while battling a knee injury for much of the season.

Fitzgerald only had one game with over 81 yards receiving on the season and he caught just one touchdown after Week 5. Still, he was a PPR workhorse, catching at least three passes in every contest and at least five passes in all but three games. Now healthy again, Fitzgerald projects to again be a great WR3 with very realistic WR2 potential. His high target volume makes him a high floor option again this year, but his upside isn't likely as a WR1 anymore, at least not on a week-to-week basis.

WR John Brown
(2016 WR Rank – No. 76, 4.6 FPts/G)

John Brown was a favorite among fantasy circles heading into the 2016 season. He was coming off a breakout 2015 where he caught 65 passes for 1,003 yards and seven touchdowns and he was the young, big playmaker in a group of older, slower pass catchers who's skills were diminishing. His 2016 season started off slow, however, with just one reception in each of his first two games before he exploded again with 17 receptions over his next two contests. Things looked to be back on track before Brown began seeing the symptoms of a blood disorder (sickle-cell) which led to missed time and a tremendous amount of frustration from fantasy owners.
Obviously the blood disorder is a major concern heading into 2017, but there are reports coming out of Arizona that the team believes it has found a way to treat the problem, which should mean a much healthier start to the season. Because of his volatility, however, Brown remains one of the most obvious "boom or bust" players in the entire league heading into this season. If he can stay on the field, he has the real potential to lead the team in yards and touchdowns. On the flip side, there's a real possibility that he doesn't even play half the team's snaps if his health remains an issue.

WR J.J. Nelson
(2016 WR Rank – No. 45, 7.7 FPts/G)

Aside from Fitzgerald and Brown, the only other Arizona receiver who should be on your radar heading into the 2017 season is third-year speedster J.J. Nelson. Nelson saw increased playing time in 2016 as John Brown dealt with injuries and the team moved on from Michael Floyd. His 568 receiving yards were second among Cardinals receivers while his six touchdowns were tied for most on the team. But it's his explosiveness that made him most valuable to the Cardinals, as his 16.7 yards per reception were sixth-best in the entire NFL.

At only 5'10" and 160 lbs, the biggest concern with Nelson has to be his durability. While he's certainly capable of beating a defense deep, those passes are obviously going to be few and far between and Nelson hasn't shown the ability to b be a consistent producer. Even with all of the situations going on with other receivers on the roster, Nelson had just three games with more than 3 receptions in 2016 and just one game with more than 5 receptions. That type of volatility makes Nelson tough to own in anything other than best-ball formats, unless Brown and Fitzgerald deal with injuries which would make Nelson's the team's de facto No. 1 target. He doesn't fit the mold as a prototypical every down receiver like rookie Chad Williams does, but Williams is raw and won't likely get much playing time without significant injuries to the receivers ahead of him on the depth chart.

TE Jermaine Gresham
(2016 TE Rank – No. 32, 3.2 FPts/G)

A former first round NFL Draft pick to the Cincinnati Bengals, Jermaine Gresham has not been much of a receiver since moving to Arizona. While he's been a big upgrade from prior tight end options, Gresham has been nowhere near the receiver that he was in Cincinnati when he caught at least 4 touchdowns in each of his five seasons with that club. Gresham's 3 total touchdowns in two seasons with the Cardinals has made him nothing more than a bye week replacement at best for fantasy purposes.

While the Cardinals desperately need some consistency aside from Fitzgerald and David Johnson in their passing game, Gresham just doesn't seem to be the player that he once was. His realistic upside is around 500 yards with somewhere between four to six touchdowns, but it's more likely that he'll be around 400 receiving yards with only a few scores this season. That means that he'll likely go undrafted in most leagues, and rightfully so.