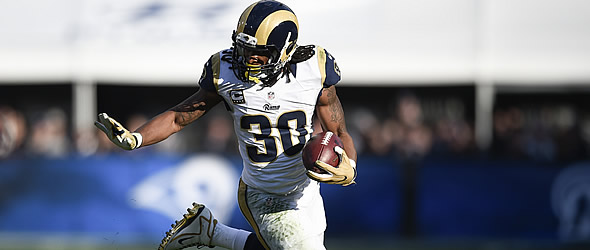 His expected workload gives him upside so don't hold a grudge if Todd Gurley burned you in 2016.


QB Jared Goff


(2016 QB Rank – No. 36, 11.7 FPts/G)



Jared Goff was historically bad as a rookie, throwing just 5 touchdown passes with 7 interceptions in seven games as a starter. It's true that he faced ridiculous amounts of duress - in fact, 40.4 percent of his passes attempts were pressured - but Goff was also awful when the pocket was calm. There just aren't many positives to pull from the Rams passing game last year, which is a big reason why there were so many changes this off-season.

The Rams did attempt to address their offensive line deficiencies by making the huge acquisition of Andrew Whitworth - one of the top left tackles in the game. They also added center John Sullivan who performed mostly well for the Vikings throughout his career and will certainly be an upgrade from what the team had a season ago. Unfortunately, the team didn't do much to address the disastrous wide receiver situation in free agency, although they did make a few potentially decent moves in the draft.

Goff projects to be one of the worst starting quarterbacks in the league for fantasy purposes, so stay far away on draft day. His lone saving grace for dynasty formats may be that the team is essentially financially handcuffed to him for at least another season or two. The physical talent is certainly here, but it's tough to believe that Goff is going to suddenly ascend to being a viable fantasy option this season.

RB Todd Gurley


(2016 RB Rank – No. 19, 9.8 FPts/G)



Perhaps no player in the league was more disappointing as a fantasy performer than Todd Gurley was in 2016. Gurley was a top five overall pick in most drafts but saw his production fall off tremendously from what we saw in his rookie season. He rushed for just 885 yards on 278 carries for a disastrous 3.2 yards per carry. While he was more involved in the passing game, it wasn't enough to salvage what was a very frustrating fantasy season.

The positive to take from this past season is that the Rams - despite falling behind in most games and getting little production out of him - stuck with Gurley through what was a truly awful season. No other Rams back was useful in 2016 and that won't likely be changing in 2017. While the allure has certainly worn off, there's still plenty of upside here for Gurley. The Rams invested heavily in their offensive line this off-season and we likely saw Gurley's fantasy floor last year. His draft day cost won't be anywhere near what it was a season ago but the upside is still about the same as it was given his expected workload, so try not to hold too much of a grudge if Gurley burned you in 2016.

WR Robert Woods


(2016 WR Rank – No. 72, 5.2 FPts/G)



Free agency acquisition Robert Woods is coming from a Buffalo team that finished in the bottom three teams in pass attempts three out of his four NFL seasons. The one other season saw Woods catch a career high in all three of the main fantasy categories for receivers - receptions (65), yards (699) and touchdowns (five).

Woods now moves to a team coached by Sean McVay whose Redskins threw the ball on 62 percent of their plays in 2016. The increased overall volume - in addition to Woods probably being the most polished receiver on the Rams roster - would seem to bode well for his chances to catch around 60 passes this season. There's a great chance that he leads the team in targets and while those targets might not be of great quality due to subpar play at the QB position, he'd only need to catch around half of them to be a viable WR4 fantasy option this season in PPR formats.

WR Tavon Austin


(2016 WR Rank – No. 56, 6.1 FPts/G)



It's no secret that fifth-year Rams wide receiver Tavon Austin has not lived up to the billing that once made him a top-10 draft pick. While the franchise is still hoping he can develop into a DeSean Jackson-esque deep threat, the reality is that they've had to design gimmick plays to even get the ball into his hands. While Jackson averages a whopping 17.7 yards per reception over the course of his career, Austin checked in at less than half of that in 2016 with an abysmal 8.8 yards per reception. That number was third-worst among all wide receivers and even put him behind a handful of running backs. It'd be difficult to imagine Austin being much worse than he was in that category, but he'd still be far behind what the Rams have been hoping for even if he makes major strides in catching passes further down the field.

While he doesn't catch a high percentage of the targets that come his way, Austin gets a fantasy boost for being an asset in the running game. His 28 rush attempts in 2016 were actually down from his totals in each of the previous two seasons, but still substantially higher than almost any other wide receiver in the league. While most leagues don't award points per carry, the extra touches are at least a bit helpful in getting the ball in his hands. For all of his faults, Austin is still an extraordinarily dangerous player in open space, which has translated into both rushing and return touchdowns throughout his career.

The coaching staff continues to indicate that they want Austin to be a big part of the offense, but how long are fantasy owners going to continue to buy that narrative? The team wants to utilize his speed, but he hasn't been a downfield threat to this point in his career. He's still just 27 years old, so there may still be some untapped potential. Still, Austin simply has not progressed enough as a route runner to be worth anywhere near the top-10 draft pick that they used on him in 2013. Don't follow in the Rams' footsteps and invest any sort of significant draft capital on him until we see him prove his worth on the field.

WR Cooper Kupp


(2016 WR Rank – N/A)



The Rams continue to look for answers at wide receiver and their latest project is 2017 third round draft pick Cooper Kupp. A two-time FCS Offensive Player of the Year, Kupp comes from an Eastern Washington program that fed him the ball at an absurd pace. Kupp finished his college career with a staggering 428 receptions for 73 touchdowns and 6,464 yards - that's more than any college receiver at any level. What he lacks in explosiveness, he makes up for in route running ability and an excellent catch rate.

It might not happen right away, but on paper, Kupp appears to be an ideal match for a quarterback like Jared Goff who could use a reliable target. Not only that, but Sean McVay-coached offenses have long relied heavily on the type of short to intermediate routes that Kupp projects to specialize in. Unfortunately, he'll have to battle for playing time in the Los Angeles offense against other smaller receivers who have already established themselves as NFL players. That likely caps Kupp's upside in 2016, especially early in the season when the team is still looking for ways to get him on the field. That means that Kupp will likely go undrafted in most formats, but pay attention to his playing time throughout the season. If he earns regular snaps, he could end up being the Rams' most efficient fantasy wide receiver in PPR formats.

TE Gerald Everett


(2016 WR Rank – N/A)



Not all teams make use of their tight ends as major players in the passing game and that has certainly been the case with the Rams throughout the past decade or more. However, regime changes often bring about complete overhauls in philosophy and that became evident during the NFL Draft when Los Angeles used their first draft pick - the 44th selection overall - to draft tight end Gerald Everett. Everett is expected to immediately step in and compete for playing time in the Sean McVay offense which has recently produced huge seasons out of the tight end position in Washington. In fact, no team in the NFL had more receiving yards by tight ends than McVay's Redskins did.

It's hard to project Everett to be the next Jordan Reed, but the physical skills are certainly there. Everett has a tremendous catch radius as well as speed and overall athletic prowess. The biggest concern for him in terms of playing time going into the season has to be his lack of size, which contributed to him not being a high-level blocker in college. Everett checked in at 6'3" and just 239 lbs at the NFL Combine, which makes him quite a bit smaller than some of the other tight ends selected early in the draft, including Tampa Bay's O.J. Howard and Chicago's Adam Shaheen. While Everett is similar in size to Reed, it's worth noting that Reed is the exception at the tight end and not the rule. Most tight ends make their living in the red zone and don't necessarily contribute a high catch total aside from that.

While the Rams did release veteran Lance Kendricks this off-seaon, Everett's path to playing time is not necessarily carved out. The team did use a fourth round draft pick on Tyler Higbee in 2016 and although he did not contribute much in the passing game, he did play about 40 percent of the team's total snaps. Fantasy owners would be wise to stay clear of this unclear fantasy situation in what is expected to be a bad offense.