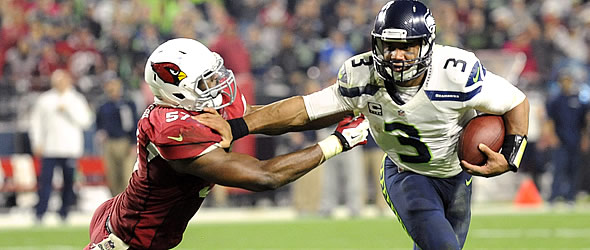 Consistency: Russell Wilson has finished as a top 12 quarterback since he came into the league in 2012.


QB Russell Wilson
(2016 QB Rank – No. 11, 20.4 FPts/G)

Having finished as a top-12 fantasy quarterback in every season of his career, Russell Wilson is once again being looked at as a potential stud heading into the 2017 NFL season. His pass attempts have increased in each of his five seasons, topping out at 546 attempts in 2016 but while he threw for a career high 4,219 yards, Wilson also tossed just 21 touchdown passes with a career-high 11 interceptions. On the bright side, that interception number was still low in comparison to the averages throughout the league. Wilson has typically been extremely efficient which has helped him remain a decent fantasy contributor throughout his career even when he's not having particularly huge yardage or touchdown weeks.

The biggest concern stemming from the 2016 season was Wilson attempted just 72 rushes, resulting in a career low 259 rushing yards. That put him below the elite running quarterback options but also behind the likes of Blake Bortles and Andrew Luck, who are not necessarily known for their running. An ankle injury and MCL sprain contributed to the decreased rushing output but it's also likely the team asked him to reduce his rushing attempts in order to preserve his health. He did drop some weight this off-season which should help him be more elusive, but the team still has major question marks across their offensive line which could be a cause for concern for Wilson's health.

Seattle added players in other positions, but didn't really do much to address their weak group of wide receivers. The team won't have much overturn at the position this season and while that can lead to added chemistry, only Doug Baldwin and Jimmy Graham are likely to be weekly fantasy options this season. Still, look for a return to form for Wilson in both the passing touchdown and rushing yardage areas, which should allow him to finish as a top 10 quarterback provided that he remains healthy. After being ranked in the top three heading into 2016, Wilson's lower ADP heading into 2017 could make him a great value for those who opt to wait a bit on quarterback in drafts.

RB Eddie Lacy


(2016 RB Rank – No. 71, 7.8 FPts/G)



After struggling to stay healthy and battling conditioning issues, Eddie Lacy now finds himself in a new home as the projected early down back in Seattle. The Seahawks signed the former Packer to what is essentially a one-year "prove it" deal, including numerous production incentives and even some much talked about weight incentives that he has already begun to achieve. The added pressure and accountability should help Lacy stay in shape but it also goes to show that Lacy is not yet fully trusted by the coaching staff.

He's likely the most physically skilled runner on the team but Lacy's job is one of the least secure in the league and there's no guarantee that he even makes it out of the pre-season as the team's top back. Not only that, but with the league moving toward running back by committee, Lacy could end up leading the team in touches while only getting around 50 percent of the carries. He's also unlikely to get much passing down work as long as C.J. Prosise remains healthy. Unless he returns to his impressive touchdown efficiency from his early days in Green Bay, the lack of touches could lead to Lacy being a frustrating player to own and a bit of a bust for fantasy purposes.

Still, the upside is huge for Lacy, especially given his dwindling ADP. If he can secure the role as the team's primary red zone runner as he did in Green Bay, there should be plenty of opportunities for Lacy to get back to the fantasy producer he was early in his career. Still just 27 years old, one could argue that Lacy is just now hitting his physical prime.

RB Thomas Rawls
(2016 RB Rank – No. 57, 6.9 FPts/G)

When Marshawn Lynch walked away from the game, Seahawks fans believed that they were in good hands with Thomas Rawls stepping into the role as the team's top running back. After compiling just 54 yards on 15 touches in Week 1 however, Seattle fans, and fantasy owners alike, got the bad news that the young tailback had broken his leg. When he did finally return, it was not in the capacity that many had hoped as Rawls put together just one game of real fantasy production (Wk 13 vs. CAR) for the remainder of the regular season before a big game against the Lions in the playoffs.

Still just 24 years old, Rawls now finds himself in a battle for snaps with veteran tailback Eddie Lacy heading into his third season as a pro. It's hard to write him completely off given that his 2016 season was so injury-riddled, but all reports out of Seattle suggest this is Lacy's job to lose. We've seen Rawls put together some impressive fantasy performances in the past, but his value is tied to the health and production coming from Lacy. Pass-catching specialist C.J. Prosise is likely to get plenty of playing time, but Rawls could find himself getting fewer than 10 touches per game early in the season, which really limits his upside for fantasy purposes.

If things pan out how the Seahawks seem to want them to with Lacy, there will likely be many fantasy leagues where Rawls gets drafted and then dropped not long into the season. He then becomes a player to watch on waiver wires as the team could very well opt to go in his direction if they're not getting what they want from Lacy. That's not necessarily a given, however, as Prosise is not built to be only a "pass catching specialist." There's a real chance that if Lacy does not get the job done that the team could opt to implement a shared workload between Rawls and Prosise, or even one that favors Prosise. This Seattle backfield is a mess right now for fantasy purposes, especially given the team's poor offensive line, and unfortunately Rawls seems to offer the least upside of the group at the moment.

RB C.J. Prosise
(2016 RB Rank – No. 66, 7.3 FPts/G)

While he's been shoehorned into being a "Darren Sproles-like" player comparison by many fantasy analysts due to his ability in the passing game, the truth is that there is much more than meets the stat sheet for this talented young tailback. At 6'1" and 225 lbs, Prosise does not fit the mold of a traditional pass catching specialist at the running back position. Most of those players are undersized and are used sparingly as runners in order to keep them from taking a beating. But in Prosise's case, that's not really a concern. Prosise is built like a feature back who simply also has the skills to take the majority of the backfield work on passing downs.

With that said, there is obviously a reason why the team opted to sign veteran Eddie Lacy and not simply hand over the job to Prosise and Rawls. In Prosise's case, health concerns come into play. A former wide receiver in college, Prosise's body has not held up well to the wear and tear of playing the running back position. He suffered a concussion and a high ankle sprain in his senior year at Notre Dame, then followed it up with hip, hand and shoulder injuries as a rookie. These injuries caused him to much the majority of the season and have to give the coaching staff pause about whether or not he can physically stand up to the beatings that NFL running backs take.

It's certainly possible that Prosise's injury history is just a string of bad luck and all reports out of Seahawks camp seem to be that he is fully healthy and ready to take on a significant role for the team in 2017. Projected to be the team's primary back on passing downs, Prosise's value is obviously boosted significantly in PPR formats as he might only touch the ball a handful of times per game to start the season. There is concern that his PPR value might be inflated as the Seahawks have not proven to be committed to passing the ball to their running backs in the Pete Carroll era. The player who has caught the most passes out of the backfield since Russell WIlson took over at quarterback is Marshawn Lynch and the most he ever caught in a season was 40 passes. Of course, the team hasn't been loaded with many pass catching specialists in the backfield, but the concern is still there.

Rawls and Lacy are expected to battle for the early down work, but if Prosise can remain healthy while showing the flash and excitement that he did at times as a rookie, there's no reason to believe that he can't work his way into some early down work. His ADP makes him a cheap investment for those in PPR formats, but he might just have the highest upside of any player in this Seattle backfield while also providing the highest, most consistent floor due to his work in the passing game.

WR Doug Baldwin
(2016 WR Rank – No. 10, 9.7 FPts/G)

One of the premiere slot receivers in the league, Doug Baldwin has also proven that he is one of the top fantasy wide receivers after back-to-back years finishing as a WR1. Baldwin's 2015 season was seen by many as being a little fluky due to an insane touchdown run, but he was able to remain extremely productive even when his touchdown total was chopped in half in 2016. At 5'10" and less than 200 lbs, Baldwin doesn't project as a prototypical red zone threat so his seven touchdowns in 2016 would seem to be more in line with what we should expect moving forward, but Baldwin does the majority of his fantasy damage with sheer volume. Baldwin's 94 receptions in 2016 were 16 more than he had caught in his best previous season and he also set a career high with 1,128 receiving yards.

Perhaps the best thing for Baldwin's fantasy value is the reality that the Seahawks simply did not invest into their wide receivers heading into the 2017 season. Baldwin was clearly the team's top target in each of the past two seasons and that doesn't seem likely to change this season. The nice thing about Baldwin being the team's top target while primarily playing out of the slot is that he is able to avoid many of the league's top cornerbacks as most of them simply are not asked to play inside, even against teams like Seattle who do not have great outside weapons. That should mean a continued high target volume and thus a high floor most weeks making Baldwin of the safer options on the board.

WR Tyler Lockett
(2016 WR Rank – No. 61, 5.9 FPts/G)

After being hobbled by a PCL injury for much of the 2016 season, Tyler Lockett disappointed fantasy owners by finishing with fewer than 600 receiving yards and just one total touchdown in his second season as a pro. To make matters worse, Lockett ended up breaking his leg in Week 16 and started training camp on the PUP list. He was removed from the PUP list on August 4th and has been participating in camp ever since.

While he has certainly had some big moments, including a breakout performance of seven receptions for 130 yards and a touchdown the week prior to breaking his leg, Lockett has not shown much consistency as a fantasy contributor. He's still just 24 years old, so there is plenty of room for him to continue to grow, but the fact that he's still expected to battle veteran Jermaine Kearse for snaps is not exactly a great sign for his potential fantasy production.

Many will simply look at Lockett's production in his sophomore season and write him off as a player who's not worth fantasy consideration because he did play in every game prior to breaking his leg, but those who dive deeper into the situation would realize that the speedster's game was drastically affected with the PCL injury. While nagging injuries are a cause for concern for players like Lockett, his current ADP is so low that he's practically free in most leagues. If he can get healthy, Lockett is certainly the kind of player who could put together some big games and substantially out-produce his ADP, especially in best-ball formats.

WR Jermaine Kearse
(2016 WR Rank – No. 109, 3.2 FPts/G)

One of the more boring players who is likely to get regular playing time this season is veteran Jermaine Kearse. Expected to be pushed down to the WR3 spot behind Baldwin and Lockett in 2016, Kearse ended up playing more than ever in no small part due to Lockett's nagging injuries. He ended up being targeted a career-high 89 times and while that sounds good on paper, his catch rate was so horrendous that he finished with just 510 receiving yards and one touchdown - his worst fantasy season since his rookie season of 2012 when he played in just seven games. Kearse's catch rate was literally more than 30 percentage points behind that of teammate Doug Baldwin. It's a bit unfair to compare him to one of the league's most efficient pass catchers who does most of his work underneath, but the point is that this isn't just a matter of Russell Wilson not being able to get him the ball - it's a matter of Kearse simply not being very good.

With Lockett expected to be ready to go by Week 1, Kearse seemingly offers little upside unless Baldwin and Lockett both go down with injuries. Even then, he'd be the projected WR1 on what would likely be a terrible offense. Kearse will go undrafted in most leagues and rightfully so.

WR Paul Richardson
(2016 WR Rank – No. 85, 3.6 FPts/G)

A former second round pick in the 2014 season, the Seahawks are still waiting for some return - any return - on that investment. He played in all but one game this past season but Richardson caught just 21 total passes for 288 yards and one touchdown in the regular season. While he did flash some big play ability late in the season, Richardson is still extremely raw and will be fighting for playing time with Kearse and other depth options at the position.

It's very likely that Richardson will be out-produced on the season by Kearse, but fantasy owners should hope that he does beat Kearse out as the team's third receiver. While he's not a big target at just 6'0" and around 185 lbs, there really isn't a big-bodied receiver on the roster aside from tight end Jimmy Graham. Richardson has the physical skills to go up and make plays on jump balls, including making some crazy circus catches, so there's reason to hope that he could eventually end up being one of Wilson's favorite red zone targets.

He's not worth drafting at the moment in anything other than deep best-ball formats, but Richardson remains a player to keep your eye on from a fantasy standpoint. If he starts to get consistent playing time, he could develop into an intriguing fantasy option.

TE Jimmy Graham
(2016 TE Rank – No. 2, 8.0 FPts/G)

Following an abysmal first season in Seattle, tight end Jimmy Graham reminded all of us how good he really is when he exploded back into the top of the fantasy ranks with a 900-plus yard season with six scores, allowing him to finish as the No. 2 fantasy tight end in 2016. While those numbers are still a far cry from the numbers he was putting up in New Orleans, Graham remains one of the top fantasy tight ends heading into this season, even if he is on an offense that is substantially more run-heavy than the ones he was a part of with the Saints.

What's even more impressive about Graham's return to fantasy greatness is that he did so less than a full year after suffering a horrific patellar tendon rupture in late November of 2015. Now fully recovered, Graham should be in line to remain one of Seattle's primary weapons in the passing game.

The tight end position as a whole is a mess heading into this season, but Graham represents what should be considered about the end of the "safe" options at the position. He's going behind the likes of Rob Gronkowski, Travis Kelce, Jordan Reed and even Greg Olsen in most leagues, but he's certainly safer than the players like Tyler Eifert, Martellus Bennett and Hunter Henry who are going behind him.