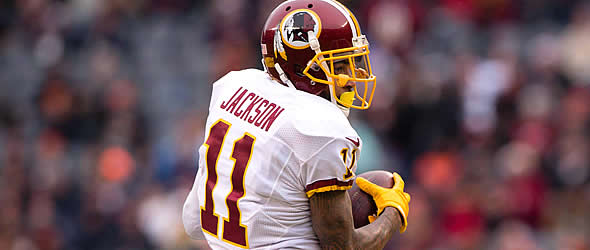 Bucs WR DeSean Jackson has finished as the WR 30 , WR17 and WR10 in his last three full seasons.
DeSean Jackson, the 5'10'' speedster from the nation's capital takes his game to central Florida after inking a big deal with the Buccaneers on the opening day of free agency. Jackson is a known fantasy commodity having played 9 seasons in the NFL, so can past results give us a window into future success? Let's see.

Over his 9 seasons, Jackson has had the luxury of playing with some quality quarterbacks, as well as being a complement to some accomplished receivers during his stops in Philadelphia and Washington. The one constant to Jackson's game is his speed, something that will be a tremendous asset in a Tampa offense that wants to move the ball in chunks. Jackson has a career 17.8 yards per catch average and despite entering his age-30 season, still has the wheels to run by nearly any defender in the NFL. He had his fifth 1,000 yard season in 2016, and reached 100 targets for the first time since 2013. Despite a slow start to the season last year, Jackson finished scorching hot, compiling four 100-yard games in the Redskins final six contests, and entered free agency looking for one last big payday. And while he got his, what will he give to the Bucs, and your fantasy season in return?

Fantasy Impact

Jackson is an inconsistent deep threat that is as likely to win you a week as he is to lose it. His slight frame means he's a strong bet to miss a few games per season (he's played only two 16-game seasons in his career), and he'll never be confused with a possession receiver. As far as receptions go, he's only surpassed 63 catches once in his career, and while he's got a decent touchdown conversion rate, he hasn't had more than six since 2013. Jackson's boom or bust nature is very likely to continue, as he'll again be utilized as field stretching weapon employed to take some heat off of all-world teammate Mike Evans.

Jackson is truly a fantastic fit for this Buccaneer offense, as he's got a rocket armed quarterback, and an aggressive offensive play caller in Dirk Koetter. The presence of Evans mean's he'll rarely see a double team, and the conditions are absolutely perfect for Jackson to continue to be a fantasy asset. He has finished as the WR10 and WR17 in his last two "full" seasons, prior to last year's WR30 total. The biggest problem I see with relying too heavily on DJax is his injury history, and the fact his game is entirely predicated on speed. Any soft tissue injury instantly renders him useless. The weeks he goes off for a 75-yard bomb are likely winning weeks, but on the flip side his floor can be frustratingly low. This will be the best offense he's been in since his prolific Eagles days, but the age and consistency factors lead me to believe he'll have low end WR2 value at the absolute best.