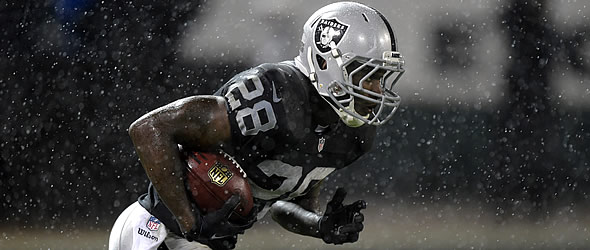 Murray goes from one of the best offensive lines in the league to one of the worst in Minnesota.
Harken back to a Monday night during the 2014 season. A young sixth-round runner out of Central Florida with a tantalizing combination of size and speed takes a handoff up the middle for a 93-yard touchdown against Oakland's division rival the Kansas City Chiefs. And although he would leave the game early, with an injury, Latavius Murray's breakout game (4-112-2) was the start of a fantasy story that would span another season and a half. Now he finds a once promising career at a crossroads, signing a multi-year deal with the Vikings to replace their Hall of Fame runner. Can Murray help revive his career, and the Vikings run game in one fell swoop?

Coming off a 1000-yard, six touchdown sophomore season, Murray was drafted as an RB1 in most fantasy leagues last summer. And while he finished a solid 13th among the position in standard scoring, his weekly yardage totals were highly disappointing. His top 15 finish largely came on the back of a whopping 12 touchdowns, many of which were inside the 5-yard line. His lack of lateral agility was huge factor in his low yards per carry average, and he rarely made it past the first defender. He actually regressed as a pass catcher, and as the season wore on, lost meaningful snaps to his rookie teammates. Unable to get much going despite playing behind one of the best lines in the league, Oakland likely felt Murray was easily expendable and weren't willing to offer much money.

Oakland's loss is seemingly Murray's gain. He signed was essentially amounts to a one-year deal, as the Vikings look to overhaul one of the least effective running games in the league. Plagued by injuries, downright dreadful offensive line play, and a set of running backs with limited skill sets last season, Minnesota hopes Murray can provide the efficient running style to keep this offense moving. The Vikes offensive line took a public beating most of last year, and for good reason. But sometimes we forget just how comically injured the line was, forcing third-stringers into starting roles. They were forced to patch the line with veterans off the street at times, and this calamity left the running game in shambles.

They've tried to patch things up this off-season, starting with the signing of veterans Riley Reif and Mike Remmers. Neither player is Pro Bowl caliber, but they both provide strong upgrades in personnel. I anticipate a few more young guys joining the roster via the draft, giving the Vikings a much more stable corps of blockers.

Another positive for Murray is the change in division. While solid, the defenses of the NFC north aren't nearly as ferocious as those in the AFC West. This downgrade in opponent should make up for running behind a less effective line than he had in Oakland.

Fantasy Impact

Let's be clear here, Murray isn't going to remind Vikings fans of Peterson in his prime, but he represents a big upgrade in talent. After losing Bridgewater before the season, and their offensive coordinator during it, this offense was a work in progress all year and with an offseason of consistency, I think will be greatly improved in 2017. With health, Murray should approach 240 carries and 900 yards. I do think he's set for a big regression in touchdowns, but even half a dozen means there could be some low-end RB2 value here when all is said and done. His down season, and offensive line perception is going to keep Murray's value stifled, but I'd be really happy to pick him up as my RB3 in a standard scoring league. The presence of Jerick McKinnon is going to crush his PPR value, but his recent history of solid production in the Oakland passing game means he's not entirely one dimensional.