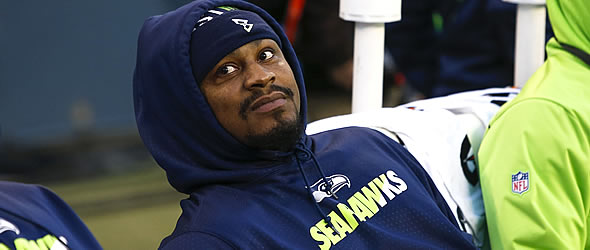 Lynch look disinterested at times during his final year in Seattle. Will he be rejuvenated in Oakland?
For years he was an enigma. A say nothing, do everything running back who dazzled with a special blend of power, balance, and speed. He was famously passed over at the end of a Super Bowl loss to the Patriots, and just over a year after that moment, left the NFL with a tweet. But after a year off traveling the world and doing soda commercials, Marshawn Lynch is back in the NFL after being traded to his hometown (for now) Raiders, and signing a two-year deal.

For the better part of his career Lynch was one of the best backs in the league. He single handedly won a playoff game against a heavily favored Saints team, and rushed for 1,200+ yards in four straight seasons from 2011-2014. After an injury marred, career worst season in 2015, Lynch literally hung em' up to pursue interests outside of football.

Lynch is older, wiser, and seemingly healthier after his year off, so what does the 31-year old bring to an exciting up-and-coming team like the Raiders? Experience. One thing the Oakland (Las Vegas?) backfield missed last season was a veteran presence behind David Carr. Latavius Murray had a few decent seasons under his belt, but could never manage to really take over a game. DeAndre Washington and Jalen Richard while effective in spurts, were both first year players from small schools. Lynch brings a stability, confidence, and a resume whose value can't be understated.

Fantasy Impact

All these platitudes are nice for the Raiders 2017 hopes, but this is a fantasy football website, so what value can you expect Lynch to provide your team? I think that depends. It depends on just which Lynch decides to show up. Was he bored without football? Just looking for a paycheck? Or does he truly want to return to the grind necessary to compete for a championship? I think it's telling he had no desire to return to the Seahawks. It was clear in his final season that his act had worn thin with some in the organization. Publicly the Seahawks made no effort to convince him to return, and for such an organizational icon I found that odd.

But despite his reclusive public persona, Lynch was always seen as a model teammate who approached the game of football with a professional fervor. Despite turning 31 this month, Lynch has had the better part of two seasons off and by all accounts is in great shape. He averaged a near career best 4.7 yards per carry in his final healthy season, scoring 17 times. As long as his lateral agility and quickness remain, I see no reason why Lynch can't return to prominence.

Curtis Martin ran for a career high 1,697 yards in his age 31 season, and I can see a scenario where Lynch balls out knowing this is probably the sunset of his career. He'll have an opportunity to play behind a supremely talented offensive line, and alongside a set of dynamic playmakers. If he comes motivated to play at an all-pro level again, Lynch can and will be the centerpiece of this offense, helping to control the clock and the game script. For such a violent runner, Lynch has remained healthy most of his career and I would feel great about taking him as my RB2, knowing that RB1 numbers wouldn't be outside the realm of possibility.