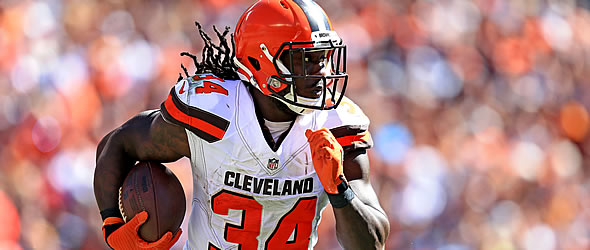 Isaiah Crowell never had more than 19 carries in any game last season but still finished as an RB2.


QB Cody Kessler


2016 QB Rank - No. 34, 10.5 FPts/G



QB DeShone Kizer


2016 QB Rank - N/A



QB Brock Osweiler


2016 QB Rank - No. 28, 15.5 FPts/G



Iím not sure how long Cleveland will carry this many quarterbacks, but for the time being, Iím going to lump these three guys into one writhing mass of quarterback mediocrity. Kessler, the second year holdover from 2016 had a strange rookie season. He started the year off as the 3rd- string developmental quarterback, but was thrust into the lineup Week 3 after both RGIII and Josh McCown went down with injuries. The former Trojan ended up going winless in his starts and got battered around a bunch, but ended up not embarrassing himself in the games he was able to play in. He completed 65% of his passes and had a strong 6-2 touchdown to interception ratio. His limited work in 2016 earned him the starting role to begin 2017. If he can stay healthy, I think his experience, intelligence, and moxie will be able to hold off Kizer for the near future.

Speaking of Kizer, heís the long-term future of this franchise. Heís likely to see snaps at some point this year, later than sooner if Cleveland has its way. Heís got some work to do to be ready to lead an NFL team into battle, and I donít see the benefit of having him playing before he is ready. He had a bitter end to his college career, but has the physical gifts to be a starter in this league. If heís starting for this team things have either gone incredibly wrong (again), or heís accelerated far quicker than anyone imagined.

The Browns are playing the long game here at quarterback and I don't think Osweiler realistically fits into their plans. One of the bigger busts in recent free agent history, Osweiler is an NFL backup and nothing more. If the young guns show well, I wouldnít be surprised if heís cut toward the end of camp. That being said, no quarterback on this roster is worth re-draft consideration. There may be some very sneaky DFS league value on a week against a terrible defense, but thatís as far as Iíd go.

RB Isaiah Crowell


2016 RB Rank Ė No.15 10.5 FPts/G



Crowell has displayed tantalizing fantasy promise since rushing for 8 touchdowns as an undrafted free agent rookie in 2014. In the two years since, heís steadily improved, increasing his role in the passing game and serving as one of the few reliable offensive weapons on a terrible team. Crowell stood out last year in fantasy circles when he finished as a strong RB2, putting up 4.8 yards per carry behind a suspect offensive line. His 1,200-plus total yards easily led the team, and with a revamped offensive line, more weapons outside, and hopefully a more stable quarterback position, the fourth-year back has a real chance to take another leap forward.

Cleveland is committed to running the football, and more favorable gameflow should push Crowell past 200 carries for the first time in his career. Heís young, supremely athletic, and is looking for a big payday as a free agent in 2018. Crowell wonít turn 25 until after the season, and I love him as a dynasty prospect, but I have to temper my expectations in redraft leagues simply because his scoring potential is limited on what still should still be a bad team. Unless one of the quarterbacks shows well, this offense is going to struggle to get in the red zone frequently, and a big part of Crowell turning the corner and approaching RB1 status is finding the endzone with more frequency. I think he stays in the RB2 area, sets career highs in carries and yardage, and becomes a solid running back to pair with a stud.

RB Duke Johnson


2016 RB Rank - No. 39, 5.9 FPts/G



Other than being slightly more efficient on the ground last year, Duke Johnson has been the exact same player during his two years in the league. Drafted in 2015 to be a receiving threat out of the backfield, Johnson has lived up to the role, finishing with the 4th and 6th most receptions among running backs in his two years with the Browns. With Isaiah Crowell handling the early down and goal line work, Johnson is left to fight for scraps. A more direct route to playing time could come in the slot, where heís worked at times this off-season. Cleveland doesnít have a reliable slot receiver, and Johnson is comfortable running routes. An uptick in targets and receptions could definitely make him more attractive in PPR formats, but his lack of touchdowns (3 career) and consistent backfield work make him a FLEX player at best in standard formats.

WR Corey Coleman


2016 WR Rank - No. 84, 6.0 FPts/G



Oh what a year 2016 could have been for the second-year pro out of Baylor. After a 5-104-2 line in only his second NFL game, Colemanís litany of injuries (hand, hamstring) helped to contribute to his wholly ineffective season. Despite the outlandish upside, Coleman again missed precious off-season work with more lower body injuries, and has only recently been cleared for camp. Cleveland desperately needs a big season out of their former 1st rounder, and there is no doubt Coleman has the talent to deliver. If he can manage to stay on the field, he and Kenny Britt should form a fine duo for the gang of Cleveland quarterbacks. Coleman needs improved chemistry and consistency, as he caught only 42% of the passes thrown his way, far below the 60-65% that most outside receivers average.

Coleman is another young Brown I have a hard time getting overly excited about. The injury history certainly turns me off, but the raw talent and potential is intoxicating. Until Cleveland can get some consistent quarterback play, the offense is going to be held back, therefore limiting the ceiling Coleman has. Iíd certainly be happy to have him on my team as a WR3/4 that has a WR2 ceiling if things really come together. Heís young and talented enough to take a flier on later in your drafts, and has more upside than teammate Kenny Britt.

WR Kenny Britt


2016 WR Rank - No. 24, 8.7 FPts/G



Despite some of the worst quarterback play in the league last year, Britt, the 9th year vet, was able to put up low end WR2 numbers for the Rams. For a guy that likely went undrafted in many leagues in 2016, Britt was a strong fantasy value. He came out of a career long funk to set career highs in yardage and receptions . Considered a big bust for much of his career, Britt was able to parlay the big year into a multi-year deal with the Browns. Britt is the kind of player Cleveland needs during its rebuild. Heís a veteran with enough juice left to be an asset, but wonít take away from the opportunities of the younger guys. He gives the Cleveland quarterbacks a big target who can get downfield and get open. Unfortunately for fantasy purposes, itís likely that 2016 will be Brittís career year, so expecting a WR2 repeat is bad business. I think he ends up being a fine WR3/4 with very little upside for more. Iíd certainly be looking for higher ceiling players around the time Brittís name gets called in my drafts.

TE David Njoku


2016 TE Rank - N/A



The fact rookie tight ends rarely make a fantasy impact is no secret. It's been written about and discussed numerous times, but I have a nagging feeling that Njoku will be in a few starting lineups at some point this year. The Browns traded up to select the supremely athletic tight end from Miami, and he has a direct path to playing time after the release of veteran Gary Barnidge. He's certainly raw, turning 21 just recently, but he can block, runs like a deer, and has a robust 6'4'' frame that will make him a match-up nightmare. The Browns don't have a legit slot receiver, so look for Njoku to line up all over the field and be part of the weekly game plan. He's a tremendous dynasty selection, and if things break right, could approach 50 receptions, which would certainly give him a crack at low end TE1 value. Njoku is a guy I'm looking to add to my teams as my back-up tight end with the hope he develops into a trade chip or starting asset by later in the season.