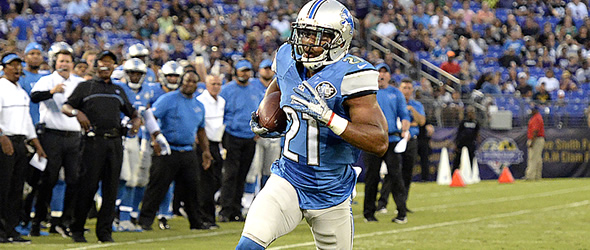 Ameer Abdullah is receiving a lot of love despite missing most of last season with a foot injury.


QB Matthew Stafford


(2016 QB Rank - No.7, 21.6 FPts/G)



The big hubub with the Lions at this time last off-season was how the offense was going to deal with the loss of stud receiver Calvin Johnson. For years Stafford made his living throwing the ball up to one of the most physically dominant receivers in the game, and Lions fans and Stafford owners waited with bated breath to see if the 8th year signal caller could adjust. By most measures, Stafford adjusted rather well as he led the Lions to a wildcard berth, had the second-best completion percentage of his career and tossed a career low 10 interceptions.

While it was encouraging to see Stafford spread the ball around the field and continue to make better decisions with the football, the Detroit offense couldn't make up for the loss of Megatron in the redzone. After scoring a touchdown on nearly 70 percent of their trips to the redzone in 2015, the Lions dipped to a woeful 54 percent last season. Stafford's low touchdown total (24) stifled what could have been an easy top-5 overall finish.

So what's in store for the leader of the Lions who has thrown for at least 4,200 yards in six-straight seasons? More of the same that's what. The Lions held pat with their offensive skill positions, not adding much to the depth chart, as they are hoping another year in the system and improved health will help with offensive consistency. Speaking of health, the entire offense was dealt a serious blow when blind-side protector Tyler Decker went under the knife for a torn labrum. It looks as if he could miss at least half the season and after watching Stafford get constantly harassed the last few years, this could have a huge early season effect. I'm also very leary of Detroit's schedule. Among their always tricky in-division games, the Lions face off against the rising NFC south this year, which could be, from top to bottom, the best division in football. Despite a rocket arm and improving game management, I'm down on Stafford this year. The schedule, loss of Decker, and lack of an elite No.1 receiver means he could end up in the low end QB1 tier.

RB Ameer Abdullah


(2016 RB Rank - No.91, 10.9 FPts/G)



The sample size is miniscule, but Ameer Abdullah was perhaps on his way to special things before a broken foot ended his season in Week 2. During the Lions season opening victory against the Colts, we got a chance to see how the Lions planned to use their second-year back. Abdullah touched the ball 17 times (12 carries , 5 receptions) and piled up 120 total yards and a touchdown. For those counting at home (as most fantasy participants apt to do), that's over 7 yards per touch. Before going down with the injury in Week 2, Abdullah was averaging over 6 yards a carry on his attempts. It really looked like Abdullah could have been primed for a solid season last year, but can he recover and bring a spark to the Lions offense and fantasy squads alike?

Stop me if you've heard this before, but the main roadblock to fantasy relevance is playing time. The Lions run game under Jim Caldwell has been agonizingly specialized. Theo Riddick handles almost all passing situation duties, including hurry up situations and last year Zach Zenner and Dwayne Washington were the goal line backs. This leaves Abdullah with few opportunities to flash his elite athleticism. He struggled with ball security as a rookie, and while he's had a healthy off-season, one has to wonder if the foot injury has cost him some speed and quickness. The Lions have been quick to name Abdullah their starter, but that means little with how much the other backs play. There is definite room to improve upon his rookie year numbers, but between the committee and the offensive line in a bit of flux, I don't think the needle can move enough to give Abdullah more than a look as a FLEX option with upside. He'll have to be borderline spectacular with the touches he gets, or rise to the top over injured teammates to be much more.

RB Theo Riddick


(2016 RB Rank - No.31, 10.9 FPts/G)



Well on his way to yet another 80-plus reception season, Riddick played in only 10 games last season due to not one, but TWO injured wrists. After off-season surgery, Riddck is back and ready to be a dominant PPR back once again. Despite missing six games, Riddick was well inside the top-10 in targets for running backs with 67. Basically serving as a de facto receiver for Detroit, Riddick's five receiving touchdowns paced NFL backs. With Abdullah back to full health, look for Riddick's rushing attempts to be nearly invisible, meaning his truest value comes in PPR leagues, where he is solid starting option. This offense, while improved, should still struggle getting the ball downfield, meaning there should be plenty of check-down attempts to keep Riddick owners happy.

RB Zach Zenner


(2016 RB Rank – No.50, 7.1 FPts/G)



Let's make this quick. While young and athletic, neither Zenner or Dwayne Washington should be on your re-draft radar. Although each showed flashes at times last year, these guys are the RB3/4 on their own team at the moment, and baring a serious injury to either Abdullah or Riddick (which is a distinct possibility) they simply won't get enough meaningful touches to be rostered players. For what it's worth, I do feel that Zenner is the player with more upside, and the guy I'd go with if I was an Abdullah or Riddick owner who needed insurance. He was the Lions "workhorse" in the most important games at the end of the season, and delivered 21 and 17 point games in Weeks 16 and 17. He's entering his third season, and showing more polish after playing at South Dakota State. He's the guy the Lions would trust if they had to.

WR Marvin Jones


(2016 WR Rank – No.37, 7.8 FPts/G)



When looking up the season stats for Marvin Jones in FFToday's stats section I admittedly did a double take. My first thought was, "who the heck hit copy and paste for the 2015 and 2016 totals?" Take a look for yourself! Jones' 2015 line 65-816-4 on 103 targets. The 2016 line, 55-930-4 on, you guessed it, 103 targets. On the surface, the 2016 season totals don't seem terrible for a guy being forced into the WR1 role for the first time in his career, and on a brand new team. But when you dig into the numbers, and notice that Jones had nearly 44% of his season total in yardage over the first three games, you'll know why many fantasy owners were downright depressed by the end of the season.

After a dominating 6-205-2 line against the Packers in Week 3, Jones failed to surpass 5 receptions or 94 yards for the remainder of the year, during which he battled lower leg injuries. To say that the star faded quickly on Jones' season is an understatement, as his role as a deep threat took a nose dive when Detroit showed an inability to protect Stafford. Unable to get the time to go deep, the Lions mothballed the offense, and became a team that threw a majority of its passes within 10 yards of the line of scrimmage. This dinking and dunking offense plays counter to Marvin's strengths, and unfortunately I don't see a drastic change coming. By the time the 2016 season ended, Jones was an inconsistent WR3 and that's where he sits in my eyes for 2017.

WR Golden Tate


(2016 WR Rank - No. 23, 8.3 FPts/G)



While Marvin Jones doesn't quite fit what the Lions offense is capable of doing right now, Golden Tate's game fits like a glove. Tate has been a PPR darling since joining Detroit as a free agent in 2014, piling up 90, 99, and 91 reception seasons. While Jones was lighting things up, Tate was barely breathing during an opening five-game stretch where he totaled 133 yards and no touchdowns. To say the Week 6 line of 8-160-1 line came out of nowhere is an understatement! From that game on, it was clear the Lions offense needed to feature Tate in the passing game to be successful. Tate resumed his go-to status, as Stafford targeted him 10 or more times, seven out of the team's final eleven regular season games.

Like most of the Detroit skill position players, I don't expect a big change in stats. The system, and what the Lions are capable of accomplishing on offense isn't going to change a great deal. The ball control passing game will remain and the Lions should be able to run the ball a bit more if their backs stay healthy. Tate should retain a healthy dose of targets, and be a strong PPR option and a fine bet for WR2 production in standard leagues.

TE Eric Ebron


(2016 TE Rank – No.16 6.4 FPts/G)



I think it's fair to assume, that entering his 4th year as a pro, Eric Ebron will not return the value or impact the Lions expected when they made him the 10th overall selection in the 2014 draft. Despite a measured rise in stats since his rookie year, Ebron failed to be a consistent playmaker in 2016. Regardless of being 6'4'' he was a non-factor in the red zone, an area Detroit desperately needed playmakers. He's fast, but Ebron lacks route running finesse, and doesn't use his body to make plays on the ball. He's similar in stature to Antonio Gates, but Gates is an absolute wizard at using body position and leverage to get open at the goal line.

Ebron will always be a tantalizing tease for fantasy owners. The team lost 67 targets when Anquan Boldin left in the off-season, and Ebron is sure to soak up some of those, but until he improves his game inside the 20-yard line, and works on his hands, he will continue to be in the bottom tier of TE1s. This Lions offense has enough guys that produce between the 20s, but until Ebron and the rest of the offense score more touchdowns, the entire team has depressed fantasy value. That said, if there was a tight end I'd take a flyer on, he would be it. If his catch and yardage totals hold steady, it would only take a few more touchdowns to get him into mid to upper range TE1 territory. I'm just not ready to gamble a high draft pick to do it.