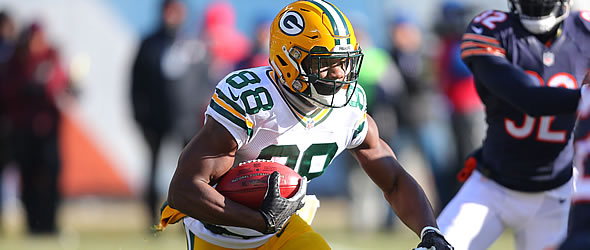 Ty Montgomery will open training camp as the No.1 RB but his fantasy value remains heavily debated.

QB Aaron Rodgers
(2016 QB Rank - No.1, 27.6 FPts/G)
By his own outlandish standards (and those of his fantasy owners), Aaron Rodgers was a major disappointment in 2015. Despite being burned by him consistently during the second half of that year, I thought the return of Jordy Nelson would help return Rodgers to the fantasy quarterback throne in 2016.

Letís be honest, there were a few games to start the 2016 season where it looked like the 2015 malaise, might be a harbinger that Rodgers could be on the downfall. Both he and the Packer offense couldnít find rhythm during a dicey season opener against Jacksonville, and he played terribly in a loss against the Vikings in Week 2. He predictably carved up the Lions, but then two mediocre weeks followed. But a Week 6 victory over the Bears, where Rodgers went for nearly 30 fantasy points was the beginning of a lights out run that saw A-Rod score 30-plus points in six of the final ten regular season games.

While the running game all but disappeared, Rodgers was forced to take his team on his back, and luckily for his fantasy owners, heís still strong enough to do it. He single handedly kept the Packers competitive while their defense was melting, and the running game was held together with street free agents and former wide receivers. The return of Nelson to his Pro-Bowl form, and the long awaited emergence of Davante Adams gave Rodgers big, athletic pass catchers to throw to at all levels of the field. He finished the season with his 4th, 40 total touchdown season, good for the top spot among fantasy quarterbacks.

Rodgers enters his age 33 season, better than ever. Heíll add Super Bowl winning Martellus Bennett to the mix at tight end, should have an improved running game, and barring injury, has the fast track to being the top overall at his position once again. I do think theyíll be a bit of regression in the yardage and touchdown department, but if you want a shot at one of the surest picks in all of fantasy, take the plunge.

RB Ty Montgomery
(2016 RB Rank - No.38, 7.6 FPts/G)

Due to a ridiculous amount of injuries, the former Stanford Cardinal was thrust into meaningful snaps at running back, just as he was posing back to back 12-plus target games at receiver. Green Bay officially switched his position when it was clear James Starks and Eddie Lacy wouldn't be returning from injury. And while he never quite took on a ďfeature backĒ role, he was effective with his ground touches (averaging a silly 5.9 yards per carry average), and remained part of the passing game plan.

Montgomery is one of the most polarizing players in fantasy this season. Some writers believe he can grow into the role, and develop into the feature back on one of the best offenses in the league. Some feel the drafting of three running backs show that Green Bay sees Montgomery as only a complement in the backfield. I feel like if the Packers get their way, rookie runner, and fellow BYU alum Jamaal Williams will take over as the main runner (Eddie Lacy role) with Montgomery playing the complement (James Starks role). Mike Krueger has Montgomery as a low end RB2, and I think thatís his ceiling. The Packers weren't scared to give Lacy all of the work his rookie year, and I think if/when Williams proves heís capable, heíll take over, and Montgomery will play second fiddle. I certainly wouldnít be scared to take Montgomery, and Iím particularly interested in pairing him with Doug Martin, as I feel the Packers runner will have more value early in the year than he will later, and you can take advantage while Martin serves his suspension. I do think if you invest heavily in #88, you need to handcuff him with Williams.

RB Jamaal Williams
(2016 RB Rank Ė N/A)

While he lacks elite size, speed, or athleticism (hence the 4th round pick designation), Williams tape stands out, showing a nifty one-cut runner who churns out tough yards, and has exceptional vision and leg drive. Despite missing three games last season, Williams still eclipsed the 1,300 yard mark to go along with 12 touchdowns. On most NFL offenses heís probably at best a low-upside back-up, but on Green Bay, I think he has some special potential to carve out fantasy value. Much like former Packer James Starks, Williams is a smart, versatile back who can be the main ball carrier if called upon. His lack of elusiveness is made up for the fact heíll never see run blitzes or stacked boxes, and can instead use his instincts and field vision to find small creases and get to the next level of the defense. His size and power should make him a favorite at the goal line as well. With Lacy and Starks the Packers had a versatile 1-2 punch that could whittle down the clock, but make splash plays as well. I think Williams has a chance to contribute to the Pack, as well as your fantasy team this year, and is a fantastic late round flier if you can grab him there.

WR Jordy Nelson
(2016 WR Rank Ė No.1, 13.1 FPts/G)

There was a time when an ACL injury to a 30-year old receiver would be a near death knell. Oh, how times have changed. Not only did Nelson return to the top of the receiver rankings by the end of 2016, he did so in dramatic fashion, scoring 14 touchdowns, and gobbling up 152 targets. His 97 receptions were only 1 off his career best, and while he saw a near 20% reduction in his yardage totals from his last healthy season, he most likely provided one of the best values at receiver last year.

With such a stellar return to form, itís clear Nelson isnít going to be a gamble pick in 2017. Heís another year removed from the injury, played a full 16 games, and only got better as the season wore on. I think itís likely that heís reached his career highs, and heís a step slower, but heís Aaron Rodgers favorite target, especially in the red zone, and has such elite body control and route running ability that heís a lock to finish in the top-10. I do expect him to fall a few pegs, especially with Green Bay having a more balanced offense, and the addition of Martellus Bennett, who could soak up a few of those red zone scores. Heís great value in standard and PPR leagues alike, and is someone Iíd be happy to have as my WR1.

WR Davante Adams
(2016 WR Rank Ė No. 7, 10.7 FPts/G)

After two disappointing years to start his career, Davante Adams burst onto the scene last year with a 75-997-12 line, pushing him from a scrap on the fantasy heap, to a top-10 scorer at his position. He set career highs across the board, and his 12 scores were second in the NFL only to teammate Jordy Nelson. Adams caught a touchdown for every six receptions, and was a stud in non-PPR leagues due to the touchdowns. So are his 2016 numbers indicative of what to expect going forward, or an anomaly? I tend to think of all the receivers who finished in the top-10 in standard scoring leagues, Adams is least likely to repeat. Itís going to be very hard to duplicate the touchdown total, and with a full stable of healthy skill position players, the ball should be spread around more. Randall Cobb has never come close to his 12 touchdown season in 2014, and should be more of a factor if he can play a full complement of games. Adams has a great size/speed combination, and despite a bevy of drops, seems to finally have earned some measure of trust from his QB. I really do think a special set of circumstances helped Adams last year, and those are unlikely to repeat themselves. With a few more mouths to feed, and a more balanced offensive attack, I like Adams more as a low tier WR2, than the WR1 he finished as last season.

WR Randall Cobb
(2016 WR Rank Ė No.58, 6.8 FPts/G)

After another disappointing year dealing with injury and inconsistency, itís fair to wonder what you can expect from the former Wildcat as he enters his 7th year as a pro. His statistics tailed off frighteningly for the second-straight year, as he amassed only a 60-610-4 line. He was never quite the same after missing a Week 8 game against the Falcons, as an out-of-nowhere 30-point game against the Giants in the playoffs was way too late to help fantasy owners. I think itís fair to assume that Cobb has dropped to the third option in this pass attack. Due to his game and size, he has trouble producing when dinged up, and hasnít gotten back to being the red zone threat his was earlier in his career. I think this offense can absolutely support a third fantasy receiver, and assuming health, Cobb has a WR3 floor. I know Iíve been a bit negative here so far, but parts of me actually like Cobb better than Adams, especially considering where you can get each of them in the draft. The signing of Bennett is going to open up the middle of the field and Cobb he could return to the 80-plus catch area if he stays healthy.

TE Martellus Bennett
(2016 TE Rank No.7, 7.1 FPts/G)

Despite a highlight reel play that will forever be the bane of Cowboys fans, the Jared Cook experiment in Green Bay came to a quick end. In comes Martellus Bennett, coming of a Super Bowl victory, to provide the Packers with a steady veteran presence who's two-way game will fit perfectly with what his team wants to do. Some guys just have all the luck, as Bennett goes from one Hall of Fame quarterback to another. Bennett gives Aaron Rodgers something he hasn't had since Jermichael Finley was forced to retire. Bennett is athletic enough to beat linebackers, big enough to challenge DBs and savvy enough to get open in the red zone. He had a fantastic first half of the year in 2016, before dual ankle injuries sapped him of his play making ability. He still managed 700 yards and 7 touchdowns, which constituted an average season. I really think those 2016 numbers are the floor for Bennett in this offense. The tight end position is a mess again, and Bennett possesses one of the safer floors at the position. He won't catch 90 passes like Travis Kelce, or score 14 touchdowns like Gronk might, but he's going to work very well with Rodgers, and give fantasy owners a solid TE1 option.