Bye Weeks: N/A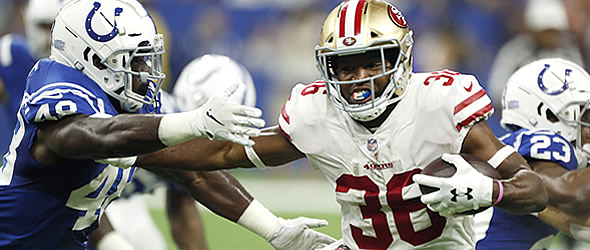 Can head coach Kyle Shanahan rekindle some of that Alf magic from 2012?
Grab a Helmet

Alfred Morris @ MIN: Maybe you drafted Jerick McKinnon, or went with a Zero-RB strategy in your draft. Heck, maybe you even decided to YOLO and stream your running backs all year! Whatever the case, Morris being considered as a Week 1 fantasy starter sounds a lot less crazy than it did a few weeks ago. Thrust to the forefront after a devastating injury to McKinnon, Morris steps right into a starting role for the same coach that guided him to his career year in 2012 (335-1613-13; 77-0). Donít get me wrong, I understand that Morrisís glory days were years ago, and he was on the street this time last month, but the 49ers need to run the ball, and I think Morris can have some limited success this week. Donít expect a windfall against the Minnesota defense, but Morris could sneak over the goal line and give you 60 total yards. Not bad from a guy sitting on waiver wires as I type this.

Royce Freeman vs SEA: Few rookies have looked better on the field this preseason that Freeman. The 3rd round pick from Oregon has shown power and speed, as well as a versatile skill-set on his way to 3 touchdowns and a 5.6 yards-per-carry average this summer. Heís done enough to gain some serious steam as we head into Week 1, and even if the Broncos donít give him a ton of carries to start the year, itís only a matter of time. Seattle was middle of the pack at best last year against the run, and is in a transition year on defense. With their linebackers banged up and inexperienced, Denver should be able to mount a solid rushing attack, and I look for Freeman to lead the way as a solid RB2 option with upside.

Kenyan Drake vs TEN: Drake has had a terrific summer, continuing to build off his dazzling second half of 2017. A two-way game, to go with a strong power/speed combo, Drake is one of my favorite sleepers this season because of his versatility and big play ability. I donít believe Gore was brought in for anything more than a veteran presence, and Drake has the skills to keep the old man on the bench. The former Alabama runner was a borderline RB1 last season when given starters touches, and I think that holds this season. Tennessee struggled at times against dual-threat backs last year, as their linebackers can tend to be thumpers. Miami needs to filter their offense through their best player, and I think weíll see this season, that Drake is that guy.
Grab Some Pine


Le'Veon Bell @ CLE: Bell and the Steelers are in a nearly identical spot in Week 1 of 2018 as they were in 2017. As I write this, Bell still hasnít even reported to the team, and with less than a week to go, itís not hard to envision a similar result to Week 1 of last year (10-32-0; 3-15-0). The Steelers and Bell struggled on the road against the Browns, only to squeak out a win in the end. History tends to repeat itself, and unless they have a new way to adjust or prepare, I see the Steelers limiting Bellís touches, the offense struggling against a hungry defense that has the home opener crowd, and Bell falling way short of his draft status, at least for the first week.

Update: As of Thursday, Bell has yet to report to the team and isn't expected to play in Week 1. James Conner should get the start and makes for a viable RB2 against the Browns.

Kerryon Johnson vs NYJ: Unless Detroit was using the wounded animal fake out this preseason, I have some serious doubts about this team. The line utterly failed to protect Stafford, the running backs got nothing going and there still is no clarity on how this three-man rotation is going to shake out in the long term. There has been no indication that rookie Kerryon Johnson is going to get enough touches to really make a fantasy impact, so for opening week itís anyoneís guess who leads this backfield in touches. Do the Lions morph into Patriots Midwest and go with a gameplan based rotation? Do they use each guy in specific roles? Until this situation becomes clearer, Iíd hesitate to use Johnson, Blount or Riddick in any meaningful non-FLEX role.

Jordan Wilkins vs CIN: As little as I like the Lions runners this week, I somehow like the Colts running back options much less. Marlon Mack is hurt, (and not great when healthy) and the rookies Wilkins and Nyheim Hines have done little to inspire confidence this summer. This offense has the look of a dreaded season long RBBC situation, as the Colts will yet again live and die on the right arm of Andrew Luck. All the backs seemed to be running into brick walls this August so the best option with this backfield in Week 1 is simply "wait and see".


Quarterbacks | Running Backs | Wide Receivers