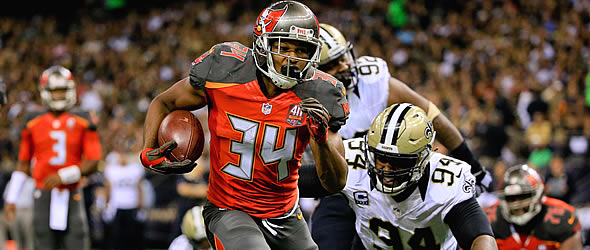 Now is the time to combine Charles Sims with another player and get the stud you're looking for.


Let's start out by taking a look at last week's results…



Hits:



(Sell) Spencer Ware: Ware (12 touches) basically split time with Charcandrick West (7 touches) which is pretty scary if you ended up holding him. He also lost a fumble. If you sold and got anything of value, Iíd say you won that trade! Jamaal Charles will likely be back in Week 4, and West played well enough to stay in the mix.

(Sell) Eli Rogers: Rogers regressed in a game where he was supposed to be fed because of a tough matchup for Antonio Brown. He caught 1 pass for 9 yards as the Steelers turned to the ground game and threw to backup tight ends. He was most likely a throw in, but in deep PPR leagues he couldíve been a 1-for-1.

(Buy) Marvin Jones: If you bought in on Marvin Jones you were instantly rewarded with 8 catches for 118 yards. His depth of target and volume are making his value sky rocket, and he is well ahead of Golden Tate in standard and PPR leagues. Good move if you got him.

(Buy) Allen Robinson: Iím still buying shares of Allen Robinson as I type this. Heís uber talented and leads his team in targets (20). The defense, which was supposedly much improved, still reeks of the dumpster fire it was last year. I see more targets in Robinsonís future and huge production as well.



Undecided:



(Sell) DeMarco Murray: It sure is encouraging for Murray owners to see his usage (12 for 87 on the ground, 7 for 56 through the air). Derrick Henry is still lying dormant (9 for 40 on the ground, 1 for 9 through the air). If I see Henryís receptions increasing, I might move Murray back into the bait, but for now heís a hold. If you traded him last week, hopefully you sold high and got another good skill player.

(Buy) Mark Ingram/Eddie Lacy: After two games Ingram has 21 carries for 88 yards (4.2 YPC) and 6 catches for 46 yards with no touchdowns. Lacy has 26 carries for 111 and 1 catch for 17 yards. This is a bit concerning, but Iím still bullish on both in their respective offenses. I wonít claim victory yet so weíll keep him here for now. Donít be surprised to see these guys in the buy-low section as either could have multi-touchdown games in their near future.



Misses:



(Sell) Theo Riddick: With Abdullah out with a foot injury you might be regretting selling Riddick this week. Dwayne Washington is no slouch and could take a workhorse role with Abdullah out, but Riddick looks to be the main beneficiary. Iíll take this one on the chin.

(Sell) Melvin Gordon: Injury weekend struck many fantasy teams holding Danny Woodhead. Melvin Gordon owners rejoiced. I would say Gordon is a hold at this point. We shall see what Dexter McCluster brings to this offense but Gordon should be in-line for 20 touches a game moving forward.

(Buy) Gary Barnidge: I wonít bother getting into his stats because they were pedestrian. Iím going to take this one as a miss because if you bought into him, youíre probably up sh**ís creek without a paddle. Weíll see what Cody Kessler has to offer, but Iím off the Barnidge bandwagon with McCown on the shelf.

After one week...
| | | |
| --- | --- | --- |
| Hits | Undecided | Misses |
| 4 | 2 | 3 |
I will reevaluate these stats as situations can change throughout the season.

Let's jump into Week 3…

The Bait:

Isaiah Crowell: Crowell led the league in rushing in Week 2 with 18 rushes for 133 yards and a score. He also managed a catch. The bad part here is if you take out the 85 yard touchdown, he is left with 17-for-48 (2.8 YPC). Iím selling Crowell considering the hot garbage offense directed by a rookie quarterback. If you can get a bag of balls for him, do it.

Matt Ryan: 396 yards. 3 TDs. You landed a QB1 for peanuts, right? Wrong. He had a great Week 1 too, but his last two were against Tampa and Oakland who are among the leagueís worst defenses. He gets a weak Saintsí secondary in Week 3 so you might be able to sell high next week before he goes down death row (vs. Panthers, @Broncos, @Seahawks) the following three weeks.

Charles Sims: The injury bug has seemingly bitten everyone in just two weeks. What an opportune time to sell on a guy you probably got in the 6th round. Sims will always be a great PPR flex play, but if youíre looking for more, you want to combine him with another player and go get a stud. Now is that time.

DeAngelo Williams: You might not be able to get much for Williams considering LeíVeon Bell is coming off suspension next week, but now is the time. Heís been a high-end RB1 the last two weeks, and if nothing else you should be knocking on the Bell ownersí door with a 2-for-1 so that he/she can sleep tight once Bell returns.

The Buy-Low Candidates:

Todd Gurley: This guy oozes talent. The problem right now is he is averaging 2.7 YPC, and his offense around him is putrid. If you have to give up a lot, I wouldnít. If you can get into a 3-for-1 deal and not give up too much, absolutely go for it. The problem you will definitely face here is your trade partner paid a high price for him.

Julian Edelman: 14 catches for 142 yards and no scores. Youíre not exactly buying at rock bottom, but if you can score him in a 2-for-1 this week, get it done. Once Brady gets back, the whole offense gets a huge uptick, and Edelman is a target monster.

Tajae Sharpe: I think we all know whatís going to happen this week at home vs. Oakland. One Tennessee receiver is going to get the honor of facing Sean Smith who has been absolutely torched by opposing teams. Sharpe leads the team with 18 targets and the Titans have one of the easiest schedules moving forward. Grab him while you still can!

Allen Robinson: Iím still all in on AR15. At 20 targets through two weeks, heís ahead of OBJ, DeAndre Hopkins, and Julian Edelman.

Mark Ingram/Eddie Lacy: If you can still buy into these guys, go for it. I still am trying to land them myself as their YPC numbers are solid, and both are in great offenses.

Letís try to keep the injuries to a minimum this week and hopefully I can steer you guys in the right direction. Itís never easy giving trade advice, but take my 2 cents, your 2 cents, and try to make the best decisions you can after investing time into doing your homework.

---
Follow me on twitter @ZeroRBJoe for any questions about trades, lineups, or anything fantasy football related.