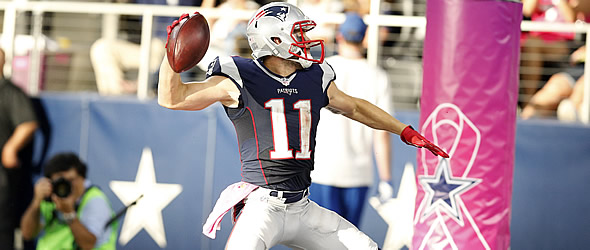 Julian Edelman's quiet game in Week 3 makes this the perfect time to try and land him in a trade.




Week 3 Review



Let's start out by taking a look at last week's results…



Hits:



(Sell) Isaiah Crowell: After scoring his first two weeks and still being amongst the top 5 in rushing yards Crowell remains a sell. He is no more than a TD dependent flex play as he is not involved in the passing game. If you sold high last week, nice job.

(Sell) DeAngelo Williams: Even with LeíVeon Bell still shelved, Williams (8-21, 4-23) struggled to get anything going against the Eagles. Hopefully you found that Bell owner and made a deal.

(Buy) Todd Gurley: If you landed Gurley last week because someone was down in the dumps, you are ecstatic! Two touchdowns will make anyone feel like a genius. What scares me his YPC (2.9) and heís not involved heavily in the ďpassing gameĒ or whatever they call it in LA these days. Heís still an amazing talent and the offense has room to make strides.

(Buy) Allen Robinson: I tried my hardest to land him in a few leagues last week, but the owners were thinking the same as I was. He had a slow start last year and then went on a tirade. He started his current tirade with a 2 TD game even though his yards per catch were less inspiring than weeks 1 and 2 (15 ypc, 8 ypc Wk 3). The Jags will use him all over the field so expect his YPC to level out throughout the year.

(Buy) Mark Ingram/Eddie Lacy: Iím claiming victory on these bell cows. Both had impressive outings and they both look like borderline RB1, high-end RB2ís. Their owners arenít as down in the dumps after Week 3 so be prepared to pay a premium if youíre still pursuing these guys.



Undecided:



(Sell) Matt Ryan: Death row is on deck (vs. Panthers, @Broncos, @Seahawks) the following three weeks. I still think Ryan is a sell high after last weekís 2 TD performance so if you can get rid of him, go for it. Weíll hold off on moving him up or down a section depending on how he does in the upcoming weeks.

(Buy) Julian Edelman: I love the fact that Edelman had a quiet game last week. He is my prime buy low candidate after having 18 catches for 180 yards through three weeks. (see below)

(Sell) Charles Sims: I traded Jeremy Langford and Sims for Devonta Freeman and Tevin Coleman last week so personally Iím considering my sell high on Charles Sims a win. He did have a great performance however so I canít claim victory yet. He had a rushing score, caught 6 passes, and Doug Martin doesnít seem to be returning anytime soon. He has a rough road ahead with Denver and Carolina, and then he has a bye week. Does Martin come back after the bye? We shall see. Iím still in love with my deal either way.



Misses:



(Buy) Tajae Sharpe: I'm going to take the miss considering I was expecting big things from the young stud in Week 3 and he made me look silly with his 3 for 48 line. I was tempted to put him in undecided section as he remains a buy, but the Titans passing offense is suspect at this point so I'll keep him here…for now.

Trade recommendations after two weeks...

As always, I will continually reevaluate my recommendations as situations can change throughout the season.

Week 4

And now on to Week 4…

The Bait:

Tevin Coleman: 3 touchdowns in 1 game and 3 catches? This guy is the new lead back for the Falcons! Think again. Devonta Freeman ran with reckless abandon last week to the tune of 152 yards on 14 carries and 55 yards and a score on 5 catches. If you can sell on Tevin do so, and reap the rewards.

LeGarrette Blount: 24 for 105 and 2 scores has vaulted Blountís value. When Tom Brady comes back in two weeks you should be nervous though. Do yourself a favor and go look at Blountís stats last year to see what he does when Brady is around. To save you the effort, he had only one game with 20-plus carries. His value is trending downward so trade him to land someone who is underperforming (Edelman anyone?)

Zach Miller: Miller is the second coming of Jason Witten, am I right? Sadly, no. Donít get me wrong, 8 for 72 and 2 scores is nothing to sneeze at but would I be lying if I said this is the best game heíll have all year? Get rid of this flash in the pan as heís probably your second tight end and move on from mediocrity.

Trevor Siemian: Siemian played some great ball against a normally stout Bengals defense. 312 yards and 4 scores is a sweet stat line that led the league this past week. I could be calling bait to early on this one, but if you have someone interested or can use him as a throw in, go for it. He has above average weapons and a defense that will constantly be putting the ball in his hands with good field position.

Buy-Low Candidates:

Julian Edelman: Tom Brady + Julian Edelman = PPR gold. Without Brady, Edelman is reduced to a chain moving facilitator and has limited touchdown upside. Through three weeks his 18 catches for 180 yards is exactly what you want to see if heís not on your roster right now. Donít be afraid to give up some flex players and bait from above to land him as he will be a high-end WR2 once Brady is back in Week 5. You can stomach watching one more week of Blount getting 25-30 carries to be in Brady-to-Edelman heaven come week 5 against the lowly Browns.

Carson Palmer: Four interceptions in one week. Why would anyone want him? He has an up and down schedule coming up, but more importantly you can get him at pennies to the dollar right now. Take your QB2 and a decent flex player and get him while you still can. It also helps that he has a very soft schedule (@ATL, WAS, @MIA, NO) in weeks 12-15.

Jordan Howard: In most leagues Howard is scooped up and someone feels like they have gold. If you have a back like Blount or Coleman shoot an offer their way. Now is the time to buy-in on a potential workhorse considering the running backs around him and their lack of health/talent.

Cam Newton: Is someone down on Newton? His only touchdown last week came on a run, and he threw 3 picks. Youíll want to play that up with the manager you are trading with, and go hard at the league MVP who will turn it around this week against Atlantaís non-existent defense.

Golden Tate: How much lower can Golden Tate's stock get? At this point, you can likely trade Blount for him straight up. I'm not saying he's going to overtake Marvin Jones anytime soon (barring an injury), but he can yield WR2 stats in the right matchup. Don't give up the farm here, but especially in PPR you should try to scoop him up for cheap.

That's all I have for this week folks. Keep those conversations active and hopefully you can land some premier talent!

---
Follow me on twitter @ZeroRBJoe for any questions about trades, lineups, or anything fantasy football related.