Bye Weeks: Buffalo, Cincinnati, Dallas, Seattle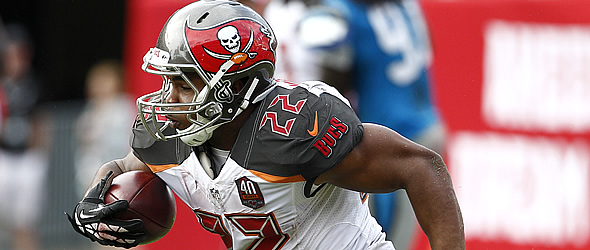 Doug Martin is back in the mix as a legit RB2 as he out-touched Jacquizz Rodgers 14-4 in Week 5.
Grab a Helmet

Doug Martin @ ARI Ė Martin exceeded expectations in his first game back from suspension, even though there was some speculation that the wouldnít receive a full workload Ė a mindset I regret having myself leading into Thursday Night Football. He logged 13 carries and finished with 74 yards and a TD Ė 10 more carries than Jacquizz Rodgers, who started the first three games of the season. Muscle Hamsterís resurgence in 2016 was muted by injuries and a four-game PED suspension for Adderall that he served only one game of last season. He entered a treatment facility, vowed to get in better shape and deal with some of his personal issues, and earned rave reviews for cleaning up his act. He trimmed down and cut about 2 percent of his body fat by cutting out carbs and doing more high-intensity training, and heís still in his prime as a high-upside NFL RB. The Cards defense has looked especially porous, especially to smaller, shifty backs like Martin, who brings a well-rounded set of skills to the table for the Bucs thatís missing from his backfield mates. Heís a high end RB2 who I believe will put up RB1 numbers in half of his remaining 12 games.

Alvin Kamara v. DET Ė I included Kamara in my Week 1 Through the Wire column as a RB to consider, and his production and ownership has only increased since then, with 18 rushing yards and 4-20-0 on six targets in Week 1, to 54 total yards (mainly via 3-51-0 on 7 targets receiving) in Week 2, to 37 rushing yards and a TD (with 3-5-0/5 targets receiving) in Week 3, and his breakout game in Week 4 where he logged 25 rushing yards on five carries and an exceptional 10-for-10 on his targets for 71 yards and a TD. Thatís an impression progression Ė and Adrian Petersonís departure to help the Cardinals only adds to his allure in what has gone from a committee to a timeshare. Heís likely getting more reps in practice and could see another 7-10 targets in the Week 6 tilt with Detroit. Heís worth starting in all formats.

Duke Johnson @ HOU Ė Isaiah Crowellís value is steadily dipping, and Dukeís value is in the rise, especially in PPR leagues where he has more opportunities to pick up fantasy points. The third-year back now has 31 targets on the season and 20 targets over his last three games, opportunities that have helped him compile 23-270-1 receiving to go along with his 77 rushing yards and two scores on the ground. Heís hitting his stride and facing a Houston team that was devastated by season-ending injuries to the amazing J.J. Watt and standout LB Whitney Mercilus. Iím expecting DeShaun Watson to have a huge game and Browns new starting QB Kevin Hogan to utilize TE David Njoku and Johnson on plenty of check-downs. This could become a very fast-paced game that effectively removes Crowell in the second half, and Duke has a great chance at hitting double-digit fantasy points as a flex or RB3.
Grab a Gatorade

Jay Ajayi @ ATL Ė Despite the favorable matchup against the Falcons run defense and high ownership level of Ajayi, Iím finding it hard to trust anybody on the Dolphins right now. Last week Ajayi managed just 79 total yards (and lost a fumble) against a terrible Titans defense in what should have been a relatively high-scoring game. But, Jay Cutlerís feeble pass attempts and general malaise have put the dampers on anything that resembles excitement when it comes to this offense. The week before that, Ajayi totaled just 54 yards from scrimmage in London. Listen Ė I canít fault you for starting Ajayi in PPR leagues or larger formats where you donít have options that offer upside in the 10-15 point range, but thatís about what the high end of your expectations look like from here on out with Ajayi, a talent and formidable fantasy asset thatís being wasted in a terrible football environment, one where the fans are actually calling for Matt Moore to take the snaps.

Frank Gore @ TEN (Mon) Ė I took a risk including Gore in this spot in a plum matchup against the Browns when I filled in for Joseph in Week 3, and Gore posted a satisfactory 11 points in standard scoring leagues when he ran for 57 yards and a TD. Now, heís coming off a game where he fumbled twice and yielded a few more carries to Marlon Mack. While this matchup is a decent one for Gore and the Colts in general, Iím expecting to see a lot more of Mack in this one, if the rookie back is healthy come game-time. With both regular starting QBs (Andrew Luck and Marcus Mariota) hurt or hurting, this projects to be a slower-paced game with each team trying to limit mistakes Ė and Goreís two fumbles last week arenít going to help him in that regard. To reach value for Gore, youíre basically praying for a goal line opportunity and resulting TD, and while thereís enough activity for him in the short passing game (6-72-0 on 7 targets over his last two games) to make him viable in PPR leagues, Iíd be steering clear in standard scoring formats.

Jonathan Stewart v. PHI (Thu) Ė Even though Stewart (ankle) has been removed from the injury report ahead of the Thursday Night game with Philly, I'm not inclined to trust him to get a lot of touches on a short week following a game where we saw another solid game from Christian McCaffrey. Stewart had just 21 rushing yards on 18 carries in Week 5 and is averaging just 3.25 yards per carry in 2017. He's also failed to reach the end zone via the run and the matchup with the Eagles doesn't promise to get any easier. Stalwart DL Fletcher Cox (calf) practiced Tuesday and is expected to play, and he and the rest of the Eagles D-line has been clamping down on opposing RBs, allowing only 239 rushing yards this season (the second-fewest in the league). I'm looking for more upside from my RB2/3 and flex play, and the guys up top are three options to post better numbers.


Quarterbacks | Running Backs | Wide Receivers