Week 4




9/27/07



Before I get to the question from last week's column, I want to return to my Week 2 discussion of trophies because of a response I received from a reader named Randy. Randy sent me a photo of the Beast League trophy (which should appear below if God and Mike Krueger and Bill Gates can work together as smoothly as I think they can).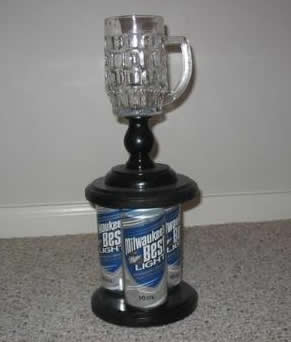 It's sometimes difficult to say whether what readers tell me is the truth. A guy might just make up a story about a league tradition and use Photoshop to create an image of a phony trophy, but I'm convinced that Randy is telling the truth because he provided step-by-step instructions for building the trophy shown above.
It is homemade from painted prepared wood pieces from Hobby Lobby. The "tall boy" cans were emptied into my gut, screwed to the base from the bottom, filled with spray foam. Then after the foam set screwed the second base to the top of each can. The second level base had a screw coming up through the middle, onto which the painted pedestal was twisted on. The glass is epoxied to the pedestal.

Our league is comprised of guys from around the state of Texas, and we get together annually for our live draft. Pre-draft we have a presentation ceremony handing the trophy to the new winner, and we chug a "waterfall" in order of final standing with the winner leading the chug out of the trophy.
Last Week's Question

In last week's column, I asked about the ways in which leagues penalize kickers for missed field goals. I was particularly concerned about the precise distance at which some leagues decide not to penalize kickers for a miss.

The leagues that do grant kickers a penalty-free miss appear to do so fairly consistently at the 50-yard mark (based on the responses to the column), but those leagues are less common than I expected them to be (as only a handful of people wrote in with that tidbit of information). The same Randy who sent in the info concerning the Beast League trophy plays in such a league:
Kickers should definitely be penalized for missed kicks with the exception of 50+ attempts. Our league negates 3 points for each missed field goal attempted at less than 50 yards. But provides a bonus for distance (+1 for 40+ yds and +2 for +50yds). Missed extra points give -1, while makes are +1.

Other positions are subtracted for fumbles and interceptions in many leagues without much thought. Why should it be any different for kicker "malfunctions"?
The overwhelming majority of responses, however, indicates that most leagues penalize kickers for misses no matter how long the kick is.

As Marc put it: "We award more than 3 points for the longer FG's. 0-39 = 3pts (-3 for a miss), 40-49 = 4pts (-2 for a miss), and 50+ = 5pts (-1 for a miss). The reasoning is quite simple. Every other position slot loses points in our league for miscues, why should the kicker be exempt?"

Craig took a more philosophical approach to making the same point:
Do you penalize QBs, RBs, and WRs for interceptions/fumbles? QBs are supposed to complete passes and score positive points. An interception/fumble is the exact opposite of that and might result in negative points for that team (if the opponent scores). In that case kickers should get penalties for misses. Kickers are there to complete field goals and PATs for positive points. A missed PAT or field goal is the exact opposite of that. It also results in a turnover, the same as an interception/fumble, that could result in negative points.

Is it just to help weed out bad from good players or because you want there to be penalties for not doing your job? Missed field goals are probably the best way to weed out good from bad.

Also, does it matter to your league if Adam Vinatieri is scoring as many points as say Olindo Mare? If your other positions vary from good to bad players, then why make kickers different?

Personally I prefer the scoring methods which actually make it matter which kicker you have. My leagues all reward PATs and variable lengths of FGs so there is decent variety. If it was a flat rate I'd probably add penalties in there (unless the flat rate was ridiculous). It adds some more strategy to the draft if the top kickers is projected to score more points ppg than most RB2 (like in one league I play in) while the next couple of kickers are noticeably lower So unless you can get two really good RBs or WRs, you might surprise people and go for the K and if it works out you might get more ppg than otherwise.
Matt wrote in to support the idea of penalizing kickers on long misses even though he has himself been burned by just that rule:
I am in favor of -2 points for any missed kick. High risk, high reward. My league gives 6 points for long kicks, so the higher reward is worth the risk.
Last year, I was playing against a friend of mine in our league. 3/4 through the Monday night game, I was holding on to a slim 1-point lead. After a dropped pass by Reggie Brown that would have sealed the victory for me, the Eagles (going up against Dallas) lined up for a 63-yard field goal as time was expiring. I had just that week picked up David Akers for my bye week replacement kicker, and I started screaming as he lined up to attempt an impossible field goal. Of course, he missed the kick, I received -2 points, and I lost by one point as time expired on the Monday night game.
That will forever go down as my most painful loss in fantasy history.
Matt's point about high risk and high reward was amplified by Lynn:
I absolutely do not understand complaining about penalties on missed field goals no matter how long they are. Most leagues give you more points for longer field goals, so when you ask not to be penalized for a missed 55 yarder, you are essentially saying that you are entitled to the highest possible reward with absolutely no risk at all. That is lunacy.

Also, please consider what happens when a QB throws a Hail Mary as time expires. A sixty-yard pass to the end zone (when everyone knows it's coming) is way more likely to result in an interception than a TD. Does your league have some "special" rule that says the QB shouldn't be penalized for that interception because it was a desperation play? I've never heard of any league with such a rule, so I don't understand all the fuss about desperation kicks. On the rare occasion when the Hail Mary pass works out, the person who owns that QB wants his points for the TD and the yardage. On the rare occasion when a 57-yard field goal attempt works, the owner of the kicker wants his points for the score (and maybe even his bonus points for extra distance). Nobody would consider giving the QB a free pass on an interception just because the pass happened as time expired at the end of the half or the end of the game, so I don't understand why people think they should give the kicker a free pass on the missed field goal.
Ouch, Lynn's response makes me feel silly for resenting my one-point penalty on a 53-yard miss. I have to agree that Lynn makes a compelling argument.

We usually stick to fantasy football questions in this column, but a reader named Michael wrote in with a question relating to Last Man Standing that intrigues me, so here goes:

This Week's Question

What's the largest LMS pool as far as number of entrants you've seen? I won't divulge my entry fee, but [the pool I'm in now] makes [some others] look like child's play, and I'm thinking it's only a matter of time before it gets shut down.
Since Michael directed his question to me, I'll say that the LMS pool I played in when I started writing this column included something like 5,000 participants. The guy who ran it was a wiz with MS Excel and emailed everybody in the pool an updated spreadsheet every Tuesday afternoon. I confess I was simply in awe of how smoothly it ran considering how many folks were involved, but I inferred from that experience that far larger pools were possible. I'm not sure that I'll get any answers to Michael's question (since people may justifiably be reluctant to discuss their gambling arrangements), but I'm happy to throw this question out along with the reminder that I only mention readers' first names.

Last Man Standing (Courtesy of Matthew)

Trap Game: Baltimore at Cleveland
Why, why, why would you pick any game besides one of the three games below this week? But if you are going to save one of these teams below for later in the season, AVOID the Ravens at the Browns.
These teams usually split their regular season matchups, and the Browns are better than they have been in past years. Derek Andersen is used to short passing routes and that is exactly what Kurt Warner did to get the Cardinals back in the game last week. Combine that with a rejuvenated Jamal Lewis and it is easy to see this being a close game. Do yourself a favor; wait for a better week to choose the Ravens.
#3: Indianapolis over Denver (3-0)
How good are the Broncos at 2-1? Some analysts consider them one of the worst teams in the league, and they have been fortunate to be 2-1. Meanwhile the Colts are continuing to outplay their opponents and have "punched their dance ticket" already. I believe that both statements are a little bit premature, but it seems that the Colts should easily be able to handle a potential playoff team in their own building. Jay Cutler will be pressured most of the day, and if it comes down to an end of game drive, which QB would you rather have behind center, Jay Cutler or Peyton Manning?
#2: San Diego over Kansas City (2-1)
There is not a better salve for a 1-2 start than the Kansas City Chiefs visiting you at home when your team needs a win. The offensive line is having a hard time opening holes for Larry Johnson, and Damon Huard is spending more time on his back than in the pocket. While the Charger defensive line might be missing Luis Castillo this week, the defense as a whole should live up to the preseason hype and create havoc at home.
#1: Dallas over St. Louis (3-0)
It looks like Wade Phillips has handled the "boys" well so far this season, jumping out to a 3-0 start since Parcells' departure. They are playing loose and are atop an NFC East that looks to be a shell of its former self. With the Rams coming into Dallas with a patchwork defense, a backup running back, and a quarterback that has two broken ribs, it may only take about ten points for the Cowboys to be able to put this one on autopilot. However, this is the NFL, and every backup is just waiting for his chance. Unfortunately, the backup offensive line for the Rams is not enough to help those skill players that are looking for their chance to prove that they belong. The odds makers have this as almost a two touchdown advantage for the home team, and that might not be enough.

---
For responses to this week's fantasy question or to share your LMS picks, please email me no later than 10 a.m. EST on Wednesdays during the football season.

Readers who want to have their fantasy questions answered live, on the air, by Mike Davis are invited to tune into FFEXradio on Friday afternoons at 5:00 p.m. EST. Archived programs are also available.