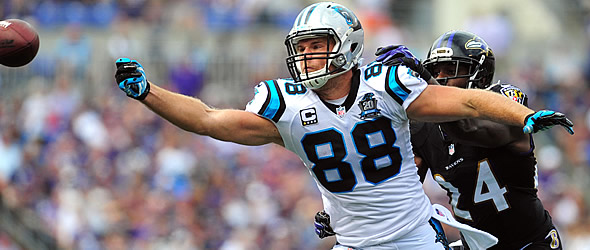 If it's consistency you're after, Greg Olsen has been the gold standard at the tight end position.
QB Cam Newton
(2016 QB Rank – No.16, 21.2 FPts/G)
Cam Newton's 270 completions in 2017 were only nine more than Ryan Tannehill had in two fewer games and tied Tyrod Taylor for the fewest in the NFL amongst quarterbacks who played at least fifteen games. Newton has never relied on volume to buoy his strongest fantasy seasons but his dip in completion percentage and running stats made him one of the most disappointing fantasy players of the 2016 fantasy season. Many owners will likely project Newton's 2017 to land in the middle ground between last year's lackluster campaign and 2015's banner year. The common denominator in Newton's fantasy successes and failures are linked to his work on the ground. Simply put, his best years have come when the added value of rushing yards and touchdowns pushed him ahead of his peers.
Likewise, his worst seasons offer substantial declines in fantasy points produced from the running game. Consequently, Newton's steady five year decline in YPC may foreshadow another down year. Newton had shoulder surgery in March so he might not be at full speed when training camp opens but the team still expects him to be ready by Week 1. Due to his ongoing concussion potential and the league's protocol on quarterbacks taking hits to the head, anyone drafting Newton will also need to invest in a reliable QB2. Ultimately, the below average floor and health risks associated with Carolina's Superman should drop him into fringe starter territory despite his immense upside.

RB Jonathan Stewart
(2016 RB Rank – No.19, 11.0 FPts/G)
At this point in his career Jonathan Stewart has proven to be a solid fantasy contributor when on the field. Unfortunately, fantasy owners are not too likely to get him on the field for the entire fantasy season since he hasn't played a full slate of games since 2011. Yet he still helps fantasy owners because he still gets enough touches and goal line carries to provide low end RB2 results when he does stay on the field. The Panthers did their best to hide the diminishing skills of their lead back by cutting back his touches in 2016. After averaging 18.6 carries per game in 2015, that number decreased to 16.8 a year ago. Roughly 46 percent of his total fantasy points scored last season occurred in three great games. That doesn't mean he isn't good enough to start in most leagues, but it does bring some "boom or bust" risk to his fantasy value. The Panthers also added Christian McCaffrey via the draft to help shoulder the workload this year leaving potential Jonathan Stewart owners to ponder just how effective he can be this year. There isn't enough upside to draft him as a RB2 but his track record working in this offense offers plenty of value as a RB3 if he slips in drafts.
RB Christian McCaffrey
(2016 RB Rank - N/A)
In recent years, the game plan for stopping the Panthers has been stuff the run up the middle and double team Kelvin Benjamin. Christian McCaffrey's presence on the field should help change that in 2017. Successful teams in today's NFL typically have multiple running backs that are capable of taking on double digit touches. Carolina has leaned heavily on its quarterback to fulfill that role in the offense but it seems they will begin to look for others to carry more of the burden in 2017. Carolina is prepared to use their new toy in a hybrid role that encompasses time in the backfield with work as a slot receiver. Comparisons to Tavon Austin are common in fantasy circles, but McCaffrey offers more fantasy potential as a running back. Jonathan Stewart should continue to see the bulk of the carries but the Panthers' run heavy scheme will likely afford the Stanford product enough touches to reach flex-worthy production even in twelve-team leagues. The elusive McCaffrey could become a PPR darling if Cam Newton gets better at finding receivers out of the backfield instead of running the football.
RB Fozzy Whittaker
(2016 RB Rank – No.95, 3.1 FPts/G)
Fozzy Whitaker will need to fight to keep his role as the receiving back in the offense. Rookies Christian McCaffery and Curtis Samuel are younger, fresher and more talented players that will eventually eat into Whitaker's snaps and receptions this season. He inked a two-year deal in the off-season but that might not prevent the team from shopping him prior to Week 1. Cameron Artis-Payne was more productive than Whitaker on a per game basis in 2016. He has rumbled his way to a 4.0 YPC during his two-year career so there is a chance he obtains short term fantasy appeal when J-Stew gets banged up.
WR Kelvin Benjamin
(2016 WR Rank – No.26, 8.5 FPts/G)
I was certainly on the Kelvin Benjamin bandwagon at this time last year and still find myself baffled as to why he wasn't able to do more in 2016. Cam Newton may not be the best passer in the league but he doesn't need to be Drew Brees when throwing to a guy who stands six-foot five-inches tall! Cam Newton threw more passes to his tight end than he did to Benjamin. Greg Olsen is a truly great player, but not finding a way to get one of the hardest players to defend more involved in the passing game was a grave mistake not likely to be repeated in 2017. The gap between Benjamin and the next best receiver is sizable so there should be enough targets to make Benjamin a legit WR1 in the fake game. His touchdown upside makes him extremely attractive after the first two rounds and his current sixth round ADP seems criminally low. If Kelvin Benjamin can post top twenty fantasy points on 117 targets and only one 100-plus-yard game, he can be scary good with even the slightest of rebounds from Newton.
WR Devin Funchess
(2016 WR Rank – No.96, 4.4 FPts/G)
Funchess was a popular pick to take a step forward in 2016 but the third best option in a passing attack that sputtered left him hung on the waiver wire for most of the year. He might become the fourth best receiving option in the offense if Christian McCaffrey is a hit so expectations are lower than ever this time around. On the plus side, he has averaged 14.5 yards per catch in his first two seasons in the league and has size to be a factor in the red zone. There are not many non-Benjamin targets in this offense and the new additions only add more mouths to feed in an already shallow pond.
WR Curtis Samuel
(2016 WR Rank – N/A)
The Panthers had good luck with former Buckeye Ted Ginn Jr. a few years back and are rolling the dice once again with second round pick Curtis Samuel. Carolina sees twenty year old Samuel helping out mostly from the slot where he will be tough to trust for fantasy purposes. The new version of the Panthers offensive attack is much more diverse and intriguing but opportunities for touches remain very much a mystery. Fantasy owners in deeper leagues should keep a close eye on Samuel's progress during training camp. Even with a strong camp, Samuel's playing time figures to be too low at the outset of the season to warrant a roster spot in redraft leagues. Further down the depth chart, Charles Johnson and Russell Shepard have both had limited success in the NFL but it would take an injury or two for either to crack the fantasy scene in 2017.
TE Greg Olsen
(2016 TE Rank – No.8, 7.8 FPts/G)
Consistency is invaluable in fantasy football and the Panthers' Greg Olsen has been the gold standard at the tight end position. Based on default FFT scoring, Greg Olsen has been the fourth best fantasy tight end for three consecutive seasons and a top ten option since 2012. A player with Olsen's numbers should be one of the easiest projections and safest picks for fantasy managers but 2017 offers a few variables to consider. The 32 year-old veteran wants to be paid like the game's elite and is threatening a hold out if Carolina doesn't cave to his demands. This could be a non issue well before you draft or it could linger into the regular season where other veteran players have sat out several weeks before returning to their team and having a mediocre fantasy year (Vincent Jackson comes to mind). Assuming a contract dispute doesn't jeopardize Olsen's fantasy season, he is easily one of the safest choices at the position. He's only missed two games in ten seasons so injury risk isn't of great concern. More importantly, he gets more chances than almost everyone else your opponent will start against you in a given week. The last time the NFL produced five tight ends with at least 120 targets apiece was 2009-a number Olsen has topped in each of the past three years. A decline will happen and there may be a dip in production if the team hands over one last big payday, but he's a "set it and forget it" fantasy starter with a fifth round ADP. What's not to like?