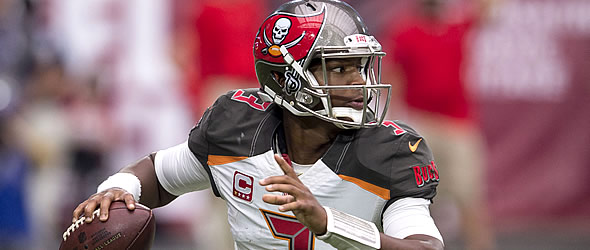 Mid-Round Target: The offensive weapons added by the Bucs raises Jameis Winston's fantasy ceiling.
QB Jameis Winston
(2016 QB Rank – No.15, 21.2 FPts/G)
Tampa Bay has finished the last two seasons in the middle of the pack when it comes to passing yards per game. The difference in 2017 will be the depth added to the roster. At the receiver position a very capable and dangerous DeSean Jackson will give Winston a much needed consistent receiver opposite Mike Evans. All of the moving parts in the backfield from a season ago have created a deeper, more confident stable of runners that offer multiple pass-catching options for a quarterback that had to force the ball more than he should have in 2016. The Bucs' commitment was personified by their decision to use a first round draft choice on O.J. Howard. The dynamic tight end from 'Bama is a nightmare match up for defenses that should have a positive impact on Winston's red zone efficiency.
Despite increasing his average fantasy points per game by 6.5 points from 2015 to 2016, Winston remained on the border of being a true fantasy starter a year ago. He ranked outside the top twelve on a per game basis but finished tenth in overall fantasy points at the position. Nevertheless, he was able to score at least 20 fantasy points in nine of his sixteen games played and failed to post at least 15 fantasy points just once. Winston may not be a top five quarterback but he is the type of quarterback you should be targeting after the top players at the position are gone because he will rarely lose you a week and comes at a much more affordable price. Mike Glennon left for greener pastures in Chicago so Ryan Fitzpatrick was brought in to hold the clip board. The former Jet has seen his completion percentage decline in each of the past three seasons so anyone owning a Buc this year is hoping Winston stays upright for another 16 games.
RB Doug Martin
(2016 RB Rank – No.51, 9.2 FPts/G)
In 2016, Martin reminded fantasy owners of just how disappointing he can be before checking himself into rehab prior to the end of the regular season. So what can we make of his outlook for 2017? The facts begin with his four-game suspension that started at the end of the 2016 season. That means he has only three games left to serve and will be able to return Week 4 just in time for four straight games against quality defenses (NYG, NE, @ARI, @BUF). Martin's injury history (dating back to college) includes four lower body injuries and one shoulder injury. That isn't that much worse than the average back these days but knowing that he could miss a game or two is worth noting when you are considering investing in a player already tabbed to miss three games. The good news is that he is on the right side of 30 and the team is on the upswing. Though many fantasy owners will likely avoid the Muscle Hamster, there are still miles left on the tires that shouldn't be ignored. Martin should return to his role of lead dog in the backfield making him a solid bet to get at least 80 total yards each week he plays. That may not be RB1 material but there is a place for a veteran running back that can catch the ball out of the backfield. The key will come down to what each owner is willing to pay for his services or how much of a discount is required to take on a player that is probably a RB2 at maximum value and best valued as a quality RB3 outside the top 25 fantasy running backs.
RB Jacquizz Rodgers
(2016 RB Rank No.49 – 7.8 FPts/G)
The Buccaneers scooped up Rodgers in Week 2 of the 2016 season shortly after the Bears released him. He quickly provided quality depth for a Bucs team that had just lost Doug Martin. Rodgers had previously played in Dirk Koetter's offense while in Atlanta so it wasn't a surprise to see him make an impact once he his number was called. The perfect storm for Rodgers occurred when Charles Sims joined Doug Martin on the sidelines creating ample opportunities for touches over the middle of the year. When the dust settled, Jacquizz set career highs in rushing attempts, rushing yards and perhaps most importantly yards per carry. Rodgers' 4.3 ypc was a big reason the Bucs extended a two-year deal to Rodgers this spring. Rodgers wasn't asked to do much in the passing game last year but he has two 50-catch seasons to his credit so there is potential for more fantasy output if the Bucs tap into that element of his skill set. He's set to enter the year as the starter while Martin serves the rest of his four-game suspension and figures to provide the team with a quality backup once Martin returns to action.
RB Charles Sims
(2016 RB Rank – No.64, 6.6 FPts/G)
Sims has not been able to live up to the promise he flashed at West Virginia. Most of that can be attributed to an assortment of injuries that have derailed two of his three years as a pro. Even when healthy, Sims has not been able to find the end zone and Tampa's decision to draft a similarly talented player, Jeremy McNichols, shouldn't excite fantasy owners. At best, Sims will overcome his health woes and be used in a limited third-down role unless injuries knock out multiple players above him on the depth chart. Both Sims and McNichols have already dealt with injuries this off-season but are on track to battle with Peyton Barber during training camp. Like most rookie running backs that make their living in the passing game, McNichols faces a steep learning curve in pass protection before getting anywhere close to the field on game day. Barber needed multiple situations to break his way before getting onto the field last season and even then he had paltry results. He is best left on the waiver wire-if he even makes the team out of camp.
WR Mike Evans
(2016 WR Rank – No.3, 12.8 FPts/G)
Can you say rebound? Missed opportunities plagued the Winston to Evans connection in 2015, but the two turned the corner last season to make Evans one of the games brightest young fantasy stars. If there was a chink in his armor last year it was in his consistency as the year wore on. Winston's favorite target averaged 15 fantasy points per game over the first six games but only 12.5 over the next five games. In fact, Evans only found the end zone in four of his ten games after Week 7. Repeating last year's lofty totals won't be easy now that the team has improved the talent pool but he is a better bet than most to reach double-digit touchdowns and post 1200 receiving yards putting him firmly in the top ten fantasy wide receivers for 2017. Evans has already proved he can be a legit WR1 for fantasy owners but the offense may need to take a step forward for him to maintain his ranking. Still, the former Aggie offers the upside to finish as the league's top fantasy receiver with one of the highest floors at the position so you will need to pony up some extra bucks if you want to roster him this year.
WR DeSean Jackson
(2016 WR Rank – No.29, 8.3 FPts/G)
Reinforcing the depth at the receiver position was finally given the attention it demanded after 2016 saw a revolving door of flawed options lining up opposite Mike Evans. Four receivers not named Evans played over 20-percent of the offensive snaps a year ago but only one saw the field on at least half of the team's plays. Inserting Jackson into the mix will allow Dirk Koetter to utilize more of the field and improve his quarterback's passing efficiency in the process. Jackson will turn 31 in December and hasn't caught more than 56 balls since 2013 but he isn't going to be asked to lead the way. He slides into a very comfy secondary role opposite one of the NFL's elite playmakers and should be able to use his burst and route running to make the passing game more dynamic. If Jackson can acclimate himself to the offense, he will be a useful flex option for fantasy owners this season.
WR Adam Humphries
(2016 WR Rank – No.81, 5.1 FPts/G)
Humphries was the only Bucs receiver to play at least half of the team's offensive plays a year ago but he will have a tough time being as productive in 2017. Tampa Bay's offense is not geared for the type of passing numbers to allow a third receiver to be much of a fantasy asset without an injury opening up increased targets. Since being drafted out of Clemson in 2015, Humphries has become more involved in the offense each year, highlighted by his 83 targets last season. If an injury to Evans or Jackson were to happen mid-season, Humphries will be a quality waiver add in most formats so don't be asleep at the wheel. Tampa added more depth to the position in the third round of this year's draft by selecting Penn State's Chris Godwin. The rookie has impressed both the coaching staff and QB Jameis Winston early in OTAs giving him an edge on the rest of the Bucs' other depth options. Tampa Bay appears to be upgrading their quality down the depth chart, but the Bucs' fantasy wideout options dry up quickly after DeSean Jackson.
TE Cameron Brate
(2016 TE Rank – No.10, 7.6 FPts/G)
As Tampa Bay's coaching staff struggled to trust the talented but troubled Austin Sefarian Jenkins in 2016 they continued to be impressed with the progress of Brate. The team was forced to move on from ASJ following a DUI arrest in late September. Armed with a longer leash, Brate proved to be more than capable of handling the starting role and was a good not but great fantasy option during the 2016 campaign. He signed a one-year tender from the team this spring and remains the favorite to open the year as the starter. Nevertheless, there are too many limitations to his fantasy ceiling this year to anoint him a TE1. The addition of DeSean Jackson and a healthy backfield will eat into an area where Brate padded his stats last year. More importantly, the Buccaneers added TE O.J Howard in this year's draft who should push for playing time in year one.
TE O.J. Howard
(2016 TE Rank – N/A)
A big athletic target was added to the Tampa offense when they used a first round draft choice on six-foot, six-inch tight end O.J. Howard from Alabama. Howard has Gronk-like athleticism so he's a solid dynasty add, but his redraft value is solely connected to playing time early on. It's extremely rare for rookie tight ends to make a fantasy impact however, the modest success of Hunter Henry last season (53-482-8) and the shear amount of impressive rookies at the position could help buck the trend. Keep an eye on reports throughout the preseason and be ready to move Howard into the top 12 if he can unseat Brate prior to the season.