Wide Receivers/Tight Ends
Start 'Em:
Receivers Who Will Outperform Relative To Their Draft Position And Recent Hype

Jermichael Finley vs. SEA
Finley had a career-high 9 catches for 74 yards and a TD last week. After injury kept him out of action, Finley has led the Packers with 31 receptions for 302 yards and 3 TDs in their last 5 games. Aaron Rodgers is about as safe a bet as there is in fantasy this week and he has been looking more and more to Finley of late (21 catches in the last 3 games). The Seahawks will have much difficulty slowing Rodgers and Finley down.
Vernon Davis vs. DET
Davis was held out of the end zone last week for the first time since November 12. He leads the 49ers with 69 catches, 858 yards and 11 TDs. He is has a shot at tying or breaking the NFL record for most TD catches for a TE (Gates, 13 TDs, 2004). He and QB Alex Smith have a great matchup against the paltry pass defense of the Lions. Detroit has allowed their opponents an average of 268.2 passing YPG and a whopping 30 aerial scores.
Derrick Mason @ PIT
In his last 2 games, Mason has 181 yards receiving and 2 TDs. He leads the Ravens with 928 receiving yards and 7 TD receptions, including 3 scores in his last 4 games. The Steelers have a superior run defense but their pass defense weaker than we've grown to expect. They have only 8 INTs and have allowed 18 aerial TDs. In their 11/29 meeting, Mason had 7 catches for 62 yards and a TD. Similar numbers are within reach this week.
Bench 'Em:
Receivers Who Will Under Perform Relative To Their Draft Position And Recent Hype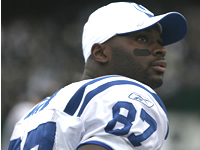 Wayne draws the best CB in the league this week.
Reggie Wayne vs. NYJ
Reggie Wayne leads the high-octane Colts in catches (92) and receiving yardage (1,210). He is tied for first in TD catches (10). His 92 receptions are the second most of his career. He is a justifiable stud who should never be benched, but he does have 2 striking things going against him this week: his has a chance to be less than a full load and his matchup with CB Darrelle Revis is formidable. Wayne, like QB Peyton Manning, can do a lot of damage in one half, so benching him could hurt, but itís wise to consider all factors and options on your team before plugging him in this week.
Hakeem Nicks vs. CAR
After 2 catches for 66 yards, Nicks left Monday night's game against Washington with a hamstring injury. He has been limited in practice this week but is expected to start this week against Carolina. Nicks has been playing well and leads all rookies with 751 receiving yards, but considering the hamstring issue and this week's opponent, he may be better served on the bench. The Panthers have allowed their opponents just 192.6 passing YPG and 13 TDs this season.
Roddy White vs. BUF
White needs just 52 yards to reach 1,000 yards receiving for the third consecutive year. He is more than likely to hit the milestone, but for fantasy purposes, his numbers have taken a hit over the last 2 weeks (6 catches, 74 yards). He is due to bounce back, but consider that with a hobbled Matt Ryan or backup Chris Redman, the Bills have been tough against the pass. Buffalo has allowed 184.4 passing YPG and have allowed 11 TDs compared to 26 INTs. Donít expect WR1/2 numbers from Roddy this week.