The purpose of the Shot Caller's Report is to identify players who I expect to perform like quality fantasy starters for the given week and, on the flip side, to expose some of the more highly-regarded players who just may disappoint. Each week I will take into consideration not only the individuals mentioned, but also the state of their teams and their opponents, team schedules, historical performance, inclement weather (when applicable), and of course injuries. In my years of involvement with fantasy sports, I've found that playing probabilities often leads to success, but that does not necessarily mean that a journeyman RB cannot gain 100-plus rushing yards against the top-ranked rush defense or that Tom Brady is a lock for 350 yards and 3 TDs against the worst pass defense. Anything can happen.

With this dynamic, stat-driven article layered with insight and opinion, however, I aim to assist you in making the right roster decisions for your fantasy squad. Got a specific roster question or something interesting to say? Send me an email. I may not be able to get to all of your questions or comments, but I will do my best to respond accordingly.

Quarterbacks
Start 'Em

Eli Manning vs. Dal
Although he is coming off two shoddy performances (1 TD, 4 INT combined), you really just have to be excited about Eli's chances in what will be the NFL's final regular season game on New Year's Day. Not only are the Giants at home, but Eli also has history on his side as he has tossed more TDs against Dallas (28) than any other NFL team. It is worth noting that Eli has thrown for at least 306 yards In four of his last five games against the Cowboys with 12 TDs & 7 INTs in that span. During Week 13 in Dallas he threw for 400 yards, 2 TDs and 1 INT; this was his third 400-yard game this season. Expect more of the same as the Cowboys consistently find ways to give up big plays. On the season they have allowed 21 TDs and 238.3 passing yards per game.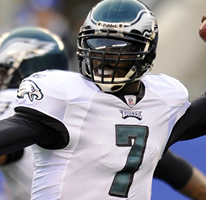 Vick has 4 TDs in the last 2 games.
Michael Vick vs. Was
It's been a long and undoubtedly disappointing season for those who drafted him with lofty expectations, but Vick threw for 293 yards last week with 2 TDs in Dallas for the first time since Week 8 (also against the Cowboys). Interestingly, Vick hasn't thrown more than 2 TDs in any game in 2011 (after doing so 3 times in 2010), but heading into this season finale, he has posted a QB-rating of at least 100 in consecutive games for the first time this season. Keep in mind that he is still recovering from fractured ribs and might not be as nimble as we've come to expect, but a rushing TD is always a possibility – the 'Skins have served up 14 TDs on the ground (t-21st).

Tim Tebow vs. KC
Last week in Buffalo, Tebow was at his worst as he threw 3 INTs in a game for the first time in his career. He also completed less than 50% of his passes (44.8%) for the first time since Week 11, although he did throw for 1 TD and rush for another. This week Denver is in must-win mode as Tebow will face his predecessor, Kyle Orton and the Chiefs, as they try to keep Denver out of the playoffs. Kansas City has not given up much through the air (211.4 passing yards per game), but that is not what Tebow's game is about. In this do-or die game, the Broncos will be more liberal in their play calling and Tebow's dual-threat scoring ability will be on display. The Chiefs have allowed 23 aerial TDs and 14 rushing scores, numbers that Tebow figures to add to.

Bench 'Em

Aaron Rodgers vs. Det
There are no stats I can throw in here to warrant benching A-Rodge. The best QB in the league is the most obvious fantasy start each week, but the Packers have clinched home-field advantage throughout the playoffs and it is unclear how much Rodgers will play in Week 17. Fantasy owners will have to decide if 1 potential quarter (or 1 half) of Aaron Rodgers is better than a full game of stats from their backup QB.
Carson Palmer vs. SD
The Raiders win last week cemented that they have something to play for in Week 17 – an AFC West Division Title or a Wild-Card spot, which is more than can be said for their opponent. Still, I would not expect San Diego to roll over and make it easy for a bitter division rival. In eight starts this season, Palmer has just 3 multiple TD passing games and he's thrown 5 TDs and 8 INTs in his last five starts. He was solid in San Diego during Week 10, throwing for 299 yards, 2 TDs and 1 INT, but he's tough to endorse in a championship game. Although they have served up 27 aerial TDs, the Chargers have held opponents to an average of 211.6 passing yards per game, 10th lowest in the NFL.
Joe Flacco @ Cin
On the plus side, the Ravens need to beat the Bengals on Sunday in order to win the AFC North, so no worry of Flacco taking an early breather here. Entering Week 17, Flacco has thrown multiple TD passes in three consecutive games for the first time this season, but he is rarely a threat for solid yardage totals. Dating to Week 12 (5 games), Flacco has topped 161 yards passing only twice – and even in those cases – 227 yards versus the Colts and 226 yards in San Diego – nowhere close to 300 yards. Flacco is on pace to record the lowest completion percentage of his 4-year career, completing just 56.8 percent of his passes. Especially without WR Anquan Boldin in the mix, it remains difficult to trust Flacco here.

Running Backs