Last week, I examined the Top 10 running backs from 2011 in hopes of identifying who among them might be primed to disappoint and fall from the ranks this upcoming season. This week, I'll take an educated wag at who, conversely, might be ready to emerge (or perhaps reemerge) in 2012 to snag the vacated spots. Some of the names won't surprise you, I'm sure, but some certainly might. After all, did anyone peg Victor Cruz for a Top 10 run before the start of last season? Here goes nothing…

Note: All rankings are based on FFToday's default standard scoring.

A quick reminder of the Top 10 fantasy RBs from last season...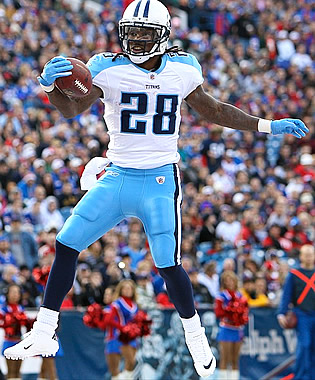 Johnson is looking to leap back into the top ten.

Chris Johnson, TEN: Johnson's 2011 season got off to a rocky start when he groused about his contract, held out for most of training camp, and then, after finally securing his dough at the beginning of September, showed up out of shape and woefully unprepared to demonstrate why he deserved such a significant raise in the first place. Things only got rockier from there. Looking tentative and even timid, Johnson failed to top the century mark in his first three starts...cumulatively! He also failed to score during that three-game set. Though he would eventually turn things around a bit and post several 100-yard games (and even a few scores), most fantasy owners had cut bait by then—something the Tennessee brass was rumored to be considering, as well, midway through the season. Talk about a swift fall from grace, huh?

So, that's the bad news on Chris Johnson. Here's some good news. The Titans didn't jettison him and, accordingly, he's still the main man in Music City. He's still supremely talented and very much in his prime (only 26 years old). He's still 100 percent healthy. Most importantly, and by all accounts, he seems eager to prove 2011 was an anomaly and is even, according to some observers, looking like the Johnson of old in camp. Training camp chatter may be cheap, yes, but guys like him simply don't grow on trees. He possesses sprinter's speed, an unmatched burst, great vision, soft hands, and a fair amount of swagger. I don't know about you, but I like my meal tickets both talented and brash. If anything's going to prevent CJ2K from flirting with 2K in 2012, it's a suspect offensive line and an unsettled quarterback situation. Regardless, I don't think either of those things will prevent him from comfortably reaching 1.5K territory.

Darren McFadden, OAK: Johnson argued during his holdout that he had significantly outperformed his rookie contract. The same cannot be said for Darren McFadden, a fellow 2008 draftee. For the bargain price of $12 million, Tennessee gained an NFL MVP and the record-holder for most yards gained from scrimmage in a single season. For the tidy sum of $60 million, Oakland gained a perennial tease who can't even stay on the field long enough to help them earn a return on that sizeable investment.

Make no mistake about it: Darren McFadden is a flat-out stud who is perfectly capable of justifying that contract someday. When he plays, in fact, there are few in the league who can match his production on a per-game basis. In the two seasons he's lined up as a full-time starter, 2010 and 2011, he's ranked second and seventh, respectively, for fantasy points per contest. Take away the abbreviated Week 7 start from last year (he left early in the first) and that 2011 ranking moves from seventh to fourth. There should be no question that, when healthy, Run DMC is a solid Top 10 running back.

Alas, for all his natural gifts (size, speed, elusiveness), the former Razorback hasn't made it unscathed through even a single one of his four professional seasons. Last year was particularly frustrating for fantasy owners, as the Raiders were less than forthcoming about the nature of his injury. This would be the same Raiders organization, by the way, that made only a token (and unsuccessful) effort to retain Michael Bush, McFadden's backup and easily the league's most valuable handcuff. Uhhhhh…. On the positive side, it does create a magnificent high-risk/high-reward situation for the risk-tolerant among you. McFadden's clearly going to garner most of the carries in Oakland this year. If he does manage to stay upright for the long haul, I believe nobody in the league has a higher ceiling at the position.

Trent Richardson, CLE: A year ago, there was guarded optimism in Cleveland. Mike Holmgren was finally putting his imprint on the club after the forgettable Mangini era. Colt McCoy was making strides at quarterback after a better-than-expected 2010 showing. The Browns were even able to boast of a Madden cover boy, Peyton Hilllis, in the backfield, pretty heady stuff for a franchise that has only reached the playoffs once since its reincarnation in 1999.

Fast-forward a year and.... The supposedly surging Brownies stepped back to 4-12 after successive 5-11 campaigns. The luster wore off of McCoy's prospects and he's going to be replaced by 28-year old rookie, Brandon Wheeden. Hillis, who spent all year underachieving and then jousting with management over a contract extension (sound familiar?), bolted for Kansas City after the season. Sigh. Will this seemingly cursed franchise and city ever catch a break?

Ahhh, but hope springs eternal in NE Ohio thanks to the NFL draft. This year, the Browns snagged a guy who some are calling the best running back prospect since Adrian Peterson in 2007. Now that is heady stuff, especially considering who we just discussed. Does he deserve the hype? Well, he's ideally constructed (a shade under 6' and about 220). He has superb quickness and breakaway speed. He breaks more tackles than anyone I've seen at the collegiate level (think "beast mode"). He's a willing blocker who can also catch passes (read: he's a three-down back). Oh, and did I forget to mention he's also got virtually no competition for touches in the Cleveland backfield? I'm a born skeptic, people, but I'm extremely bullish on Trent Richardson, even before he's notched a professional carry. If you can get him without overpaying, I would respectfully submit that you won't be disappointed.