Nobody needs to be told starting Aaron Rodgers, Arian Foster, or Calvin Johnson is a good idea. Duh, right? You can't have studs at every position, though, unless you're in the shallowest of leagues. This is where the Shot Caller comes in. Need help deciding which bargain basement QB to use and which to ignore on Rodgers' bye week? Let's talk. Looking for solutions at running back because Foster is a game-time decision? Look no further. Need to know which of your unproven targets to start and which to sit since you ignored Megatron and went RB-QB-Gronkowski in your first three rounds? I'm your huckleberry. Past results may not guarantee future success, but I believe ignoring them entirely can ruin your Sundays in a hurry. Read on for a little history and, hopefully, a little sage advice.

Note: Fantasy points based on FF Today's default scoring system.
Bye Weeks: Minnesota, N.Y. Giants, Seattle, Tennessee

Grab a Helmet

Andy Dalton @ KC: Itís commonly assumed fantasy GMs canít go wrong owning the best targets of the leagueís best quarterbacks (e.g., Wes Welker, Roddy White, Marques Colston, etc.). Is the reverse also true, though? Are we guaranteed success if we land the guys throwing passes to the leagueís best receivers? A.J. Green has been the very best through 10 weeks, averaging a brilliant 15.3 points/game, not terribly far off Megatronís amazing 2011 pace (16.6). Not surprisingly, the guy helping him tally all those numbers has crept into the top 10 at the quarterback position. If it hadnít been for a Week 7 dud against the Steelers, in fact, Dalton would probably be sitting somewhere just south of Tom Brady in the quarterback pecking order. For now, heíll have to settle being one rung higher than that other, more celebrated guy from the rookie class of 2011, Cam Newton.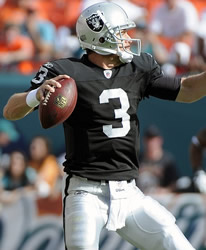 Palmer: Criminally underrated.

Carson Palmer v. NO: Iíve been banging the Ryan Fitzpatrick drum pretty steadily this year so I thought Iíd give you all a break for one week. Youíre welcome. Now, can I get everyone interested in Carson Palmer? If anyone needs a little support drummed up, itís the guy directly ABOVE Dalton in the QB rankings, the guy currently owned in only 70% of ESPN leagues. Really? I get that people donít fully trust him and might be reluctant to start him on a regular basis. How is he completely unemployed in ANY league, however, let alone almost a third of them? I mean, that almost makes me angry. Hereís all you need to know about Palmer if youíre still unconvinced: Heís the #1 quarterback over the past three weeks and will be facing the leagueís very worst pass defense this coming Sunday. Reread that last sentence Ė as many times as it takes Ė until you agree he's criminally underrated.

Nick Foles @ WAS: Iíve often wondered what it would feel like to don the pads and take a bona fide NFL lick, Ray Lewis style. Exhilarating? Terrifying? Painful? All of the above? These are the things I think about late at night. Hereís something Iíve never thought about: what it would feel like to take about 70 of them. Not interested. Thatís about how many times Michael Vick has been hit this year, by the way. Is it any wonder heíll be watching in street clothes this Sunday? And what makes me think his understudy, whoís about 5% as athletic, will fare any better behind that porous Eagles line? Well, for starters, Washington brings an equally questionable defensive front to the matchup, a group thatís accumulated only 14 sacks on the year (tied for 28th). I also think Foles is a pretty gifted thrower who will be surrounded by some really good skill position talent on Sunday. If he stays vertical, the rook could definitely surprise.


Grab a Clipboard

Byron Leftwich v. BAL or Jason Campbell @ SF: Clearly, it was a pretty rough week for quarterbacks (and for noggins in general) as they seemingly became an endangered species overnight. Consequently, three former clipboard-carriers will assume the reins of their respective offenses this weekend. I've already endorsed one of them, the aforementioned Foles, but I'm pretty hesitant about the other two. Leftwich's tragically slow delivery is still ill-suited for the fierce pass rushes and too tight windows of the NFL. Alternatively, Jason Campbell, though more talented, won't likely be asked to do any more than his even more talented teammate, Jay Cutler, was asked to accomplish up to this point (which wasn't much for the record). More likely, the Bears will rely on a conservative rushing attack and that nasty defense of theirs. In fact, if that nasty defense lives up to its billing and re-rattles the previously concussed Alex Smith, we could see yet another clipboard-toter get some play. Nope, I donít like Kaepernick much this week either. Bottom line: With the exception of Foles, backups arenít the answer in Week 11.

Brandon Weeden @ DAL: Weeden's been the answer more often than most of us would have thought back in the beginning of the season, present company included. Yes, he's been pretty uneven (up, down, and most everywhere in between) but he's at least capable of explosive performances when the opportunity arises. Unfortunately, I don't think opportunity's gonna come knocking this Sunday. The Cowboys have some serious issues this season (too many turnovers, too many injuries, a too tenuous coaching situation) but defending opposing passing attacks isn't one of them. They've only surrendered nine passing TDs through 9 games and, accordingly, are ranked fifth overall against opposing quarterbacks in fantasy points allowed to the position (16.6 per game). A so-so QB v. a virtually elite defense on the road? I've gotta think there are much better options available this weekend.

Blaine Gabbert @ HOU: If Blaine Gabbert is the answer, I'm not sure what the question is. Which QB from the 2011 rookie class seems least likely to succeed? Who would you want under center if you were trying to avoid the fantasy playoffs? Who's the third most popular quarterback in Jacksonville behind Chad Henne and Tim Tebow? OK, I jest. Gabbert actually hasn't been atrocious EVERY week this year. However, he draws the Texans this Sunday in Houston, a team he's historically struggled against. And by "historically," I mean "always." And by "struggled against," I mean "BOMBED against." Here are Gabbert's per-game career averages against the premiere squad in the AFC South: 10 completions, 95 yards, part of a TD pass, and one pick. On the bright side, he's never lost a fumble to the Texans. So he's got that going for him...which is nice.

Running Backs