Bye Weeks: N/A

Grab a Helmet

Vick Ballard v. BUF: With every passing game, Andrew Luck is looking like a more-than-worthy replacement for Indy's former legend , Peyton Manning. He's preternaturally poised in the pocket, possesses ideal measureables, and is running a scheme that's heavy on forward passes (412 attempts through 11 weeks, 3rd most in the league). That doesn't mean there's no space for a guy like Ballard to carve out some production. After all, Joseph Addai was a fantasy stud for several years playing in a similar scheme. Ballard probably doesn't have Addai's receiving chops, granted, but he's built more sturdily and will continue wresting more of the workload away from the oft-injured Donald Brown, I suspect. In fact, if I have one concern with Ballard, it's that other thing Andrew Luck does pretty well: run with the football (five rushing TDs to date). Give the kid a look against Buffalo's crummy front seven (5.2 rushing yds/attempt yielded) and hope his QB doesn't poach all those juicy goal-line touches.

Marcel Reece @ CIN: The Raiders' failure to retain Darren McFadden's stable mate this past offseason, Michael Bush, seemed like a puzzling oversight considering the former has never made it through a season unscathed. Equally head-scratching was Oakland's decision to scrap the power running scheme DMC formerly excelled in, opting instead for a zone-blocking approach he wasn't comfortable with. Cut to Week 12: McFadden (predictably) is on the shelf after a disappointing first half of the season; Bush continues to languish away in Chicago as Matt Forte's backup; and Marcel Reece (ostensibly, a fullback) is coming off a 19.3-point performance as McFadden's replacement. 19.3 points as in the very most any running back tallied in Week 11. Maybe this was all just part of the Raiders' master plan? OK, that would be impossible since they never actually have one. Regardless, Reece is a capable ball-carrier and a surprisingly solid receiver. Give him a go against the Bengals this Sunday.

Jalen Parmele v. TEN or Ronnie Hillman @ KC: You know it's getting late in an NFL season when guys you've never heard of and guys you've barely heard of start figuring heavily in teams' game plans. Parmele spelled an ineffective Rashad Jennings last week (who was, in turn, spelling an injured MJD) and performed admirably, tallying 80 yards on 24 carries. It was enough to earn him the starting gig this Sunday against the Titians. Meanwhile, Hillman took over for a banged-up Willis McGahee late in the win over San Diego and will now keep the job since the latter has been relegated to IR. I think you could do a lot worse than either man as the matchups are pretty good. If I had to rank them in order, I'd probably go with Parmele first since Hillman will probably share carries with another relative unknown, Lance Ball. If you're hurting at running back, go find these guys and get them activated. Heck, even Ball would do in a pinch, I think.

Grab a Gatorade

Mikel Leshoure v. HOU: Clearly, I'm not real high on the Detroit offense right now. I've already suggested you sit the up-and-down Matt Stafford for the Thanksgiving tilt against Houston. Now, I'm urging you to reconsider giving his backfield sidekick some run. LeShoure hasn't been bad so much as he's been, like the enigmatic Stafford, a little hard to rely on. He tallied a whopping 26 carries in his NFL debut and managed to reach, albeit precisely, the century mark in that Week 3 game against Tennessee. Since then, he hasn't topped 20 carries (or that century mark) and has really only excelled from a fantasy perspective when he's found paydirt. Though he's done that four times in his last three games, the Texans offer a much sterner test this Thursday. I mean, they've still yet to give up a rushing touchdown on the season…the season that's already 11 weeks old. Think about that for a second and then think about sitting LeShoure down.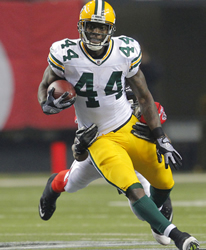 Starks is a desperation play at best.

James Starks @ NYG: Starks reclaimed his old starting position last weekend and didn't disappoint against Mr. LeShoure's Lions. He carried the football 25 times, tying a career high, and seemingly solidified the lead back role, at least until Cedric Benson returns to the fold. That's, of course, as good as the news will get since we're talking about Green Bay running backs. Here's the bad: He only tallied 74 yards on the day. Here's some more bad: He didn't score. But wait, there's more! He's scored precisely two touchdowns in about two seasons' worth of career work. Starks is what Green Bay needs him to be most of the time, an occasional foil to the Pack's lethal passing attack. I'm guessing you need him to do a little more than that, so sit him down against the G-Men this Sunday night unless you're terribly desperate.

Ahmad Bradshaw v. GB: I think we'll see a fair amount of points in that Sunday night reprise of the NFC Divisional Playoff matchup from 2011. The Giants have had a week off to clear their minds and shake off the funk of a two-game skid. Green Bay, alternatively, seems to be hitting its midseason stride just as the Bears are fading. Any points that are scored, however, will almost certainly be produced by the All-Pro QBs leading their respective offenses, Aaron Rodgers and Eli Manning. Bradshaw, though certainly more productive than Starks (and also more likely to score), seems to be losing touches and critical goal-line looks to Andre Brown lately. If he's only looking at 10-15 touches per game now, and fewer of them in the red zone, to boot, is he really any more interesting than his previously discussed counterpart in Green Bay?

Wide Receivers