Nobody needs to be told starting Aaron Rodgers, Arian Foster, or Calvin Johnson is a good idea. Duh, right? You can't have studs at every position, though, unless you're in the shallowest of leagues. This is where the Shot Caller comes in. Need help deciding which bargain basement QB to use and which to ignore on Rodgers' bye week? Let's talk. Looking for solutions at running back because Foster is a game-time decision? Look no further. Need to know which of your unproven targets to start and which to sit since you ignored Megatron and went RB-QB-Gronkowski in your first three rounds? I'm your huckleberry. Past results may not guarantee future success, but I believe ignoring them entirely can ruin your Sundays in a hurry. Read on for a little history and, hopefully, a little sage advice.

Note: Fantasy points based on FF Today's default scoring system.
Bye Weeks: N/A

Grab a Helmet

Matthew Stafford v. IND: You win some, you lose some, and some get rained out. If only Ford Field didn't have that pesky roof, huh? Stafford defied the Shot Caller's bold (read: foolhardy) Week 12 prediction of disappointing digits by tossing for 441 yards and a couple scores in the bizarre Turkey Day shootout with Houston. By virtue of that performance, he now leads the league in passing yardage, just slightly ahead of Atlanta's Matt Ryan. Perhaps unsurprisingly, he also leads the league in passing attempts, a total he significantly padded with 61 more chucks against the Texans. In fact, with just five weeks to go, Stafford is on pace to break Drew Bledsoe's nearly 20-year-old record for most passing attempts in a season (691 in 1994). I may not like his measly 14 TD passes (Sam Bradford has that many), but I DO like, and can no longer ignore, the staggering number of times he's asked to sling it.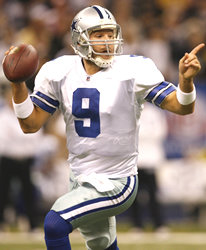 With Murray out, Romo will continue to make hay through the air.

Tony Romo v. PHI: If you like quantity over quality, look no further. Romo trails only the aforementioned Stafford in overall passing attempts and has actually closed the gap these past two weeks by throwing the pigskin an unconscionable 112 times. Perhaps that's why he was able to post, on an otherwise lackluster Thanksgiving afternoon, this filthy stat line in the final 15 minutes and change against Washington: 242 yards and three TDs. That's 24 fantasy points, folks, more than 24 other starting QBs posted in four times as much action. There's an outside chance the Cowboys will get DeMarco Murray back for Week 13, an actual running threat capable of easing Romo's heavy load. However, Murray hasn't been cleared to play yet and the Dallas running game has been pretty much hopeless without him. I'd say there's about a 90% chance of flying footballs, with some occasional Romo lightning, in Big D come Sunday.

Colin Kaepernick @ STL: If Stafford and Romo are the NFL's volume shooters, in the NBA's parlance, San Francisco's new signal caller is quickly becoming the league's most efficient shooter, getting the very most out of his relatively limited scoring opportunities. How efficient is he? Consider this: In the last ten years, only two quarterbacks have scored more fantasy points per attempt (pass attempts + rush attempts) on a season than Kaepernick has in his his first two starts (.87 points/attempt). Matt Flynn (.89) did it last year thanks to an insane performance in Week 17, his only start of the campaign. Tim Tebow did it the year prior (.89, as well) thanks to three hugely productive late-season starts. Granted, the sample size in all three cases is very small. And yes, I realize neither Flynn nor Tebow have transformed that promising efficiency ratio into longer-term success. Nevertheless, Kaepernick has been enormously successful thus far and looks very comfortable as the lead man in Frisco. So long as he retains that title between now and Sunday, you'll want him in your lineup against the Rams.


Grab a Clipboard

Chad Henne @ BUF: After a shockingly good performance in Week 11 v. Houston and a superb outing against Tennessee last Sunday, I think it's fair to ask: Is Chad Henne just a late bloomer finally coming into his own as a legitimate NFL field general? Or rather, did he take advantage of a couple nice matchups (an unsuspecting and short-handed Texans secondary, a suspecting but crummy Titans secondary) to buoy his once flagging stock? It's probably too early to tell, of course, but since we need to make some decisions right now, in crunch time, here's my official answer: that second part. Henne has shown us glimpses before and he certainly does have some natural ability. However, he's very inconsistent and especially untrustworthy in front of hostile crowds (12.42 fantasy points/game on the road v. 17.55 at home in his career). Don't expect miracles against a better-than-you-think Buffalo defense playing at home in Week 13.

Joe Flacco v. PIT: A miracle is practically what it would take to tally meaningful totals against the Steel Curtain these days. Pittsburgh is yielding just 13.9 points/game to opposing QBs on the season, making them easily the stingiest unit in the league. That's even more impressive, I think, when you consider they've spent a large portion of the year without their two best defenders, Troy Polamalu and James Harrison. It's not exactly like they've faced Brandon Weeden six times, either. Here's a short list of QBs who have suffered their worst statistical days in 2012 against the Steelers: Andy Dalton, Eli Manning, and…Joe Flacco. Unfortunately for Mr. Flacco, that paltry effort occurred a mere two weeks ago at Heinz Field and not a lot has changed since then. Though he gets a chance for swift redemption back home in the Charm City this Sunday, you'd be wise to explore other options.

Russell Wilson @ CHI: Some day, they'll write glowing things about Russell Willson, the "other" quarterback in the historically awesome rookie QB class of 2012. He'll be characterized as someone who maximized his natural ability, always gave his team a chance to win, and (who knows?) maybe even as the guy who captured a championship for Seattle's long-suffering faithful. That's in the future, though. Right now, the Hawks are really up against it. They desperately need a W to stay in the playoff mix and they're gonna need to get it on the road against one of the best defenses in the entire league. If they don't, they face the prospect of needing to win at least three of their final four games minus their two lockdown corners, Brandon Browner and Richard Sherman (suspensions pending). I think it'll be a knock-down, drag-out affair at Soldier Field this weekend so I'm not sure either quarterback will provide the kind of numbers you're looking for. Pass on Wilson this time.

Running Backs