Nobody needs to be told starting Aaron Rodgers, Arian Foster, or Calvin Johnson is a good idea. Duh, right? You can't have studs at every position, though, unless you're in the shallowest of leagues. This is where the Shot Caller comes in. Need help deciding which bargain basement QB to use and which to ignore on Rodgers' bye week? Let's talk. Looking for solutions at running back because Foster is a game-time decision? Look no further. Need to know which of your unproven targets to start and which to sit since you ignored Megatron and went RB-QB-Gronkowski in your first three rounds? I'm your huckleberry. Past results may not guarantee future success, but I believe ignoring them entirely can ruin your Sundays in a hurry. Read on for a little history and, hopefully, a little sage advice.

Note: Fantasy points based on FF Today's default scoring system.
Bye Weeks: N/A

Grab a Helmet

Matt Schaub @ NE: He's on pace to throw for more than 4,000 yards and 28 touchdowns. He sports a stellar 94.5 quarterback rating. His Texans have scored the second most points behind New England and share the league's best record with Atlanta. So how is this wildly successful triggerman only the 16th most valuable fantasy QB through 13 weeks? For starters, he provides almost nothing in the running game. In fact, nothing would be an improvement (-8 yards and no TDs on the ground so far). He's also the victim of his own squad's success. Big leads + suffocating defense + stellar rushing attack = relatively modest numbers for Schaub. Thankfully, the former Wahoo rises to the occasion when Houston ISN'T blowing their opponents to smithereens. His two most productive outings this year occurred in a 31-25 win over Denver (30.5 points) and in a 43-37 win over Jacksonville (46.4). When the Texans are in a bona fide shootout, in other words, Schaub transforms into a hugely productive gunslinger. I think next Monday night's clash of the AFC titans in Foxboro may qualify as a real shoot 'em up.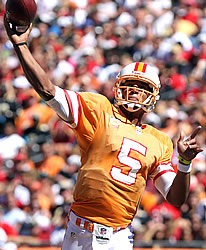 Josh Feeman is shaping up as QB1 in Week 14.

Josh Freeman v. PHI: Philly's been involved in a couple of shootouts lately, as well, though most of the shooting has been done by their opponents. Including the tipping point loss to Detroit back in Week 6, the Birds have yielded a whopping 31.6 points/game in their last seven contests and no fewer than the 26 they gave up in that one. Is it any wonder a desperate Andy Reid jettisoned defensive coordinator Juan Castillo several weeks ago? Meanwhile, Freeman and his Bucs have been averaging a cool 30.4 in their last seven, mostly because the third-year field general has regained the form he displayed in his breakout sophomore campaign back in 2010. Though he's tailed off a bit of late, he and his Tampa mates are desperate to put the kibosh on a two-game skid. What better way to do that than squaring off against the Eagles' gooey soft secondary on Sunday?

Nick Foles @ TB: The Eagles may be slouching toward an ignominious end to the Andy Reid era, but all is not lost in the City of Brotherly Love, especially for fantasy GMs. Bryce Brown has been a revelation at running back, tallying the most points at his position for two consecutive weeks since replacing LeSean McCoy (concussion). Foles, on the other hand, though much less impressive overall, has shown some ability and does have something Brown probably doesn't: a guaranteed starting gig for the rest of the year. It remains to be seen whether the Arizona product is worthy of a regular gig in fantasy ball, but almost anyone who's faced the aforementioned Bucs has been worthy of starting this year. Tampa is conceding a league-worst 309 passing yards/game to date and has managed just 18 sacks in 12 games, making them ill-equipped to take advantage of Philly's biggest weakness, a patchwork offensive line. Give Foles a look in Week 14.


Grab a Clipboard

Philip Rivers @ PIT: Reid will most likely be joined in the unemployment line by Norv Turner come season's end and there are a myriad of reasons why. In my mind, though, it boils down to just one: Philip Rivers isn't as good as Drew Brees. Since 2006, the year San Diego cast their lot with him, Rivers has accumulated 27,106 yards, 180 TD passes, and 92 interceptions. Not too shabby. Brees, however, has racked up a stunning 32,068 yards, 232 TD passes, and 109 picks in New Orleans. Oh, and he's wearing a Super Bowl ring. Turner didn't make that call, of course, but he's had to live with its consequences. While Brees continues to light up NFL defenses, the younger Rivers has taken a nosedive the past two seasons and is now just a middle-of-the-road signal caller who makes way too many mistakes (35 picks in his last 28 games). This just in: Middle-of-the-road, error-prone QBs don't usually fare too well in the Steel City.

Carson Palmer v. DEN: Palmer's even further along the road to QB oblivion than Rivers, but you probably wouldn't know it by reading this column. I've actually touted the former Bengal several times this year and even went so far as to label him "criminally underrated" a few weeks back. Lest you think that crazy talk, consider that in the last five weeks, only two quarterbacks have outperformed Palmer on a per-game basis: Cam Newton and Andrew Luck. Look it up if you're dubious. While you're at it, take a look at his numbers against the Broncos in Week 4 (202 yards and no scores if you're too lazy). Oakland has gotten worse since that matchup (much worse) and the offensive line is struggling to keep rushers out of Palmer's face. That's trouble with Von Miller and Elvis Dumervil coming to town. Miller, after all, has already recorded more sacks on the year than the entire Oakland defense. Uh-oh.

Sam Bradford @ BUF: The supposedly revamped Bills D was a surprisingly easy mark at the start of the season, allowing three 300-yard passing games and three triple-TD performances in its first five outings. Since that point, however, nobody has been able to accomplish either feat against them. "Nobody," by the way, includes Tom Brady, Matt Schaub, and Andrew Luck. Maybe Buffalo's stoppers just needed some time to coalesce into a more cohesive unit? Bradford's recent run of success (two TDs in three straight games) came to a screeching halt at Edward Jones dome last Sunday, despite the extra period, and it seems unlikely he'll be able to right the ship minus a full complement of weapons this weekend at Orchard Park. At press time, Danny Amendola is still a huge question mark. Pass on Bradford until his safety valve returns to the lineup.

Running Backs