Bye Weeks: Baltimore, Buffalo, Cincinnati, Houston

Grab a Helmet

Jeremy Kerley or Stephen Hill v. MIA: The Miami defense was uncharacteristically permissive on the ground in a Week 6 win over St. Louis, allowing both Rams runners to tally more than 50 rushing yards. They've now had a bye week to straighten things out and should return to the stingier form they demonstrated in their first clash with the Jets back in Week 3. If they do, Kerley and/or Hill will be the likely beneficiaries as Mark Sanchez is forced more frequently to the airways. Kerley, a pint-sized sprinter from TCU, has really come into his own since being tagged a starter after Santonio Holmes' season-ending injury. He tallied 11 targets and 120 yards, both career highs, in the heartbreaking loss to New England last week. Hill, a super-sized long-strider from Georgia Tech, kicked his rookie campaign off with a bang (89 yards and two scores in the opener) but had virtually disappeared until resurfacing the last couple weeks (a score in Week 6 and 55 yards in Week 7). They aren't top shelf options but I think either receiver would do in a pinch.

Cecil Shorts @ GB: Mike Mularkey promised we'd see more of the exciting Shorts after Jacksonville's bye week and, for once, it wasn't just coach-speak. Shorts earned his first ever starting nod in Week 7 and proceeded to turn a healthy 10 Blaine Gabbert targets into four catches, 79 yards, and a score in the OT loss at Oakland. Of course, he also fumbled away the game in that overtime, coughing up what would ultimately turn into the game-winning Sebastian Janikowski field goal shortly thereafter. That's a bummer for him but it seems unlikely to cost him the gig or his coach's confidence because…the Jags just don't have a lot of other options. The Green Bay offense is starting to mash that gas pedal so this game could get ugly in a hurry. If it does, Shorts stands an even better chance of becoming more active. Get him in there if you're still waffling. It's a good spot.

Antonio Brown v. WAS: Brown projected to be a top 20 receiver as we entered the 2012 season but he's only acting like a top 40 wideout to date (32nd in points/game). That's got to be somewhat disappointing for his owners. Save for a Week 6 dud against the Titans, however (and who didn't play poorly for Pittsburgh that night?), he's been amazingly consistent, tallying from 8 to 11 targets and 74 to 96 yards in every other contest. That's a pretty tight bandwidth if you graph it out and, at the very least, exceedingly reliable production. This week, Brown and the Steelers draw the league's very worst pass defense by a pretty sizeable margin. The Redskins are giving up over 325 yards per tilt and 32.9 fantasy points per game to opposing receivers, last in the league for both categories. Expect gigantic things from Mike Wallace in Week 8 and plenty of leftovers for the electric Brown, maybe even the one thing that's eluded him most this season (a touchdown).

Grab Some Wood

Andre Roberts v. SF: Roberts has been one of the surprise stories of the first half of the season, somehow performing like a top 20 wideout despite the presence of all-everything teammate Larry Fitzgerald and, at times, truly frightening quarterback play from his various signal-callers. Of course, you always have a chance to be relevant in fantasy football when you score touchdowns and that, more than anything else, is what has pushed Roberts into the spotlight. He's scored five times in seven outings and even salvaged a virtually (and almost literally) pointless Week 2 stat line by catching a two-yard TD in Arizona's surprise 20-18 upset of New England. So why does the fun end this Monday night? The Niners are coming to town and they've held opposing receivers to an average of just 15.3 fantasy points/game thus far. That's numero uno. You have to start Fitzgerald, most likely, but Roberts is a good sit-down candidate for Week 8.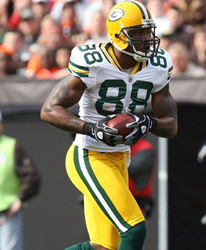 Finley has been a major disappointment this season.

Leonard Hankerson @ PIT: Pierre Garcon may not see the field again until after Washington's Week 10 bye. That opens the door for the former Hurricane, Hankerson, to earn some more targets in the explosive Redskins offense. Here's the thing, though: Washington isn't explosive because of Robert Griffin's arm. Yes, the rook has been fairly efficient and has made some very big plays in the passing game. Still, he's only thrown for about 1,600 yards and seven touchdowns through seven games, making him most statistically similar to Sam Bradford as a passer. Blech. Clearly, what makes Washington explosive is RG III's ability as a runner (almost 500 yards and six rushing TDs). Since Hankerson's not even the #1 option in the passing game (Santana Moss is), I'd be reluctant to trot him out there against a stellar Steelers unit that just held the game's very best fantasy wideout, A.J. Green, to eight yards last Sunday night.

Jermichael Finley v. JAX: You almost can't go wrong with a pass catcher in the Pack's vaunted aerial attack. Almost. Finley has been the surprise laggard in 2012, notching just a single touchdown in the Week 1 loss to San Francisco and failing to tally more than 60 yards in any game this season. This is an elite tight end? To be fair (and because I'm a Packer fan), he's got a pretty good excuse. Namely, the former Longhorn has been troubled by a lingering shoulder problem, an injury he's decided to play through. Heck, I'd rather own Greg Jennings (and do) since he, at least, is injured enough to sit games out, making roster decisions that much simpler. Stick to Aaron Rodgers' insanely productive receiving corps and stop counting on Finley until he shows marked improvement.

Good luck, folks!

Quarterbacks