Nobody needs to be told starting Aaron Rodgers, Adrian Peterson, or Calvin Johnson is a good idea. Duh, right? You can't have studs at every position, though, unless you're in the shallowest of leagues. This is where the Shot Caller comes in. Need help deciding which bargain basement QB to use and which to ignore on Rodgers' bye week? Let's talk. Looking for solutions at running back because Peterson is a game-time decision? Look no further. Need to know which of your unproven targets to start and which to sit since you ignored Megatron and went RB-QB-Jimmy Graham in your first three rounds? I'm your huckleberry. Past results may not guarantee future success, but I believe ignoring them entirely can ruin your Sundays in a hurry. Read on for a little history and, hopefully, a little sage advice..

Note: Fantasy points based on FF Today's default scoring system.
Bye Weeks: Cleveland, Kansas City, New England, N.Y. Jets

Grab a Helmet

Christian Ponder v. WAS: Most of our regulars are back in action for Week 10 and that means you may not need to get this creative at the quarterback position. Did I say "our" regulars? I meant "your" regulars. My regular (aka, the best QB in the business) spent most of Monday night in sweatpants after getting body-slammed to the Tundra turf on the Pack's first drive. (Sigh.) Luckily, I have semi-capable fill-ins already on the roster, but if I didn't, I wouldn't hesitate to grab Ponder. He's fallen out of favor in Minneapolis, sure, and he probably doesn't have much of a future there. Nevertheless, he's been serviceable since returning to the starting lineup and is one of only four quarterbacks with five or more starts to have topped 17 points in every game this year. The others, by the way, are named Manning, Brees, and Stafford.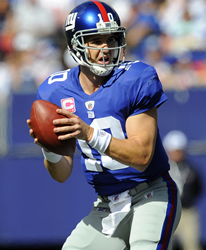 A plus matchup for Eli this week.

Eli Manning v. OAK: No, not this Manning. Eli's only managed to top the 17-point mark three times so far and hasn't done it once since Week 5, a major contributing factor to the Giants' overall lousiness. He'll be afforded a much longer leash than guys like Ponder, of course, thanks to those two Super Bowl trophies, but we can't afford to be so loyal and patient when we have fantasy championships to contend for. So why reward Manning with the nod this Sunday when he hasn't done squat for most of the last month? You…uh…did see what the next guy did to the Oakland secondary last weekend, didn't you? Manning won't top four bills and wing seven touchdown passes, I wouldn't think, but I'd bet a sixer of good Oregon microbrew he throws for 250-300 yards and at least a couple TD strikes. If he's gathering splinters on your bench, plug him back in.

Nick Foles @ GB: Foles authored that record-tying explosion against the Raiders (49.7 points) just two weeks after tallying a microscopic 6.5 against Dallas and suffering a late concussion that caused him to miss the Week 8 disaster against Manning's Giants. Guess that extra week of convalescence proved beneficial, eh? The Eagles' young field general threw more touchdown passes than he did incompletions on Sunday (!!!), a staggeringly productive and efficient performance not even his most optimistic supporters could have predicted. Though I count myself amongst that group, I'd have expected something more along the lines of what I'm predicting for Eli this week. Foles won't duplicate those crazy Week 9 digits up in Wisconsin, but the Pack is reeling and the continued absence of Clay Matthews means they aren't generating much of a pass rush. Foles has already proven lethal when given time to chuck it, so don't hesitate to use him again.


Grab a Clipboard

Seneca Wallace v. PHI: I spent most of Monday night's horror flick covering my face with my hands, peeking through fingers only occasionally to confirm what I already knew: Seneca Wallace isn't gonna cut it as Aaron Rodgers' stand-in. The long-time backup from Iowa State hadn't taken a regular season snap in two years and, worse yet, hadn't even taken a preseason snap for the Packers (he was added to the roster just prior to Week 1). His general rustiness and a lack of familiarity with Green Bay's sophisticated passing scheme were painfully evident against the Bears. Regardless, Wallace will be back under center this Sunday unless Coach McCarthy opts to go with undrafted free agent Scott Tolzien, a former Badger recently promoted from the practice squad. Welcome to our nightmare, fellow Packer backers. If you'll excuse me, I'm now going to jump off the nearest bridge.

Chad Henne @ TEN: You like scary movies, you say? The Special Lady Friend and I have been plowing through Season 1 of "The Walking Dead" (highly recommended) and I gotta tell ya': We've seen nothing so far that's nearly as horrifying as the 2013 version of the Jacksonville Jaguars. Henne currently engineers this zombified cast of characters and though his numbers haven't been grotesque the last couple outings (two 300-yard efforts in his last three starts), that's probably about to change. The NFL indefinitely suspended the Jags' best receiver, Justin Blackmon, in advance of this weekend's game and that leaves Henne dangerously short of weapons against Tennessee's underrated secondary. The Titans have yielded just seven TD tosses the entire season – tied with Carolina for the league lead – and have only allowed a multi-TD effort one time (Matt Schaub in Week 2). If you need a replacement for A-Rodge or Tom Terrific, look elsewhere.

Joe Flacco v. CIN: Think Ozzie Newsome and the Ravens' brass want a refund on that $120 million contract Flacco inked this past March? Yikes! It's not so much that Flacco didn't deserve a raise (he absolutely did), but it seems short-sighted to invest that kinda jack in a franchise QB and then protect said investment with a line like Baltimore's. Jacksonville's the worst team in the league by a fair margin, sure, but the Ravens clearly possess the league's worst front five. Ask Ray Rice and Bernard Pierce if you don't believe me. Flacco usually gets his numbers when volume is high (read: when his team is getting drilled), but the Bengals are holding opposing QBs in check this season (19.0 points/game, eighth overall) and have historically limited the streaky signal caller to sub-par outings (180 yards per and only nine TD strikes in 10 career matchups). I think it'll be a close AFC North dogfight and you can probably do better than Flacco.

Running Backs