Nobody needs to be told starting Aaron Rodgers, Adrian Peterson, or Calvin Johnson is a good idea. Duh, right? You can't have studs at every position, though, unless you're in the shallowest of leagues. This is where the Shot Caller comes in. Need help deciding which bargain basement QB to use and which to ignore on Rodgers' bye week? Let's talk. Looking for solutions at running back because Peterson is a game-time decision? Look no further. Need to know which of your unproven targets to start and which to sit since you ignored Megatron and went RB-QB-Jimmy Graham in your first three rounds? I'm your huckleberry. Past results may not guarantee future success, but I believe ignoring them entirely can ruin your Sundays in a hurry. Read on for a little history and, hopefully, a little sage advice..

Note: Fantasy points based on FF Today's default scoring system.
Bye Weeks: Buffalo, Cincinnati, Philadelphia, Seattle

Grab a Helmet

Cam Newton @ MIA: It was a statement game for the Panthers and Newton added the exclamation point with a fourth-quarter, victory-clinching drive featuring two signature third-down scrambles and then, to top it off, his third and final TD strike of the night, a 25-yard dart-and-sprint to Ted Ginn (more on that in a bit). You know a guy has arrived when he outperforms Tom Terrific on the Monday night stage and beats the future HOF'er at his own game, fourth-quarter comebacks, to boot. It was the fourth time in six contests Newton has topped 24 fantasy points, but the more important part for him and his teammates is that all six of those games have ended the same way, as victories. Expect this wave of Carolina confidence to come crashing down on the Fish in South Florida this Sunday as Miami is still dealing with lots of non-football stuff.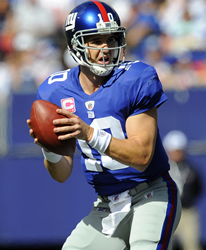 Eli Manning : The Cowboys are giving up the most FPts to quarterbacks.

Eli Manning v. DAL: Dallas could probably use some off-field drama – and certainly needed the Week 11 bye – to draw attention away from the on-field disaster its defense has become. In their last three games, the 'Boys have yielded 103 points and an astounding 1,641 yards. That's 34+ points and almost 550 yards PER GAME, folks. Still think Rob Ryan was the problem in Big D? Bear in mind one of those games was played against the relatively punchless Vikings at Cowboys Stadium. Next up is old nemesis, Eli Manning, and his resurgent Giants. All Kid Bro did the last time he squared off against his NFC East foes was throw for 450 yards and four scores in the season opener. Uh-oh. That was certainly many moons ago by NFL standards, but the stars seem to be aligning for another explosive performance. Start the other Manning with confidence this weekend.

Scott Tolzien v. MIN: That Minnesota team ultimately dropped a very winnable game in Dallas for precisely the same reason it's dropped most of them this year: Its defense can't keep anyone out of the end zone. The Vikes have surrendered 32 points per game thus far (dead last) and haven't held a single opponent under 20 points all year. Unsurprisingly, only one opposing QB has failed to top 20 fantasy points against them (the guy we just talked about). Tolzien's as green as they come, for certain, but he looked fairly sharp against Manning's G-Men in Week 10 (despite three painful picks) and could be the next in line to blister Minny's overmatched secondary. The game's not too big for him, he's displayed good fundamentals, and he's got a heckuva receiving corps to work with, even without Randall Cobb. Consider Tolzien against the Purple People Pleasers in Week 12.


Grab a Clipboard

Matt McGloin v. TEN: Because my stable of QBs originally consisted of Aaron Rodgers, Jake Locker, and Terrelle Pryor, I headed into a critical Week 11 matchup in our two-QB league with a couple of Value Village options under center, Ryan Fitzpatrick and Matt McGloin, the latter a Saturday night waiver wire grab. Shockingly, both men performed admirably, securing the necessary W for me that was ultimately rendered meaningless on Monday night when Ted Ginn (TED GINN!) propelled my cousin into the playoffs ahead of me with that eleventh hour score, his only touch of the night. Ah, the trials and tribulations of being @GrumpyJDH. I'm not counting on McGloin to help me lock down the consolation bracket because Fitzpatrick's teammates are one of the league's very best at bottling up opposing QBs (just 17.3 points/game) and…well, who cares about consolation brackets? Losing, I like to say, is for losers.

Josh McCown @ STL: McCown isn't nearly as talented as the guy he's temporarily replaced in Chicago, but Bears fans aren't going to care if he keeps leading them to victories. After ending a long Lambeau drought back in Week 9 and then almost snatching victory from the jaws of defeat against Detroit a week later (as a late fill-in for the re-injured Cutler), McCown endured miserable conditions and a spirited Ravens D in Week 11 to help Chicago pull out a huge overtime victory. Is the unsung kid from Sam Houston St. actually a better overall fit for Marc Trestman's offense? Some are already saying yes, but I think that talk dies down a bit after the Week 12 matchup with St. Louis. The Rams have allowed just one 20-point passer in their last seven games and most of that QB's digits (Andrew Luck's) were tallied long after the game was decided. Be careful with McCown.

Robert Griffin III v. SF: Washington players say their locker room isn't divided, a sure sign it probably is. RGIII is at the center of this non-firestorm firestorm, apparently, because he hasn't taken full accountability for the Redskins' season-long malaise. That may be true, but there should be plenty of blame to go around when you're playing as poorly as the 'Skins are. The second-year signal caller is clearly struggling and I blame a mending knee that he doesn't seem fully to trust. In 2012, the former Heisman winner tallied five 80-yard rushing games and seven rushing touchdowns. In 2013, he's topped that 80-yard mark just once and hasn't scored yet with his legs. In short, a once-dynamic QB has become considerably less so and the same goes for his offense. Griffin squares off against another sophomore slumper on Monday night and I think Kap's Niners will get the better of him and his disgruntled teammates in primetime.

Running Backs