Bye Weeks: Green Bay, Carolina

Grab a Helmet

Josh Gordon v. CIN: In the immortal words of Clark W. Griswold, ďIf I woke up tomorrow with my head sewn to the carpet, I wouldn't be more surprised than I am right now.Ē Iím rarely confounded by things I see in this most unpredictable of leagues, but Gordonís Week 3 line against the Vikes certainly qualifies as shocking. He hadnít played a down prior to Sunday thanks to a drug suspension. Heíd never caught a single regulation pass from Brian Hoyer. The Browns didnít have even the semblance of a rushing threat to keep Minnesota honest. All that and Gordon still somehow managed to convert 19 targets (19!) into 10 receptions, 146 yards, and a score in the biggest upset of the young season. Oh, and he added a 22-yard scamper for good measure. If Clevelandís brass is actively showcasing the young star for other interested GMs (theyíre denying it), letís hope they donít find any suitors before Sunday.

Aaron Dobson @ ATL: Julian Edelman was the waiver wire darling after Week 1 and fellow rookie Kenbrell Thompkins is likely commanding the same sort of affection after a two-TD Week 3. Dobson, though, is the Patriot receiver I think could be on everyoneís minds come early next week. Hereís what he has going for him: 1) He plays with Tom Brady; 2) Tom Brady throws a lot of footballs; 3) Tom Brady doesnít have a lot of healthy bodies to throw footballs to. Dobsonís already garnered 20 targets in two NFL starts, a per-game rate that places him at the very top of the rookie class. Granted, targets arenít everything (see Greg Little) but the Marshall alum has turned them into a solid 8.4 fantasy points/contest, just two tenths lower than Andre Johnson and a couple ticks above more celebrated rooks like Thompkins and Tavon Austin. Dobsonís really cheap and has a high ceiling. Go get him.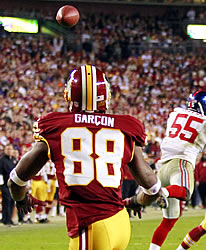 Garcon is going to be a busy man regardless of who's under center.

Pierre Garcon @ OAK: If targets are what you like, GarÁon is certainly accumulating them. Lots of them. Washington has held a lead for just 4:14 through three contests to start the year and for most of the rest of that time, theyíve been playing from way, way behind. That has helped inflate the numbers for both GarÁon and the guy throwing him passes, Robert Griffin III. Though RGIII doesnít seem healthy enough to keep the Redskins from getting consistently blown out, heís obviously been healthy enough to post useful fantasy numbers thus far. That, in turn, has rendered GarÁon fairly useful (23 receptions, 280 yards, and a score to date). I wouldnít worry about that changing anytime soon because the Washington defense is appalling (get used to him playing from behind) and Kirk Cousins has proven to be a capable fill-in (should RGIII get shut down at some point).


Grab Some Wood

Calvin Johnson v. CHI: THAT got your attention, eh? I know youíre going to ignore this advice and Iíd probably do the same if I were in your position. Certain players just donít sit, regardless how many impediments to success seem to be stacked in front of them. You hafta admit, though: There are definitely some impediments here. Warning sign #1: Nate Burleson is out, meaning Johnson has Chicagoís complete and undivided attention (as if he didnít already). Warning sign #2: His career numbers v. Chicago arenít whatíd you call stellar. Heís only topped double digits in points two out of the last six times heís faced them. He also recorded his worst and fourth worst fantasy outings against the Bears in 2012. Warning sign #3: OK, there isnít a #3. Just donít come crying to me if Johnson doesnít provide an explosive point total come Sunday.

Nate Washington v. NYJ: Full disclosure alert: Iím playing against Calvin Johnson this weekend so itís possible Iíve led with my heart on the above recommendation. Sorry. To make up for it, Iíll pan Washington, a player I actually do want/need to perform in order to counteract ĎTron on Sunday. I donít own him, no, and probably wouldnít start him much if I did. I do, however, own Aaron Rodgers (duh) and heís in street clothes this weekend. That means Iím stuck with Jake Locker against the Jets. Can you tell Iím one of those GMs who doesnít factor in the schedule when he makes his draft picks? Sigh. You might never read this column again if I tell you who Iím pairing Locker with (itís a 2-QB league and Terrelle Pryorís iffyÖhint, hint). All Iíll say is that I hope Iím horribly wrong about Washington and he goes off for triple digits and a couple scores.

Donnie Avery v. NYG: Iím sure a whole bunch of folks who just plucked Avery off the waiver wire are hoping I'm horribly wrong about him. I don't think I will be, however. You know how many 100-yard games he'd accumulated in his five-plus injury-riddled seasons prior to last Thursday night? Three. In fact, let's call it three 100-yard games in just four seasons (he missed all of 2010). That sounds better, doesn't it? Nope, didn't think so. What we saw a week ago was basically the result of a decent receiver taking advantage of a less-than-decent secondary. And though it would be fair to argue the Giants' secondary isn't a whole lot better, their run defense is even worse than Philly's, meaning Jamaal Charles may have a field day. If I were gonna start a KC receiver this weekend, I wouldn't roll the dice on a guy who's already used up his triple-digit effort for the season. Go with Dwayne Bowe and ignore Avery until he makes the big days more routine.

Good luck, folks!

Quarterbacks