Nobody needs to be told starting Aaron Rodgers, Adrian Peterson, or Calvin Johnson is a good idea. Duh, right? You can't have studs at every position, though, unless you're in the shallowest of leagues. This is where the Shot Caller comes in. Need help deciding which bargain basement QB to use and which to ignore on Rodgers' bye week? Let's talk. Looking for solutions at running back because Peterson is a game-time decision? Look no further. Need to know which of your unproven targets to start and which to sit since you ignored Megatron and went RB-QB-Jimmy Graham in your first three rounds? I'm your huckleberry. Past results may not guarantee future success, but I believe ignoring them entirely can ruin your Sundays in a hurry. Read on for a little history and, hopefully, a little sage advice..

Note: Fantasy points based on FF Today's default scoring system.
Bye Weeks: Minnesota, Pittsburgh, Tampa Bay, Washington

Grab a Helmet

Brian Hoyer v. BUF: If Clevelandís attempting to tank the rest of the season, somebody forgot to send the memo to Brian Hoyer. All the former third-stringer has done since taking the reins from a dinged-up Brandon Weeden is pass for 590 yards, throw five touchdowns, and lead the Browns to consecutive improbable victories, all on the heels of the supposedly season-killing Trent Richardson trade. Only one elite QB is off this first full week of byes (RGIII), so you may not be considering a guy like Hoyer. You should. Itís a small sample size, granted, but his 25 points/game mark ranks him sixth at the QB position, right in front of three Matts (Ryan, Stafford, and Schaub) few would hesitate to start on a regular basis. He gets the Billsí battered secondary on a short week and Cleveland still has no running game to speak of. That makes Hoyer a surprise primo play.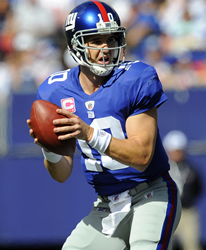 Eli Manning faces a leaky Eagles-D.

Michael Vick @ NYG or Eli Manning v. PHI: Maybe that memo was inadvertently forwarded to Vick and Manning instead? Iím too lazy to look it up, but Iíll bet itís been many moons since the Eagles and Giants started a season by winning just one of their first eight combined games. Vick gets credit for the one and has managed to remain an elite option at the position (third overall) despite his squadís general struggles. Not so much in Eliís case. Heís already thrown a league-high nine picks and has only authored a single touchdown in his last two contests. If he and the Giants canít score against Phillyís 32nd-ranked defense, there may be no hope for them in 2013. There may not be anyway if they canít stop opponents from scoring (a league-worst 36.5 points yielded per game). Resistible forces meet moveable objects at the Meadowlands on Sunday. Take the resistible forces.

Alex Smith @ TEN: Vick leads all quarterbacks in rushing and the similarly dangerous Terrelle Pryor ranks second. No surprises there, of course. Care to guess whoís right behind them in third place, though? Youíre looking at him. The wiseguys loved Kansas City heading into 2013, but I doubt it had much to do with Smith taking over under center. They were more enamored of Jamaal Charles, the Chiefsí talented defensive core, and the Andy Reid hire. Charles and the defense have been awesome, certainly, and Reid has brought a winning attitude, but Smith has been the real revelation. Heís avoiding turnovers, using his legs to avoid negative plays, and producing quality numbers in the passing game despite a mostly unproven receiving corps (outside of Dwayne Bowe). Itís time to start thinking of Smith as a legit option at QB, maybe even more legit than the guyÖ


Grab a Clipboard

Colin Kaepernick v. HOU: Öwho made him expendable in San Francisco. Weíre only a quarter of the way through a very long season, yes, but four games are certainly enough to formulate some early opinions of Kap. Here are mine: 1) He really needs more weapons at the receiver position and clearly misses Michael Crabtree; 2) He doesnít seem very interested in running the football even when the opportunity presents itself; and 3) When he isnít interested in running the football and isnít able to exploit a crummy secondary, he becomes a below-average option at the position. The Niners got a big win in St. Louis last Thursday and will be well-rested for their showdown with Houston on Sunday, but itís a difficult matchup. The Texansí secondary is far from crummy (only 141 passing yards yielded per game) and they have some folks up front (namely, J.J. Watt) who can keep Kaepernick penned in the pocket. I think he continues to struggle Sunday.

Ryan Fitzpatrick v. KC: Long-time readers know I have a strange affection for Fitzpatrick, the fantasy quarterback (not to be confused with Fitzpatrick, the real quarterback). Heís not terribly accurate, too often turns it over, and doesnít win a lot of games, things real GMs understandably hate. Nevertheless, he does have a knack for piling up yardage and throwing TD strikes, things fake GMs certainly adore. In fact, Fitzpatrick tallied seven multi-TD games over the course of his mostly forgettable 2012 campaign in Buffalo, one more than each of the following A-listers: Eli Manning, Cam Newton, and Joe Flacco. If he werenít facing Kansas Cityís suddenly dominant defense this weekend (top three in almost every pass defense category), Iíd like him as a sneaky start for the injured Jake Locker. Alas, he wonít have a decent matchup until Week 9, by which time Locker may have actually returned to reclaim his job. Forget Fitz in Week 5 and probably beyond.

Joe Flacco @ MIA: If I told you Ryan Fitzpatrick has thrown more TD passes than Joe Flacco since the start of the 2011 season, would you be surprised? What if I told you he's done it in four fewer starts (the first four games of this season)? Flacco may own the hardware and the fat contract, but it's debatable whether he's really the elite quarterback most people now assume him to be. Through the season's first quarter, he's notched just 18.8 points per game. That's good for 28th best in a 32-team league (blech!). He lost big-time weapons at receiver (Anquan Boldin) and tight end (Dennis Pitta), but the really great ones make it work with whatever they're provided. I guess that's my way of saying Flacco isn't really great. I'd suggest letting him and the Ravens continue to sleep off this Super Bowl hangover.

Running Backs