Bye Weeks: New Orleans, Oakland

Grab a Helmet

Andre Ellington v. SEA: Bruce Arians recently announced his intention to get Ellington 30-32 snaps per game, a surprising display of candor and specificity we can only hope will catch on with other head coaches. Itís a good news/bad news story for Ellington, of course. First, the good: Heís guaranteed to get about a half gameís worth of snaps despite being a virtual unknown at the start of the season. Now, the bad: Heís guaranteed to get only a half gameís worth of snaps. Wait, thereís more good! The Clemson product might be sharing time with Rashard Mendenhall, but heís doing a whole lot more with his opportunities. In the past two games, heís turned 23 total touches into 175 yards (a 7.6-yard average) and a score. Mendenhall, on the other hand, has converted 30 touches into just 92 yards (a 3.1-yard average) and a score. One of these things is not like the other.

Danny Woodhead @ JAX: If youíre thinking 30-32 snaps isnít enough utilization to make a guy worthwhile, consider the case of Danny Woodhead. The former Patriot has participated in 182 offensive snaps for San Diego this season and is currently the 15th most valuable running back in standard leagues. The Chargers have played six games. Iíll wait while you do the math (cue the Jeopardy theme song). Granted, Woodhead didnít play much in Week 1 (just nine offensive plays), so Iím fudging ever so slightly here. I think you get the gist, though. Running backs who double as slot receivers are capable of maximizing touches in ways that mere ground pounders canít, especially in PPR leagues. If you havenít gotten wise to Woody just yet, itís probably too late. If you have, keep reserving that RB2 or flex spot for him on Sundays.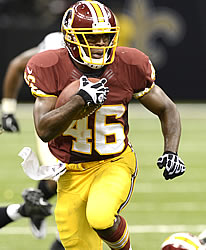 Morris is one of twenty running backs averaging double-digit FPts.

Alfred Morris @ CHI: I havenít talked about Morris yet this season and thatís probably a bit of an oversight. Or perhaps it would be more accurate to say heís in my blind spot. Truth be told, I donít like backs that donít catch the football and Morris certainly fits that bill (just five total targets and three receptions thus far). Nevertheless, heís the 16th-ranked RB (right behind the aforementioned Woodhead) and heíd be a near Top 10 guy if not for an early bye week. He also receives a very predictable diet of touches in the running game, somewhat making up for his absence in the passing game. Through five contests, Washingtonís main man has carried the ball no fewer than 12 times and no more than 16. Heís also averaging 5.1 yards/carry, better than every other primary ball carrier, including Shady McCoy and All Day. Youíre good to go with Morris, especially in non-PPR leagues.


Grab a Gatorade

Trent Richardson v. DEN: You canít blame Richardson for that egg the Indy offense laid on Monday night, but itís probably time to start wondering when heís going to look like a ďrolling ball of butcher knivesĒ again and produce the kind of numbers we got used to seeing during his rookie campaign. The former Heisman winner is averaging only 8.1 points/game in 2012, well off the 13.6-point pace he set last season, and seems to lack the explosiveness/decisiveness he possessed in Cleveland. In fact, is anyone else starting to think the Browns knew what they were doing when they decided to sever ties with their franchise back? Itís way too early to pass final judgment there, but something needs to change soon and Iím not sure it will this weekend. Keeping up with Denver means scoring points in a hurry and the best way to do that is through the air. Reserve Richardson if youíre able to.

Stevan Ridley @ NYJ: Ridley finally looked like a top 10-caliber back last Sunday against the Saints, rushing for 96 yards and a couple scores in the thrilling New England victory despite not stepping on the field until late in the first quarter. This must mean heís back to being the main man in Foxboro, right? If you believe that, thereís this bridge Iíve been meaning to talk to you about. Bill Belichick is going to use whoever gives him the best chance of winning on any particular Sunday and while that may be Ridley many more times this season, it could also be LeGarrette Blount or Brandon Bolden or Shane Vereen (remember him?), whoís eligible to return Week 11. Hereís who gives the Pats the best chance of beating the Jets come this Sunday: Tom Brady. Reserve all your Patriot runners against New Yorkís league-leading run defense.

Chris Johnson v. SF: If I worried about what Chris Johnson thinks about what I think about Chris Johnson, I'd probably consider picking on another franchise running back who's underperforming in 2013 (*cough* C.J. Spiller). Since I'm not the worrying type and since Johnson is such an easy target (hates fantasy football, apparently hates producing good fantasy numbers, etc.), let's just reiterate what I've said for the past two weeks: Don't start him. His line isn't good enough. His quarterback isn't good enough. He doesn't appear to be good enough. Oh, and the defense he'll be facing this Sunday is definitely good enough. The best news for Johnson and his various owners appears to be this: Tennessee goes on bye in Week 8. That's just one short week away!

Wide Receivers