Bye Weeks: Tampa Bay, Miami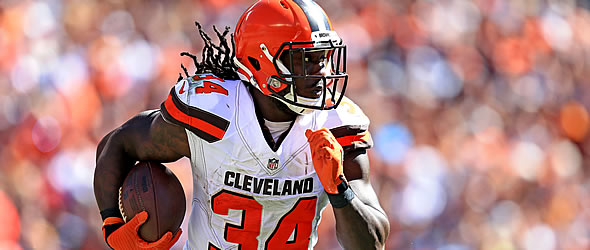 Coach Speak? We'll see if Hue Jackson makes good on his promise to feed Isaiah Crowell in 2017.
Grab a Helmet

Isaiah Crowell v. PIT: I've been leery of silly season promises ever since Buffalo coaches promised they'd feed C.J. Spiller "until he throws up" way back in 2013. I spent a quarter of my auction budget on the once-promising Bill, he puked all over my lineup the rest of that season, and I learned a valuable but tough lesson: Coaches lie. Hue Jackson et al. could be fooling me twice about ramping up Crowell's usage in 2017, but I'm inclined to believe there's more substance to this bit of coach-speak. Crowell was way underutilized in 2016 for a guy who averaged 4.8 yards/carry (just 198 carries) and is built to withstand a much larger workload than the slighter Spiller. He's also playing with a very green quarterback who can't carry a work-in-progress Browns offense and behind an offensive line that probably can. I don't own him but wish I did.

Bilal Powell @ BUF: The Jets will clearly be trusting the process in 2017, as evidenced by the off-season departure of several headliners (Brandon Marshall, Eric Decker, Darrelle Revis, David Harris, and Sheldon Richardson) and that farce of a quarterback "competition," which essentially involved former Brown Josh McCown running wind sprints while Christian Hackenberg and Bryce Petty commanded the majority of preseason snaps. McCown, unsurprisingly, ends up under center for the opener, and though he doesn't excite anyone, Powell's owners should be encouraged. The Jets are going to get repeatedly drilled (I'm calling 0-16 right now) and the potential for garbage time production is high. That's especially true for a talented asset who can contribute as a runner and receiver playing with an experienced, albeit flawed, veteran QB. A "no Jets" policy in 2017 is understandable, but I think this guy is worth playing most weeks, starting in Week 1.

Christian McCaffrey @ SF: This guy better be worth starting EVERY week because I've gobbled him up in all of my drafts and had to pay handsomely to do so (think 2nd round or equivalent auction value). I don't play in non-PPR leagues, to be fair, and he certainly holds more value in that format based on how we presume the Panthers will use him. Still, he's a dynamic athlete/matchup nightmare capable of racking up yards in several ways and is a threat to score on almost any play. Last I checked, touchdowns count for six in ALL formats. The Panthers allegedly have a McCaffrey-specific play package and I'm excited to see them deploy it this Sunday down in the Bay Area. It certainly doesn't hurt that the Niners will be trying to defend it, a team that yielded almost 28 points/game to opposing running backs in 2016 (worst overall).
Grab a Gatorade

Mike Gillislee v. KC (Thu): Most coaches lie (see above), but the best resort to outright obfuscation when it could lead to any sort of competitive advantage. Bill Belichick is probably the best one of all and has mastered this sphinxlike relationship with the media. Here's what he had to say about Gillislee, his presumed starting RB, after Week 3 of the preseason: "We were able to get Mike a few carries and a few plays in the game. I think he still has quite a ways to go. He has missed some practices this fall and missed some practices last spring." In other words, we got a fact-opinion-fact sandwich that managed to tell us NOTHING about how the Pats intend to use Gillislee when the games start counting for real. You probably didn't have to overspend, so consider taking the wait-and-see approach with any/all New England runners this week.

Marshawn Lynch @ TEN: Few draftees have polarized fantasy GMs more than Beast Mode heading into this season. Some think the year off and the move back home to Oakland will recharge his batteries and, by association, his fantasy fortunes. Others think he's on the wrong side of 30 with too many miles on the tires and, accordingly, way too risky for his ADP (2.12). I'm probably somewhere in between. The situation in Oakland is definitely ideal for him (great offense with an especially solid front five) and he could definitely put together a terrific comeback campaign. On the other hand, he spent almost two years away from the game just L-I-V-I-N. It seems plausible the Raiders will want to ease him back into the groove a bit, so be careful. I think a healthy dose of skepticism is prudent early on, especially against a tough Titans front in Nashville.

Paul Perkins @ DAL: The Giants are intending to go RB-by-committee again in 2017, which makes them not at all unusual these days. Here's the problem as I see it: They're intending to use the exact same backs they employed this approach with last year. Care to guess how many times a New York runner logged 20 carries in a game last season? It was just once and Perkins took the honors (Week 17 at Washington). Though he rushed for over 100 yards, he didn't score and only managed a modest 10.2 points. In fact, the former UCLA Bruin is still looking for his first NFL six-pointer. I doubt he gets it on Sunday night against a Dallas defense that was one of the best against opposing running backs in 2016 (15.3 points/contest). Don't be fooled by the RB1 label. None of the G-Men backs are worth starting until further notice.


Quarterbacks | Running Backs | Wide Receivers